We went to a fabric shop, Jofotex tyger, on one of our few trips this summer. I was hoping to secure some fabric for myself, but my boy fell in love with some fabrics and suddenly there was neither time, nor budget for me to buy anything for myself. As for the shirts, I simply drew a new pattern from the outer lines of one of his existing T-shirts. This time I actually read the manual for my sewing machine and used the right seams for the jersey fabrics. I had also ordered special fabric for neck and wrists from tygdrömmar.se. My boy got these T-shirts for birthday present and was really pleased, especially with the one with Paw Patrol motif.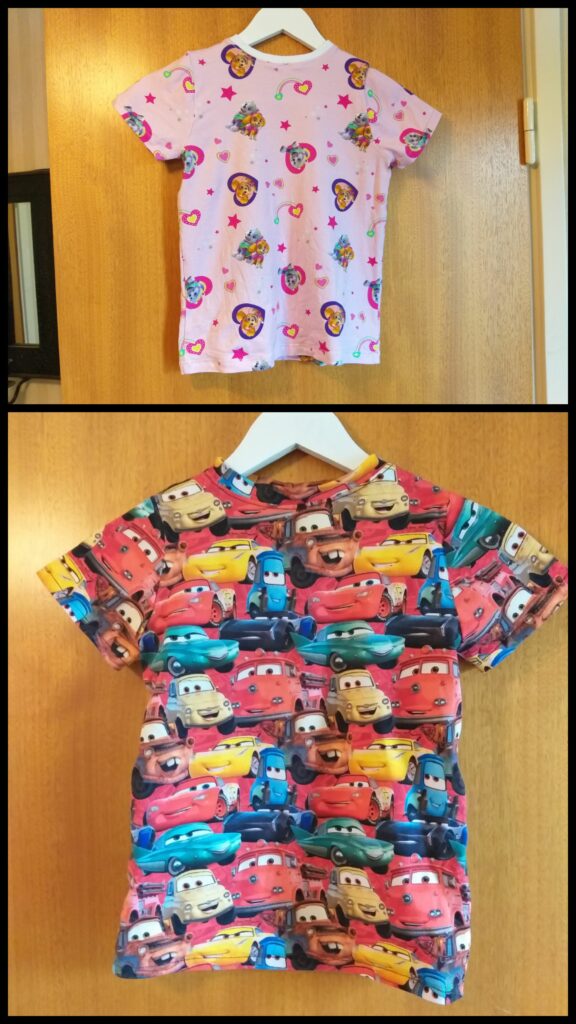 På en av våra få dagsutflykter denna Covid-sommar, besökte vi Jofotex tyger. Jag hoppades på att hitta lite tyger till mig själv, men sonen blev själv förälskad i några tyger och plötsligt räckte varken tiden eller budgeten till för inköp till mig själv.
Som med skjortorna, använde jag mig av en existerande T-shirt för att göra ett nytt mönster. Denna gång läste jag faktiskt symaskinens instruktionsbok och använde rätt slags sömmar för trikåtygerna. Jag hade också beställt muddtyg från tygdrömmar.se. Sonen fick T-shirtarna i födelsedagspresent och blev väldigt glad, särskilt för den med motiv från Paw Patrol.