One month has passed since Russia started the horrible war against Ukraine, seemingly aiming at obliterating the whole country with its citizens. Karin Faaij Hultgren, has started an admirable project, where people auction out their art pieces in the Facebook group Konstauktioner för Ukraina and the money goes to UNHCR's work in Ukraine. At the moment I believe this has generated more than 100.000 Swedish kronor to the help organisation.
I had an UFO (unfinished object) in my art stash, which I dedicated to this project. I completed the regency family portrait, improving the shadows and adding some typical furniture. Now I hope someone will like it as much as I do, so it brings in some more money to the suffering people of Ukraine. You may place your bid on it here.
Nu har det gått en månad sedan Ryssland invaderade Ukraina och de tycks ha som mål att totalt tillintetgöra hela landet med dess invånare. Karin Faaij Hultgren har startat ett beundransvärt projekt, där folk får skänka sin konst, som sedan auktioneras ut och pengarna går oavkortat till UNHCR och Röda korsets arbete i Ukraina. För tillfället tror jag att detta projekt har inbringat över 100 000 kronor till hjälporganisationerna.
Jag hade ett UFO (unfinished objects) liggande bland mina konstgrejer och detta ville jag nu dedikera till konstauktionen. Jag fullbordade porträttet av empirfamiljen genom att förbättra skuggor och lägga till lite tidstypisk inredning. Nu hoppas jag att någon kommer att tycka lika mycket om bilden som jag gör, så att det drar in lite mer pengar till den lidande ukrainska befolkningen. Du kan lägga ditt bud här.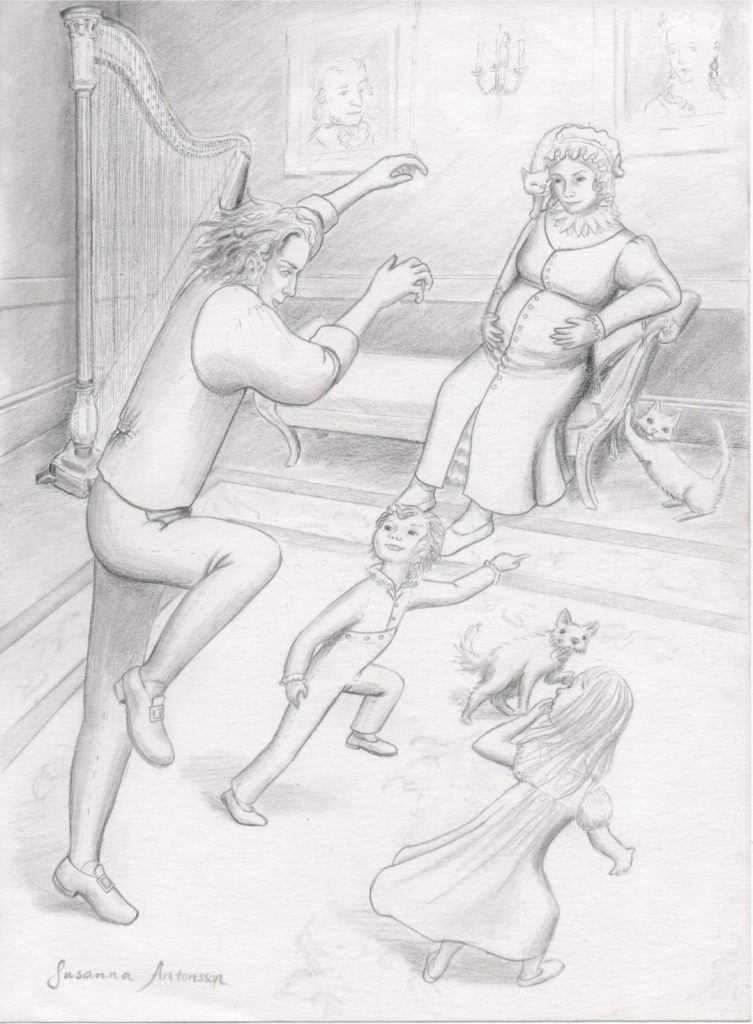 Vår bebis dreglar konstant och har också en växande aptit för färgglad mat. Därför är kläderna alltid antingen blöta eller missfärgade av mat och därmed har alla lugna stunder gått åt till att sy nya dregellappar. Jag använder utslitna kläder. Endast tryckknapparna är nya. Här är de senaste alstren.