This ought to be my third dress from this same fabric (the others were both pregnancy dresses, one regency and one modern), that I bought for 200 SEK three years ago. Unfortunately, the fabric proves to be as bad quality as the price indicates – it falls apart after only one wash… Anyhow. I was eager to make a winter dress, suiting my less curvy body and I wanted to try something new. As I had plenty left of this striped fabric, I cut several smaller pieces and moved them around on the dress form until I found a combination that I liked. It was awfully time consuming to pattern match the stripes on the diagonal. After having sewn the pieces together, with perfect pattern matching, I found out that the fit was catastrophic. I had to disintegrate most of it and put it together again, with many more fittings. Finally, I had my dress, with good enough fit, but then I found out that the fabric was already  falling apart… Well, I have something along the way: first and foremost,  there should be a finished pattern before matching the stripes of so many small pieces, as the fit is otherwise bound to suffer at the expense of the pattern matching. What are your experiences with pattern matching?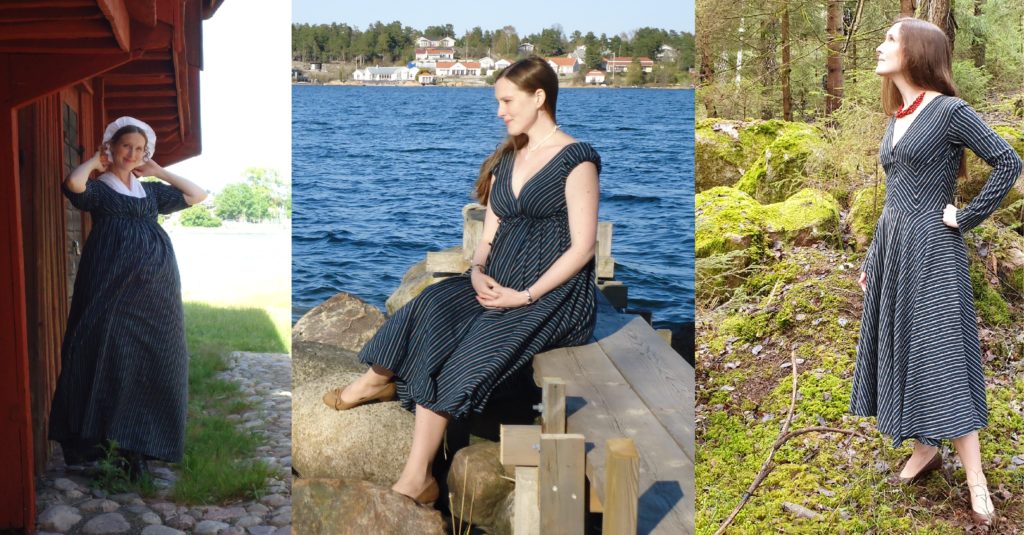 Detta torde vara min tredje klänning sydd i samma randiga tyg, som jag köpte för 200 kronor för tre år sedan (båda de andra klänningarna var mammaklänningar, en modern och en empir). Tyvärr visar sig tyget ha precis så dålig kvalitet som priset antydde – det börjar falla isär efter bara en tvätt… Ja, ja. Jag var ivrig att sy en vinterklänning som skulle passa min nya, plattare kropp och ville testa något nytt. Jag hade massor kvar av det randiga tyget, så jag klippte till flera mindre tygbitar och flyttade omkring dem på provdockan tills jag hittade en kombination som tilltalade mig. Det tog otroligt lång tid att mönsterpassa de diagonala linjerna. Efter att ha sytt ihop alla delar med perfekt mönsterpassning insåg jag att passformen istället var en katastrof. Jag var tvungen att sprätta upp det mesta och sätta ihop bitarna igen och prova klänningen många gånger innan jag slutligen vågade sy ihop bitarna igen. När min klänning äntligen var klar och hade acceptabel passform insår jag att tyget redan börjat gå sönder… Jag har åtminståne lärt mig något på vägen: först och främst bör man ha ett färdigt mönster innan man börjar experimentera med mönsterpassningen av så många små bitar, annars kommer passformen försämras till förmån för en perfekt mönsterpassning. Vad har du för erfarenheter av mönsterpassning?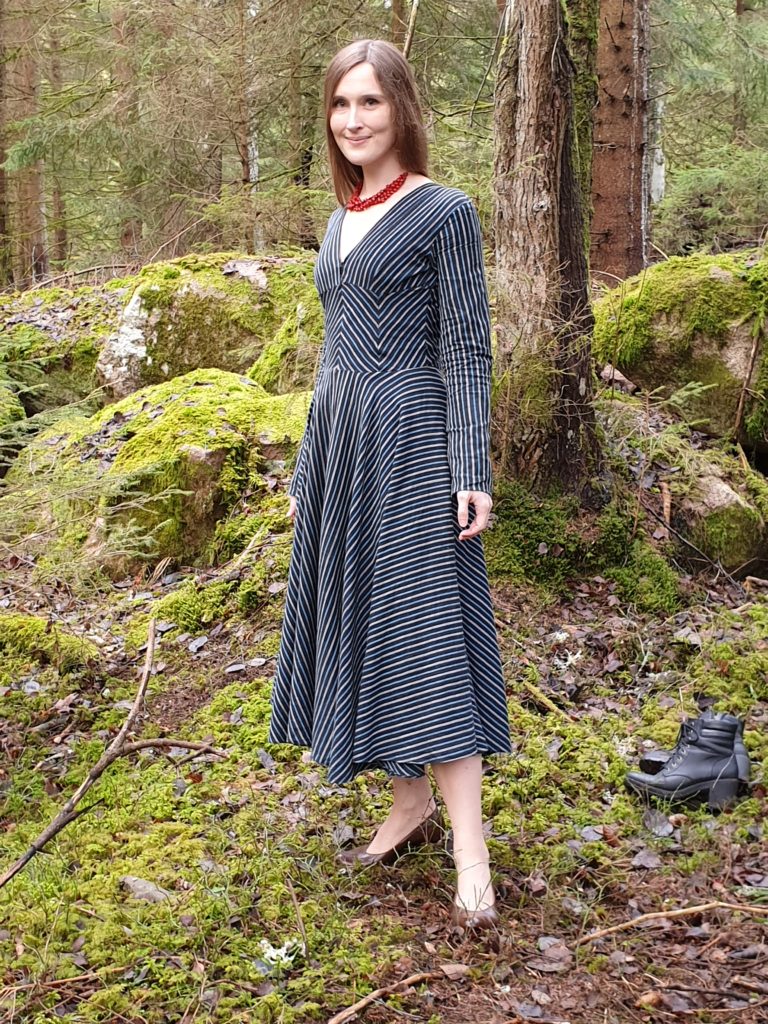 The dress consists of four underbust pieces and two bust pieces with darts on the front, with a hidden zipper in the mid front. On the back, there are four pieces. The skirt consists of two pieces, forming a whole cirkle skirt. And two arms, off course.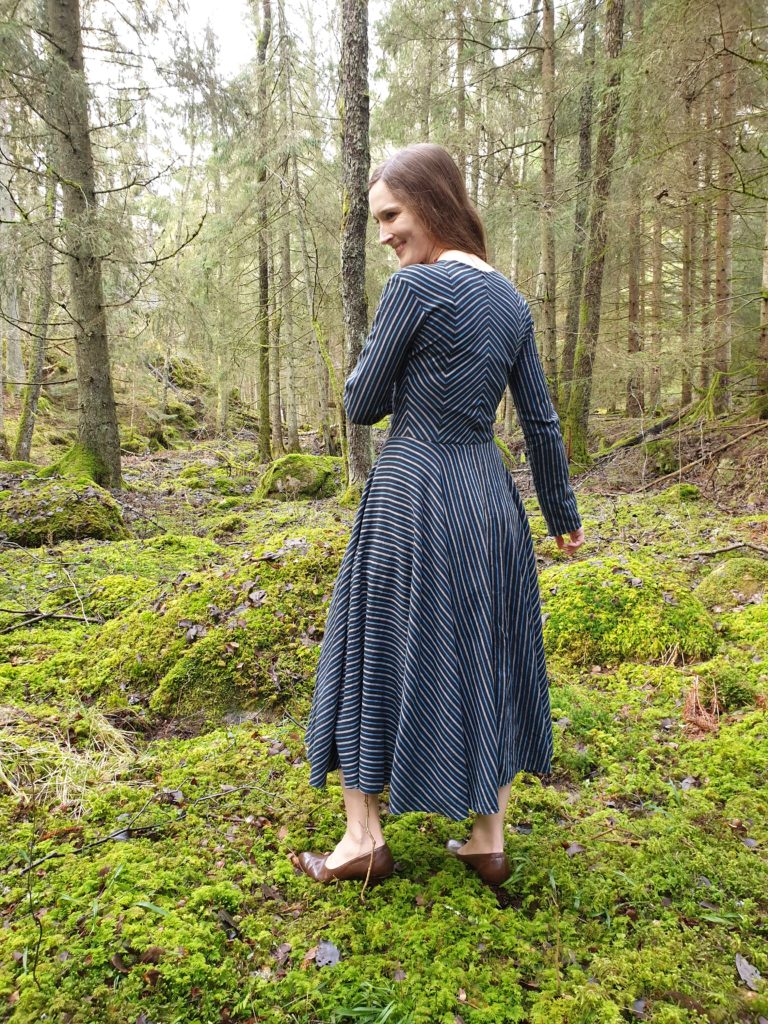 Klänningen består av fyra "underbyst-bitar" och två "bystbitar" med inprovningar och med en dold dragkedja mitt fram. Ryggdelen består av fyra delar. Kjolen består av två delar som samman bildar en hel cirkel. Och så två ärmar, förstås.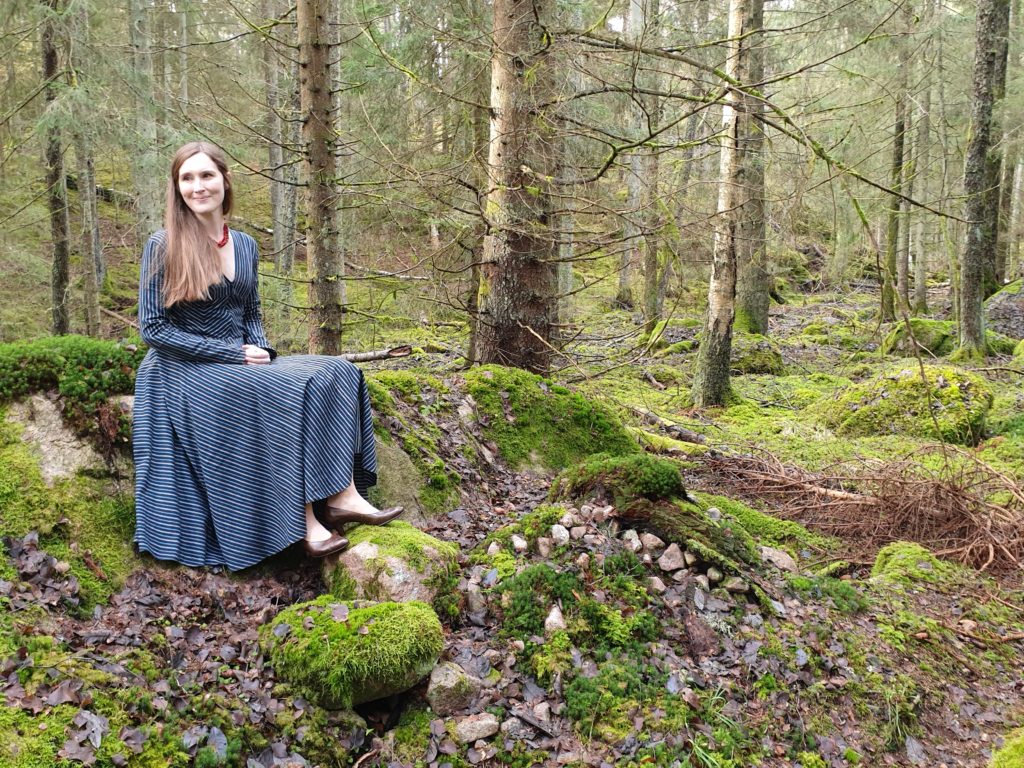 There are some wrinkles going on, that I do not know whether they depend on the not so sturdy fabric or my bad pattern making. The wrinkles on the sides of the bust were impossible to get rid of without cutting new pieces of fabric after my dreadful discovery about the fit. I just try my best not to think about them.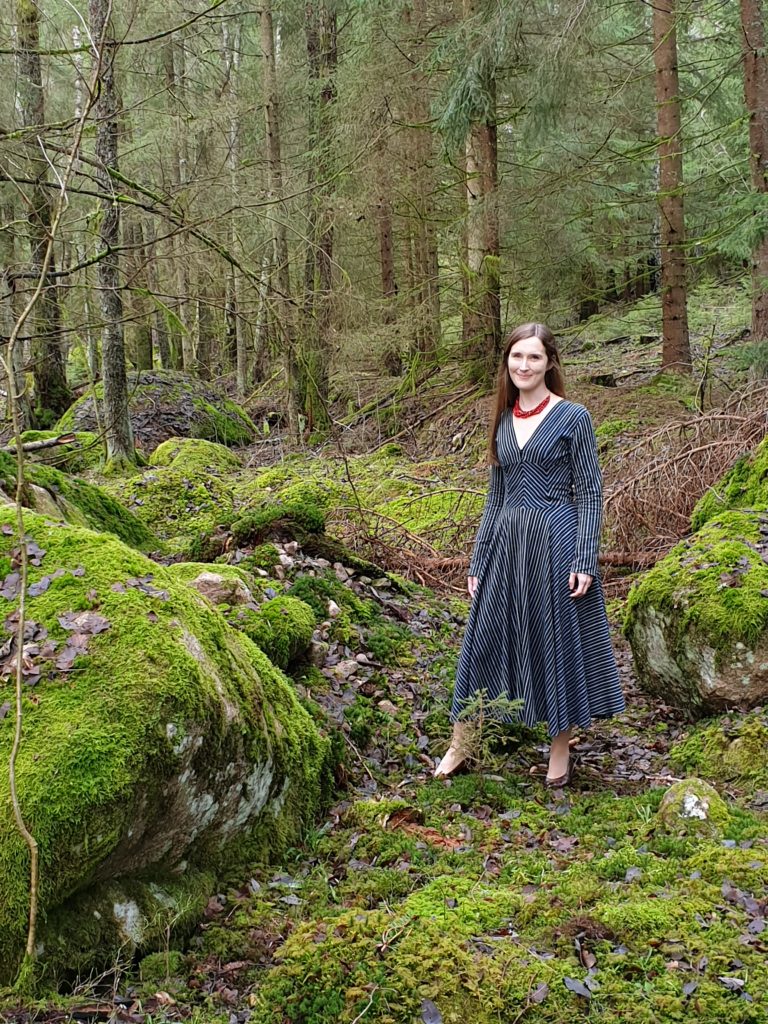 Det är små veck överallt på klänningen, som jag inte vet om de beror på det veka tyget eller min slarviga tillskärning. Vecken på sidorna av bysten beror definitivt på tillskärningen och var omöjliga att bli av med utan att klippa ut nya bitar, vilket var uteslutet för en rastlös själ som jag, eftersom bitarna redan var sammanfogade med ärmarna och de knepiga ryggbitarna. Jag gör bara mitt bästa för att inte tänka på vecken.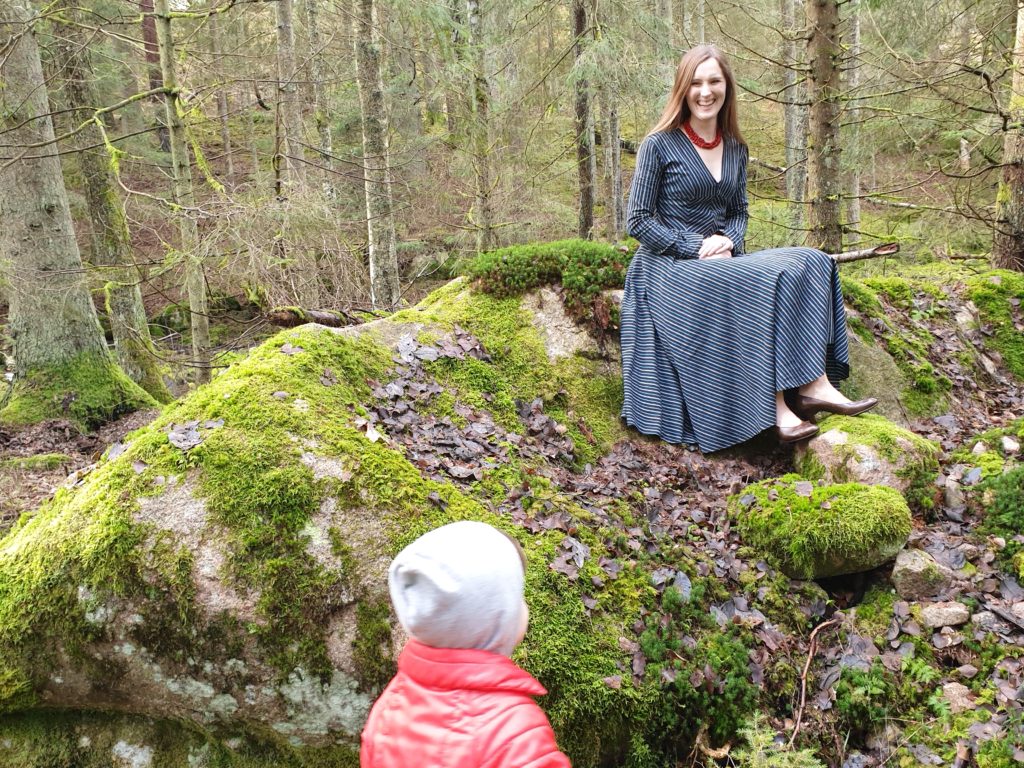 A photobombing child is one of the most effective ways to forget about wrinkles.
Ett barn som stövlar in på fotot är bland de bästa sätten att komma på andra tankar.