Two years have passed since we last visited the Medieval Week of Visby and we have missed it much. Last week, our neighbour town hosted an event called "The Happy Middle Ages". As our son suddenly has grown a strong interest for both fairytales and magic, this event felt as if it had been created for him. His older cousins were interested as well. The two teenage girls could borrow my dresses (that don't fit my 9 month pregnant body very well at the moment), but both of the boys needed new kirtles and my husband's 12th century kirtle needed some adjustments. I had leftovers from that same woolen fabric and as my boy only would agree to wear an identical garment as his idol cousin, I spent the week sewing two identical kirtles. My boy also made it clear that he would only accept the kirtle if they would suit his new fairytale heroes, Ronja and Birk, so he chose folklore clasps from his pirate treasure (originally rescued from an old cardigan). Thanks to the well known pattern with rectangles and triangles, the last garment was finnished the night before the event. Unfortunately, I must have counted wrong when creating the pattern for the older boy, so that his kirtle was a tad too tight under the arms.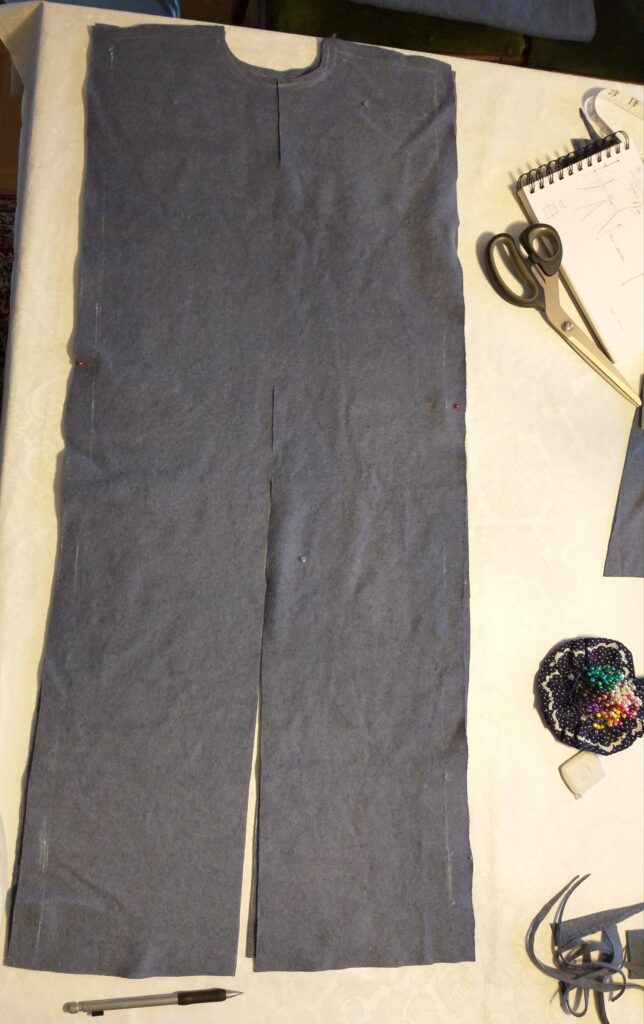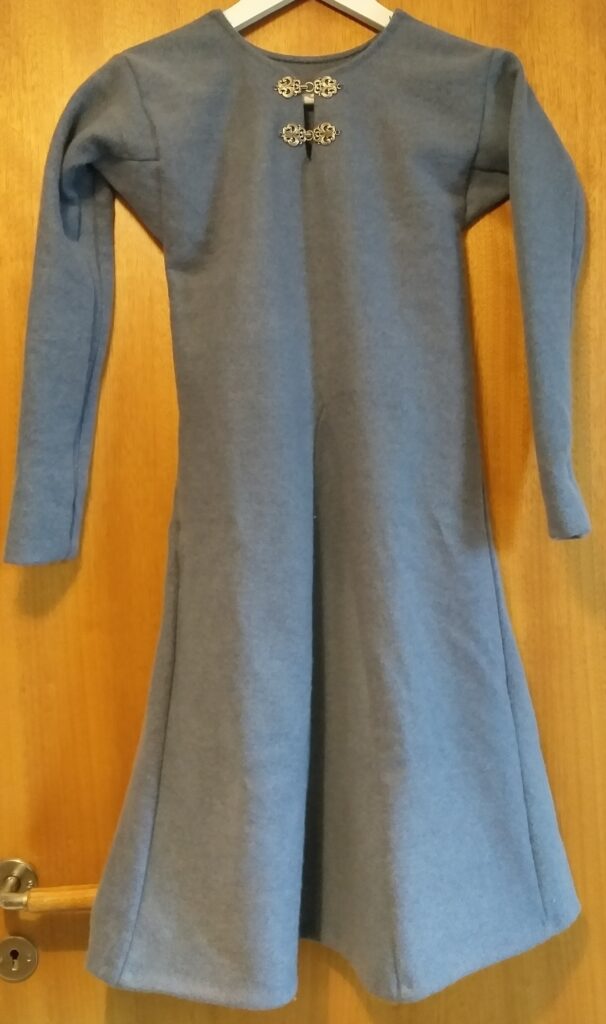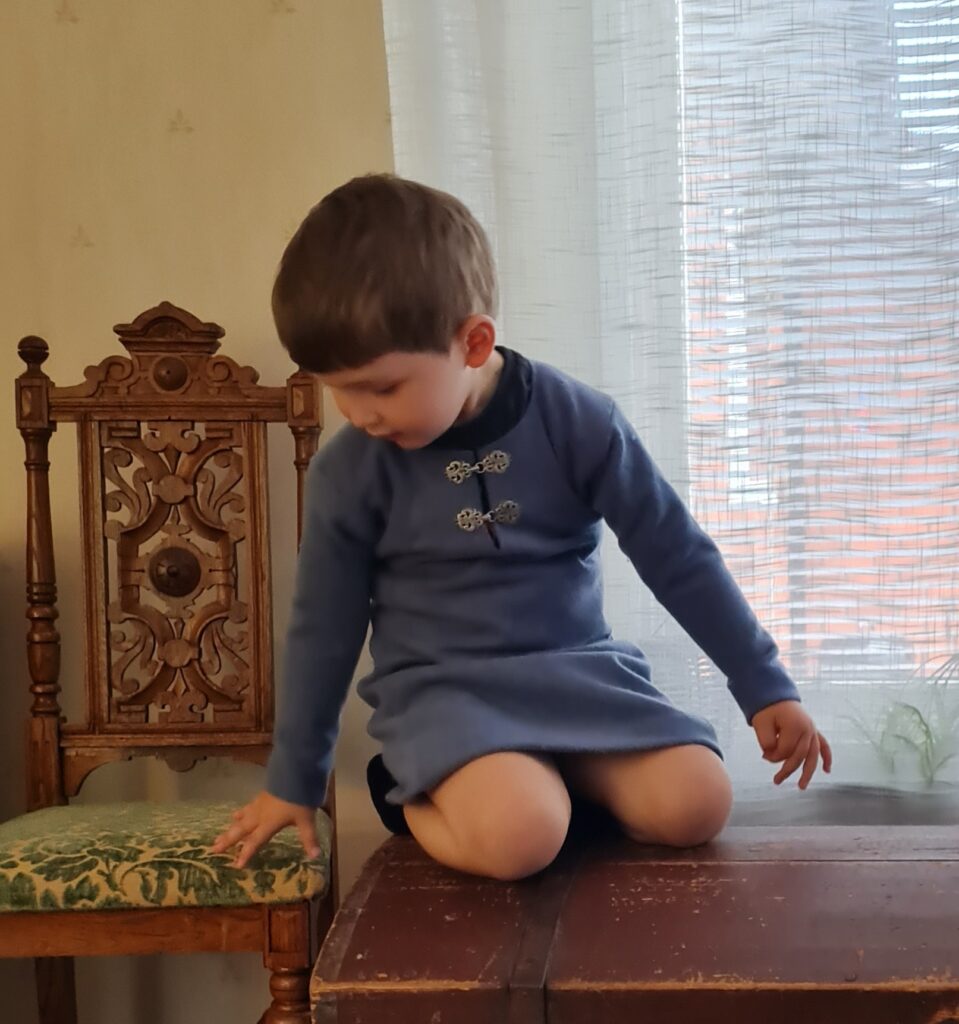 I was sorry to have to stay at home, but my dear husband sent many wonderful pictures from the event, which seemed to have met every expectation. There was magic, juggling with fire, combat, wonderful company and hotdogs. Our boy has talked much about it afterwards and I do believe that even his older cousins appreciated it.
Det har gått två år sedan vi besökte Medeltidsveckan senast och vi har saknat det mycket. Förra veckan hölls en medeltidsdag i Västervik, "Den glada medeltiden". Eftersom vår son nyligen utvecklat ett starkt intresse för både sagor och trollerier, kändes det som om detta evenemang hade skapats för honom. Hans äldre kusiner var också intresserade. Tonårstjejerna kunde låna mina klänningar (som inte passar min nuvarande 9-månaders-graviditetskropp särskilt bra), men båda pojkarna behövde nya kjortlar och min mans 1100-talskjortel krävde några justeringar. Jag hade kvar lite av samma blå ylletyg och eftersom min son bara gick med på att ha på sig en identisk dräkt som sin kusin och idol, spenderade jag veckan med att sy och justera tre dräkter i samma tyg. Sonen hade även klargjort att han bara skulle använda dräkten om den liknade något som Ronja eller Birk kunde ha haft, så han fick välja folklore-spännen från sitt piratskrin, som vi fyllt med knappar från en gammal koftor. Tack vare det välbekanta mönstret med rektanglar och trianglar så lyckades jag göra klart den sista dräkten kvällen innan evenemanget. Tyvärr måste jag ha räknat fel när jag gjorde kusinens mönster, så det var rätt trångt under armarna.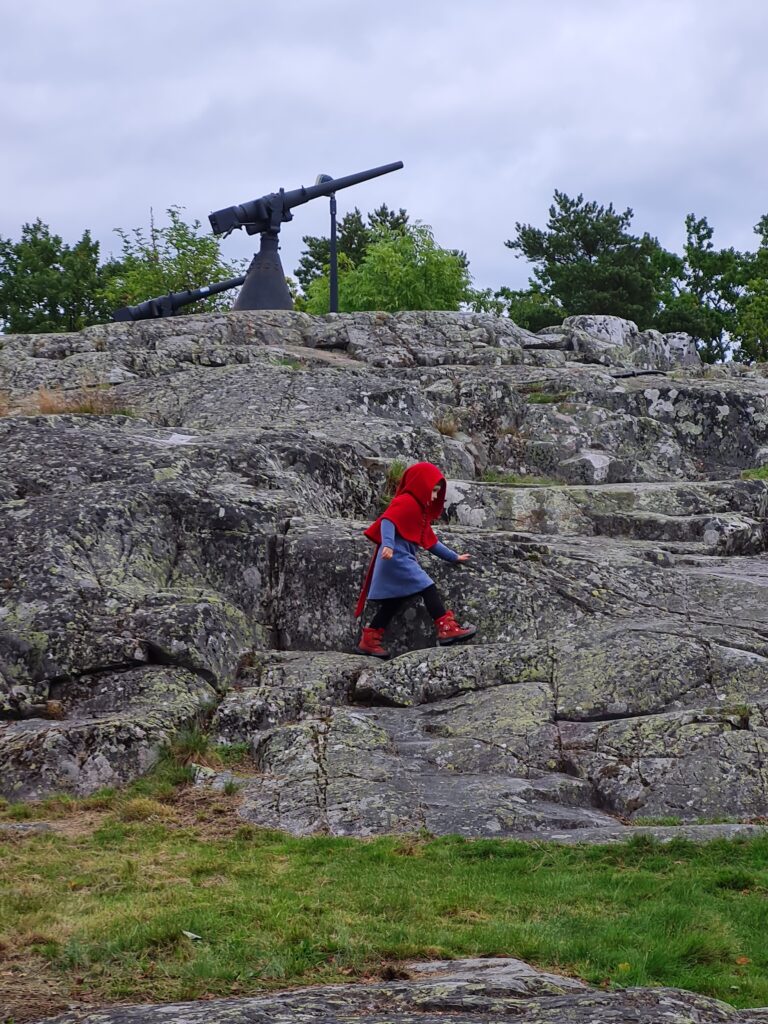 Det tog emot att stanna hemma, men min käre man skickade flera underbara bilder från evenemanget, som verkade uppfylla alla förväntningar. Det bjöds på trolleri, eldshow, medeltida krigskonst, ypperligt sällskap och varmkorv. Vår son har pratat så mycket om det efteråt och jag tror att även kusinerna uppskattade det.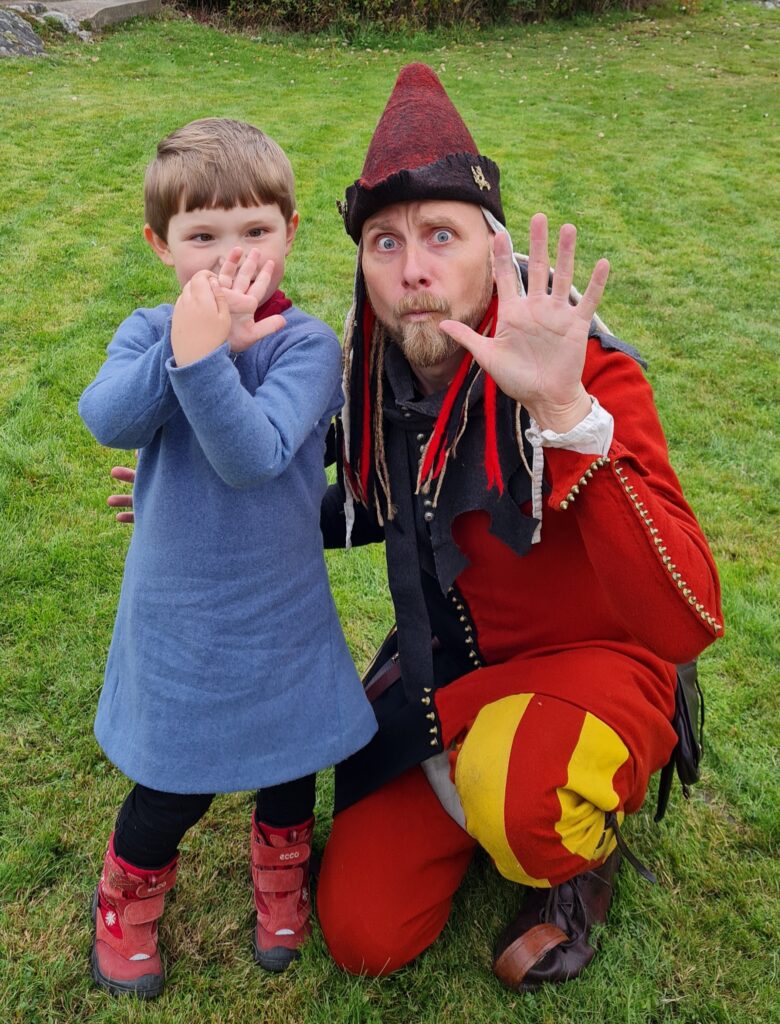 Earlier this summer, I also made this kirtle for another cousine, who felt like a princess in hee new dress. Perhaps even that family might be converted eventually.
Tidigare i somras sydde jag även denna kjortel åt en annan av kusinerna, som kände sig som en prinsessa i sin nya klänning. Kanske kommer även den familjen omvändas så småningom.