This Saturday was hectic and lovely. After a couple of hours terrible sleep, a was awaken by my happy two year old boy. We played for some hours and then I left for singing and playing the violin at a wedding. The road led through a beautiful autumnal landscape and the sun was shining over the church and the lake. The wedding was filled with love and I felt very honored to play for them (even though my violin untuned itself again and again because of the freezing cold). After having played a folk music march, down the stairs and leading the company to their refreshments, my fingers were numb. I went back by car in a hurry and was so happy to arrive in time for changing clothes in time for the Regency Ball!
Denna lördag var hektisk och härlig. Efter några få timmars dålig sömn väcktes jag av min glada tvååring. Vi lekte i några timmar och sedan åkte jag iväg för att sjunga och spela fiol på en vigsel. Vägen ledde genom ett vackert hötlandskap och solen sken över kyrkan och sjön. Vigseln genomsyrades av kärledk och jag kände mig väldigt hedrad som fick spela för dem (även om min fiol stämde ur sig gång på gång på grund av kylan). Efter att ha spelat en gångmarsch, gåendes nedför trappan och ledande gästerna fram till deras förfriskningar, hade fingrarna tappat känseln av kylan. Jag skyndade mig tillbaka och var så glad när jag insåg att jag skulle hinna byta om i tid för empirbalen på Storebro Herrgård!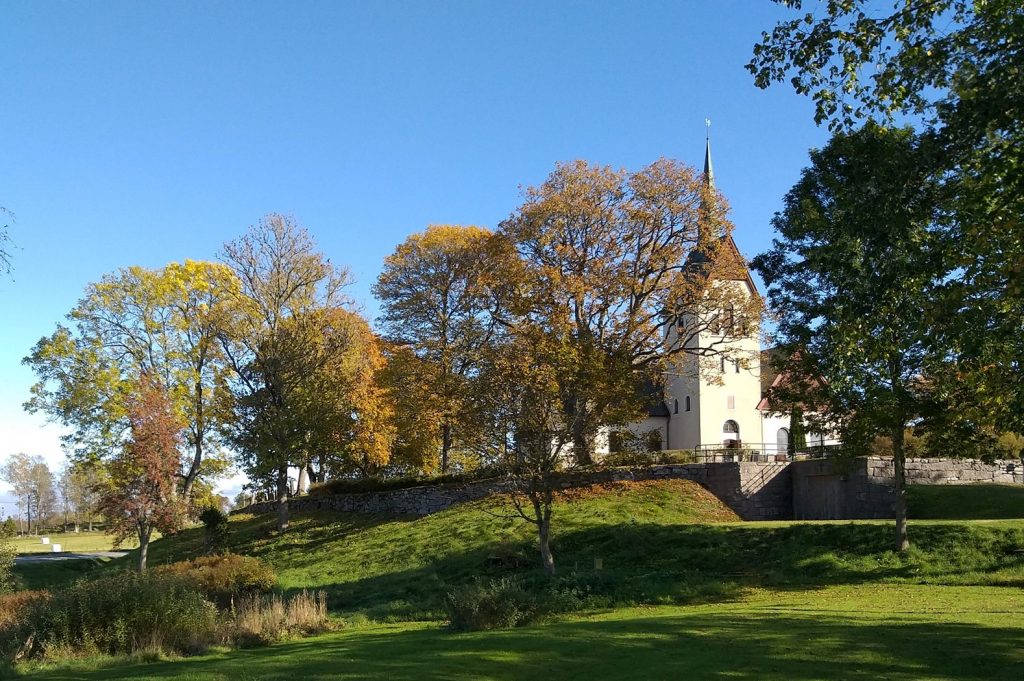 Regency Waistcoat
I made a new waistcoat to to match the new black tailcoat. After several months of  dithering, I ordered a beautiful silk fabric from Renaissance Fabrics. I really wanted to buy all of their fabrics… I drafted my own pattern, consisting of two lined front pieces with pockets, two back pieces and a standing collar out of two pieces of fabric, as in this sketch. I will upload some better pictures later.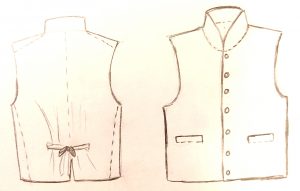 Jag sydde en ny väst som skulle matcha min mans nya empirrock. Efter flera månader av beslutsångest beställde jag till slut ett vackert sidentyg från Renaissance Fabrics. Egentligen hade jag velat köpa alla deras tyger! Jag hade inte goda erfarenheter av det västmönstret från Reconstructing History, som jag använde förra gången, så nu ritade jag ett eget mönster. Det består av två fodrade framstycken och två bakstycken, samt en stående krage, som på denna skiss. Jag ska ladda upp några bättre bilder på västen senare.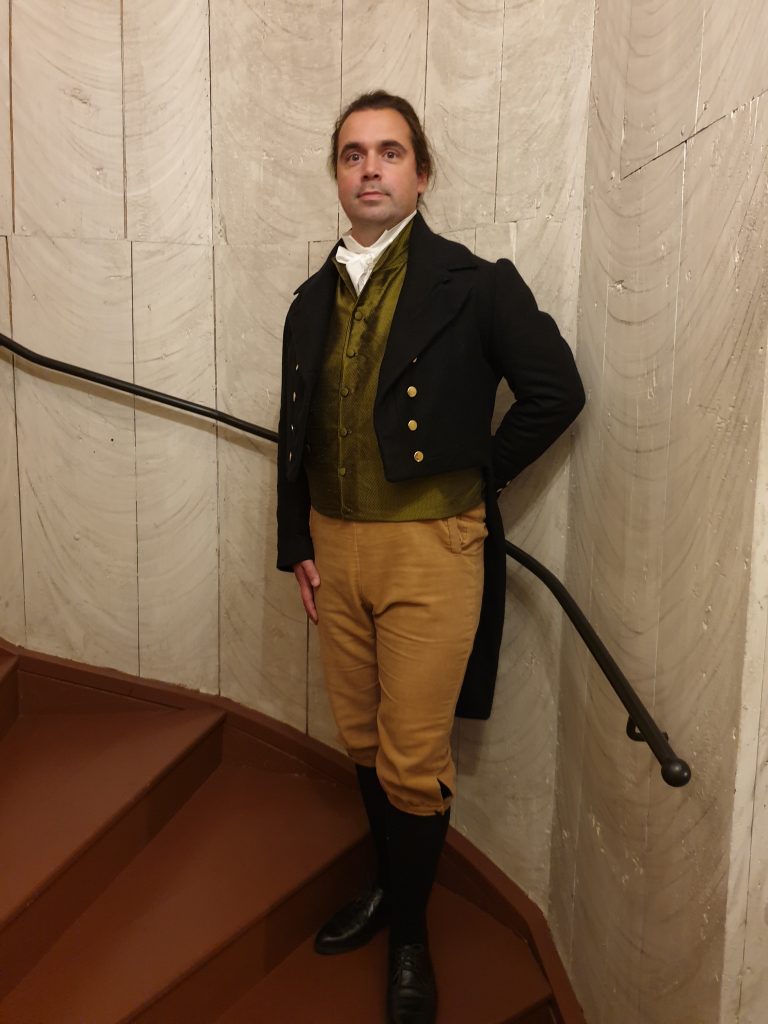 My magnificent husband in whole!
Min stilige man, i hela sin härlighet!
Reticule
The last day before the ball, i quickly made a reticule to hide my cell phone. I had some help from my son.
Dagen innan balen sydde jag en retikyl för att gömma min mobiltelefon. Min son hjälpte till.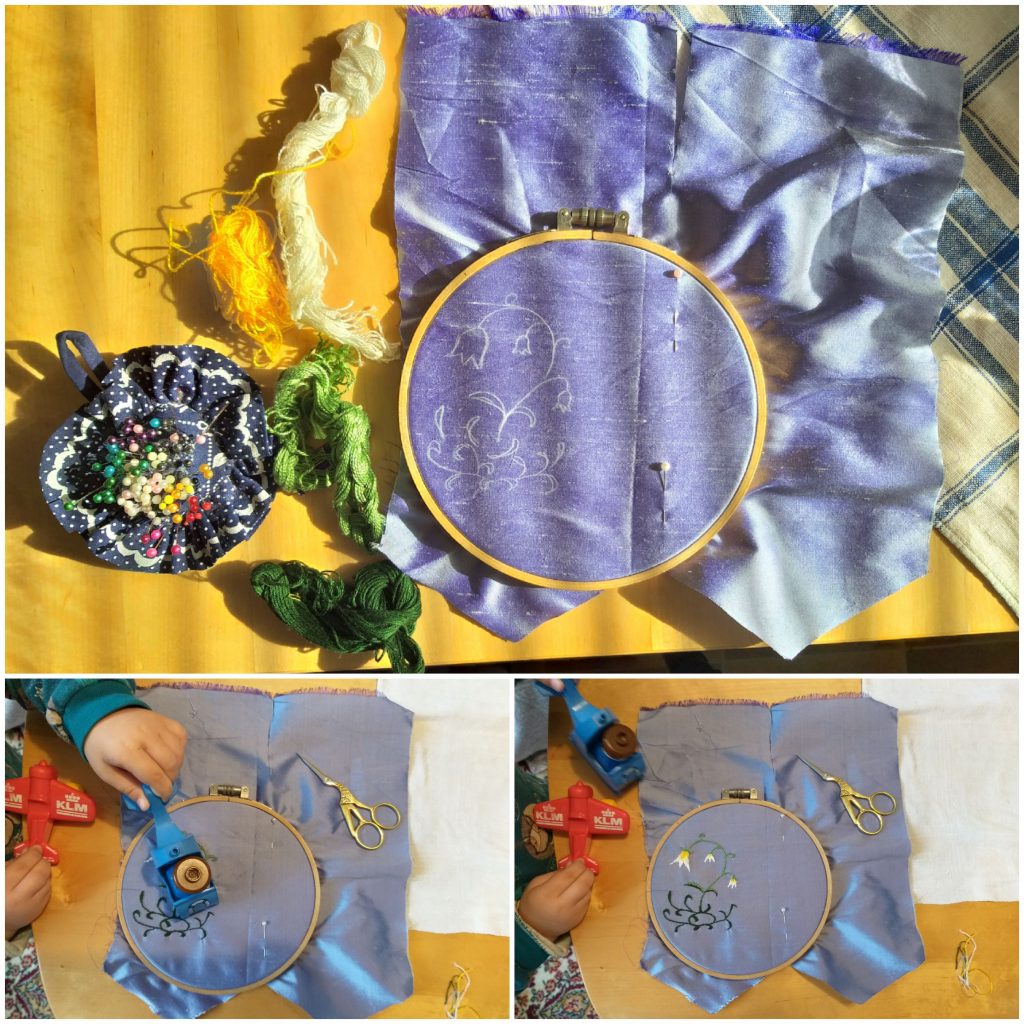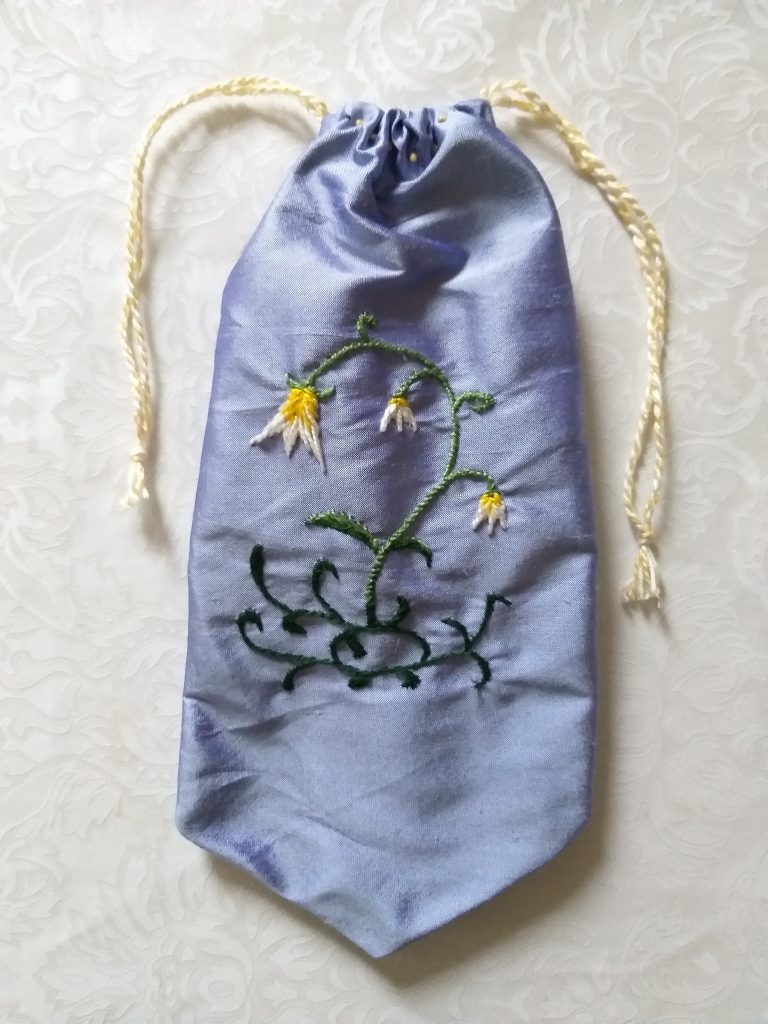 The company prepares for the ball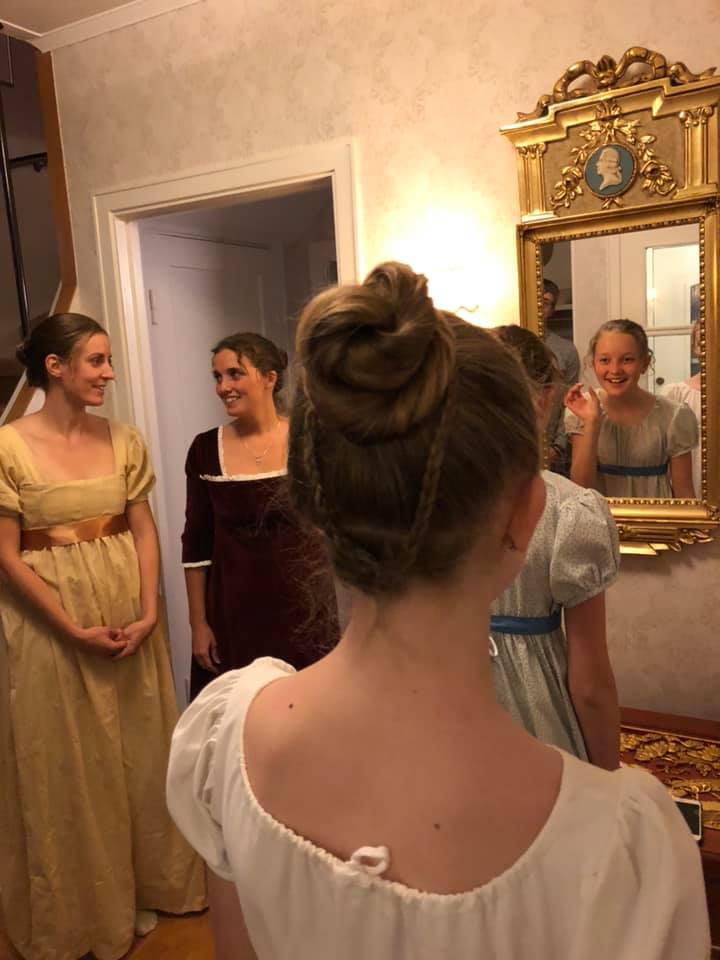 Ten years ago, a couple of friends and other Jane Austen fanatics attempted to sew regency dresses, using the hardly decipherable morning dress pattern of Recreating History. My sister and I made our  first regency dresses. Caroline made this lovely yellow dress.  My sister did me the honor of wearing the velvet dress, that was inspired by Kiera Knightley's in the Hollywood version of Pride an Prejudice. Her daughters wore the white bed sheet dress and the one I made from leftovers from my sisters regency dress.
För tio år sedan hade vi en studiecirkel där jag och några andra Jane Austen-nördar sydde empirklänningar, med hjälp av det svårkodade morgon-klänning-mönstret från Recreating History. Dessa var min och min systers första empriklänningar. Caroline sydde denna fina gula klänning. Min syster gjorde mig äran att använda min sammetsklänning, som jag sydde utifrån Kiera Knightlys i Hollywoodversionen av Stolthet och fördom. Hennes döttrar använde den vita lakan-klänningen och klänningen som jag sydde av stuvbitar från min systers empirklänning.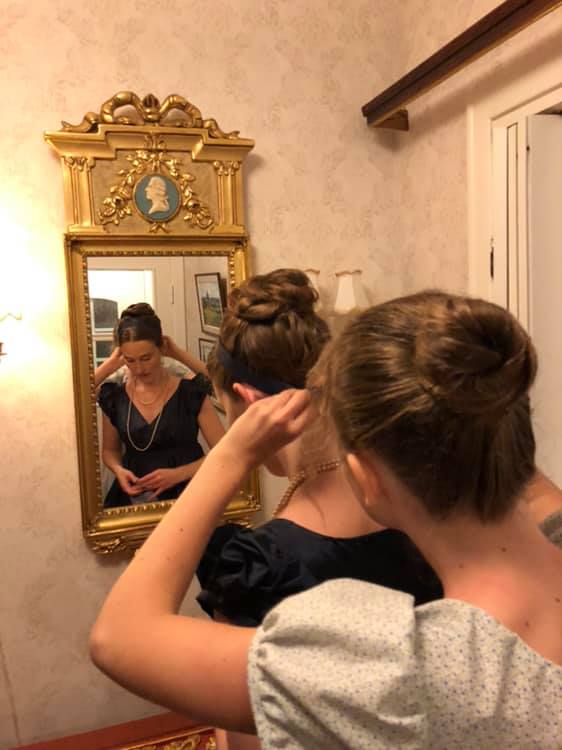 My niece is a styling pro!
Min systerdotter är ett styling-proffs!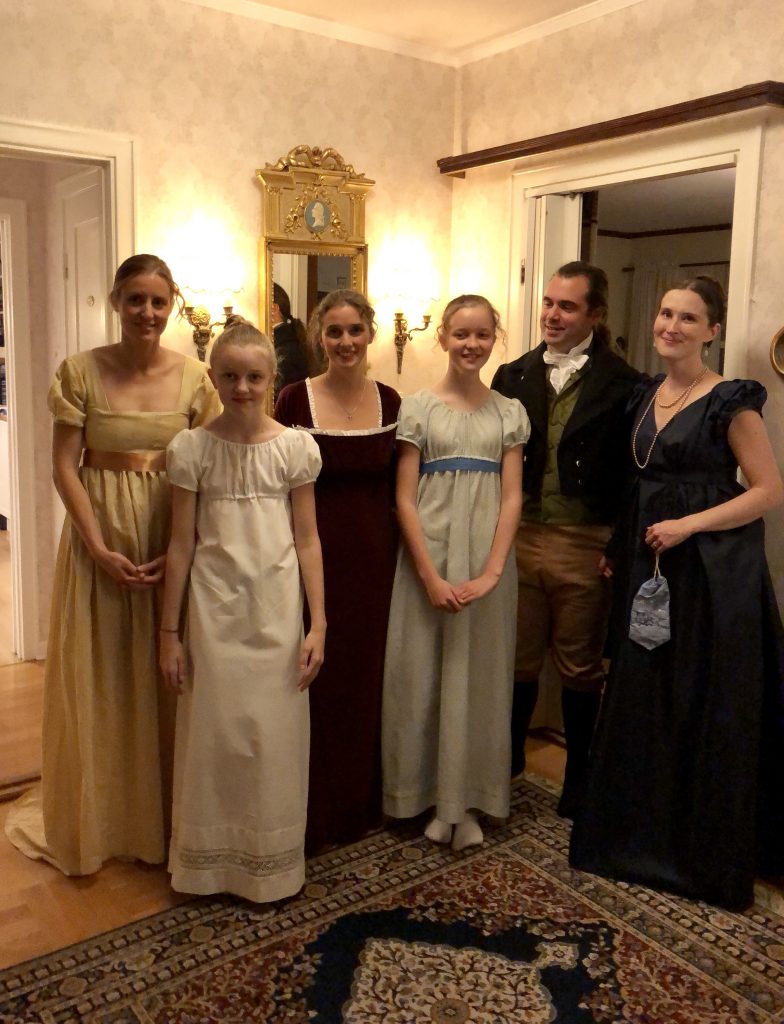 I am quite proud of the fact that I have sewn all of the outfits, except for Carlines dress. I wore my YWU competion entry dress.
Jag är faktiskt ganska stolt över faktumet att jag har sytt alla dräkter, förutom Carolines klänning, som jag dock också var ganska involverad i. Själv använde jag mitt tävlingsbidrag till YWU.
At the ball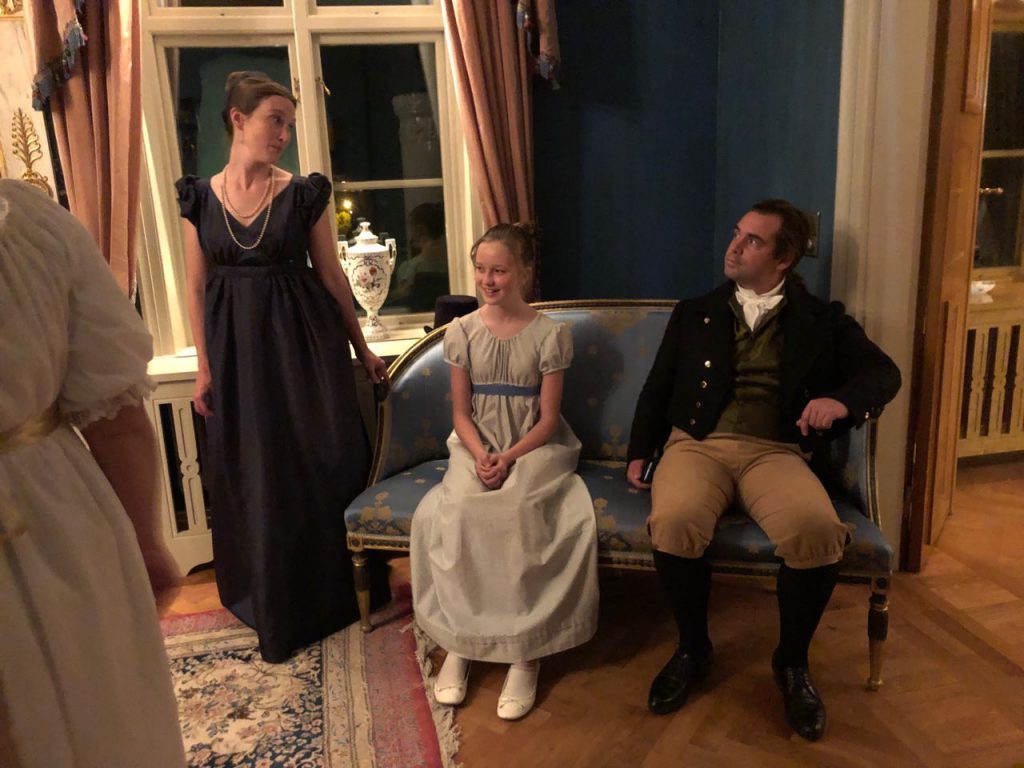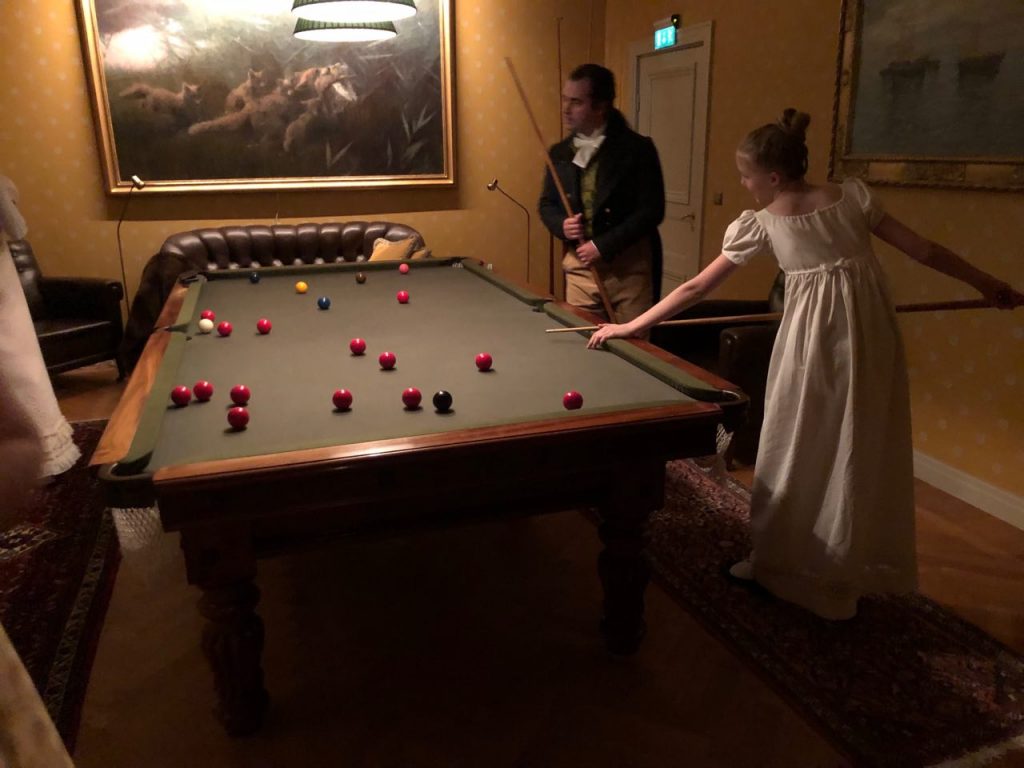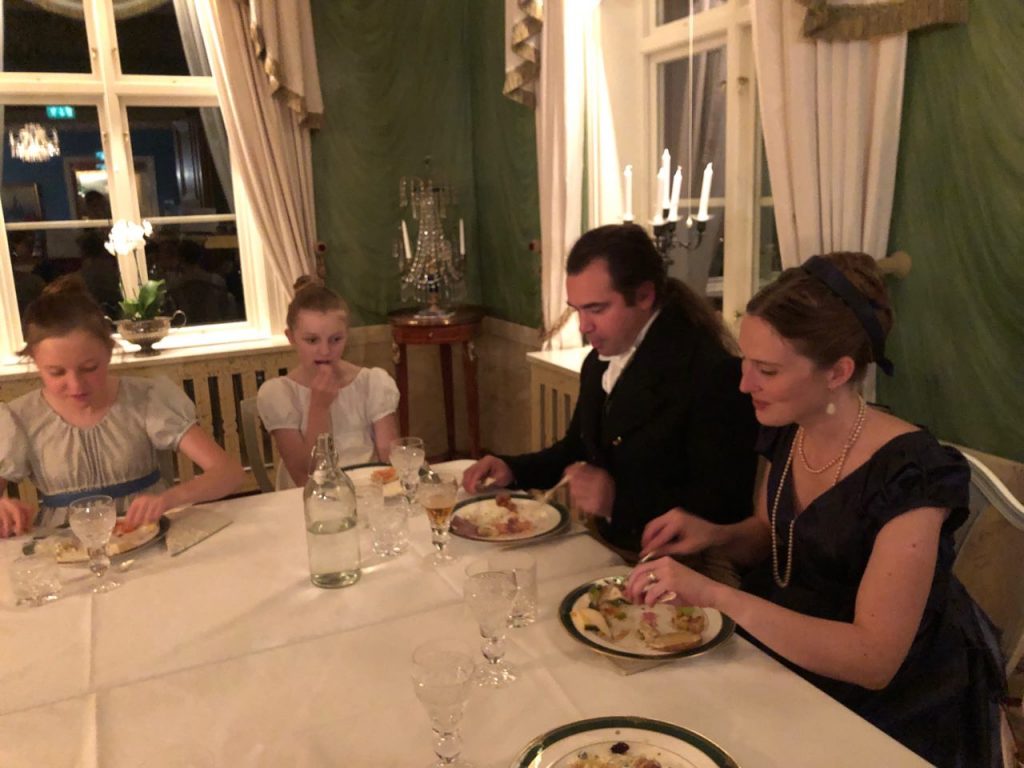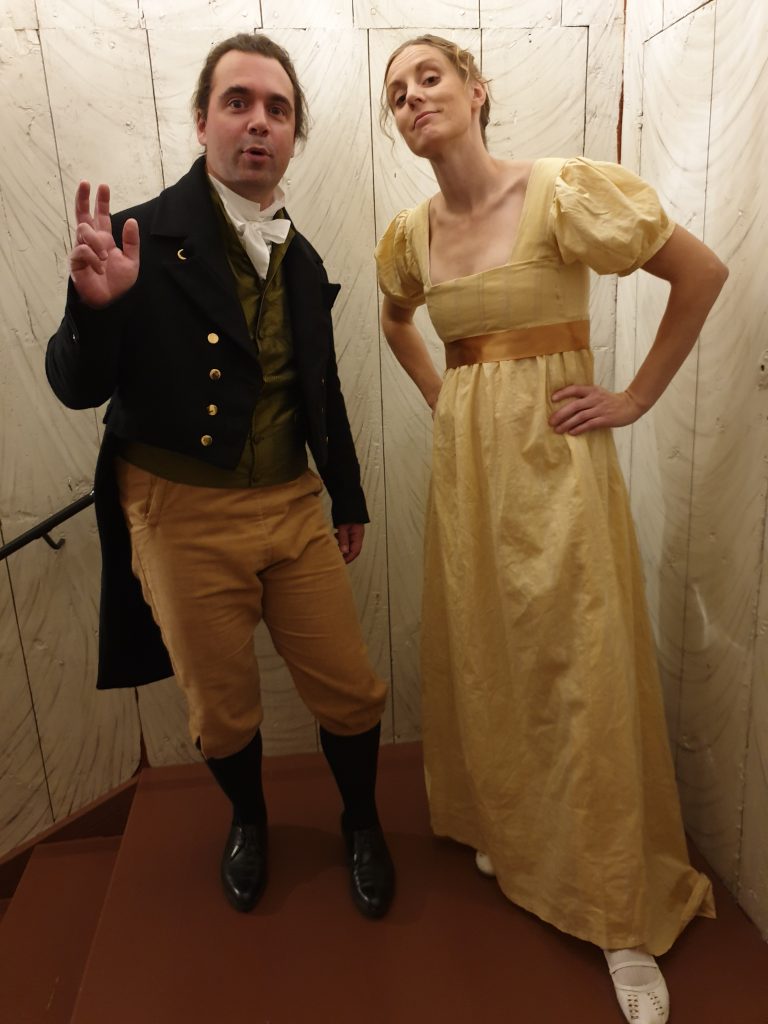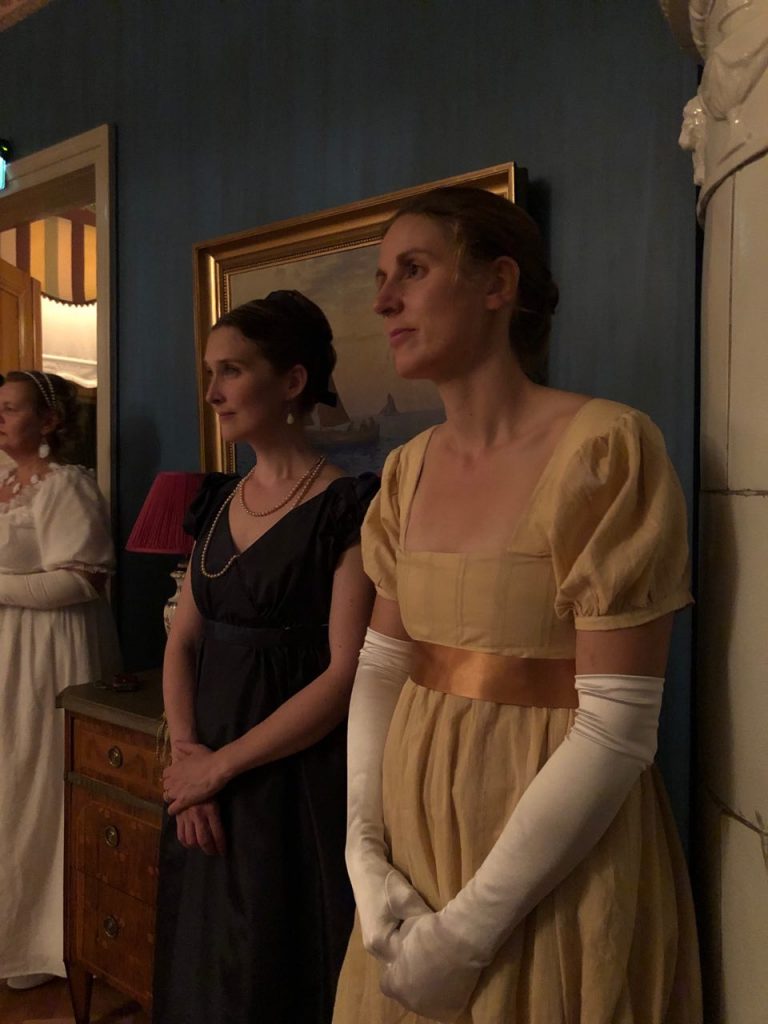 Thank you, Ellen, for arranging such a lovely evening!