After achieving the right shape for the corset mockup, I have aimed at making the smoothest foundation possible, to go underneath the lightweight silk. A few minutes at a time, I sketch, measure and sew. Tiny steps, over and over again. At last it begins to look like a dress.
Efter att uppnått rätt silhuett på korsetttoillen, försöke jag skapa den jämnaste grunden jag kunde, för det tunna sidenet som ska vara ytterst.  Jag har skissat, mätt och sytt några minuter åt gången. Små steg i taget, om och om igen. Till slut börjar det likna en klänning.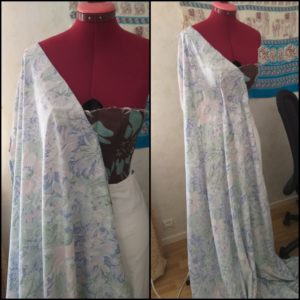 First, I made the bodice part, from a lightweight cotton, that I got from Birgitta. It has a long zipper under the arm. It has two darts in front and, mistortunately two gussets at the lower back (don't ask me why). Then I added a skirt, made from a synthetic lining fabric, that I got amongst the most beautiful fabrics from Sollan, through Carolina Holmström. In order to get the right  flowy shape, I have added tulle in several rows, smother in the front and more gathered in the back.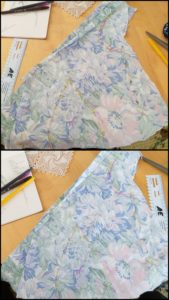 Först sydde jag klänningslivet av rester från ett tunt bomullstyg som jag fått av Birgitta. Livet har en lång dragkedja under armhålet, två inprovningar framtill och två sprund i ländryggen (fråga inte varför). Sedan sydde jag fast en underkjol, av tyg som jag fått tillsammans med flera fantastiska tyger från Sollan, genom Carolina Holmström. För att få till den perfekta böljande formen, fäste jag sedan tyll i flera rader nedtill på kjolen – mest rynkade baktill.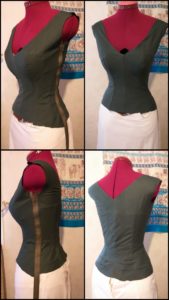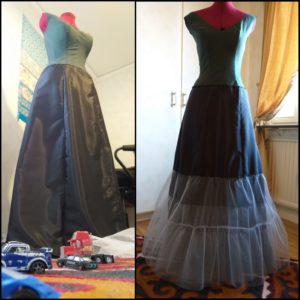 The fashion fabric is a very lightweight dupioni ikat from Khiva (an ancient city along the Silk road), that I got from my mother years ago. Since it doesn't fit the historical fashions that I use to do and is too beautiful to use for any project, it has just layed in my stash, to be taken out and be stared at for a while every year. I was thrilled when I finally found out that it would suit my serpent witch!
Klänningstyget är ett tunt ikatmönstrat dupionsiden från Khiva (en uråldrig stad längs sidenvägen), som mamma gav mig för många år sedan. Eftersom sådana tyger inte förekommer under de historiska moden som jag sysslar med, har tyget legat i en låda för att bli framplockat och stirrat på med jämna mellanrum. Jag blev så glad när jag kom på att det skulle passa fint på ormhäxan!
It is 60 cm wide and good 9 m long. I have measured and counted so many times, trying to figure out how to cut the fabric and have something left for the sleeves. Finally I have decided to just finish the dress and see what I can come up with with, using what fabric is left afterwards. Oh, the horror.
Tyget är 60 cm brett och drygt 9 m långt. Jag har mätt och räknat så många gånger, för att lista ut hur tyget ska klippas och ändå få något över till ärmarna. Till slut har jag bestämt mig för att göra klart klänningen först och se om det sedan klura ut hur ärmarna ska se ut, utifrån hur mycket tyg jag har kvar då. Kära hjärtanes.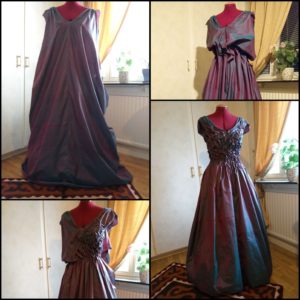 Now I have started draping. It is great fun! But it is challenging to save the hemline at the right height as I  manipulate the fabric. I put a pin in every wrinkle and will then secure all of this stiching by hand with my finest needle. This will take maaaany hours.
Nu har jag börjat drapera tyget. Det är superkul! Men det är knepigt att bevara rätt höjd på kjolfållen medan jag manipulerar tyget. Jag sätter en nål i varje veck och ska sedan fästa allt detta med handsömnad. Detta kommer ta mååååånga timmar.