18 years ago, I found this robe at a Tanzanian market place. I loved the colours and the embroideries, but as the model was quite unflattering, I only used it once. The top consists of a complete circle, sewn together below the armpits. The skirt is a rectangular wrap skirt.
För 18 år sedan hittade jag denna dräkt på en tanzaniansk maknad. Jag älskade färgerna och broderierna, men insåg att modellen var väldigt osmickrande (åtminstone med vårat nuvarande kroppsideal), så jag använde den bara en gång. Toppen består av en stor cirkel, hopsydd under armarna, och kjolen är en stor rektangel som knyts omlott med en snodd.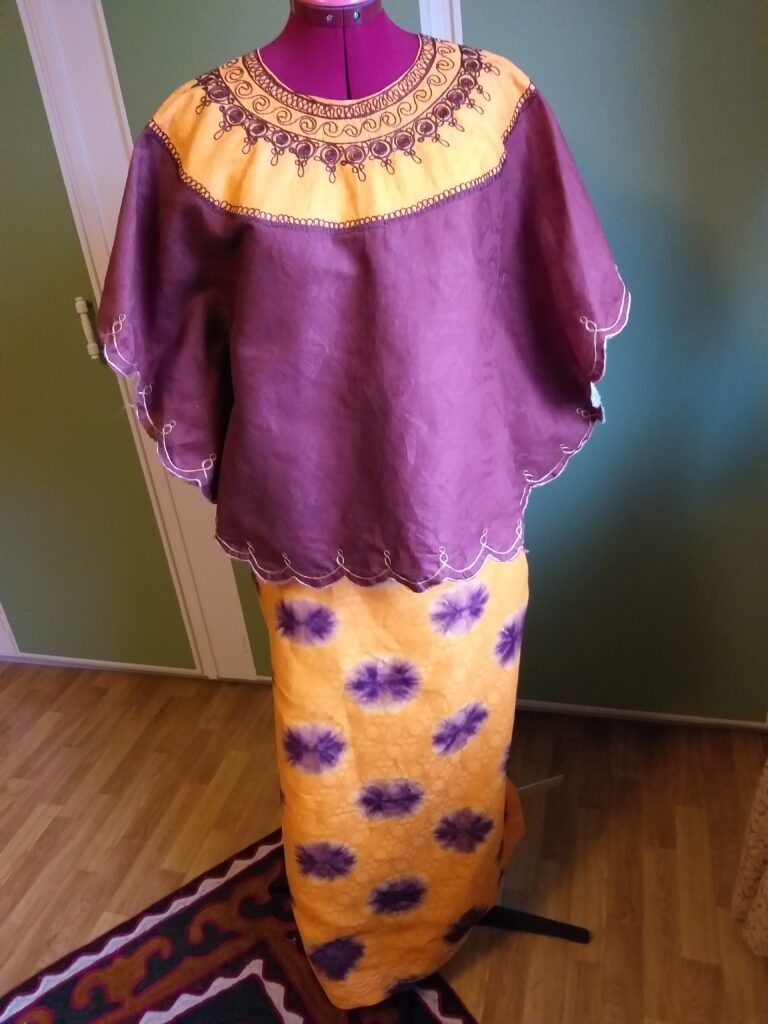 During this past year I have had it hanging on my mannequin, pulling the fabric a few inches backward and forward every now and then. By the start of my vacation, I was finally able to decide on a design, cutting the fabric and sewing it together.
Senaste året har dräkten hängt på min provdocka. Jag har dragit tyget några cm hit och dit då och då. I början av semestern bestämde jag mig äntligen för design, klippte tyget och sydde klart.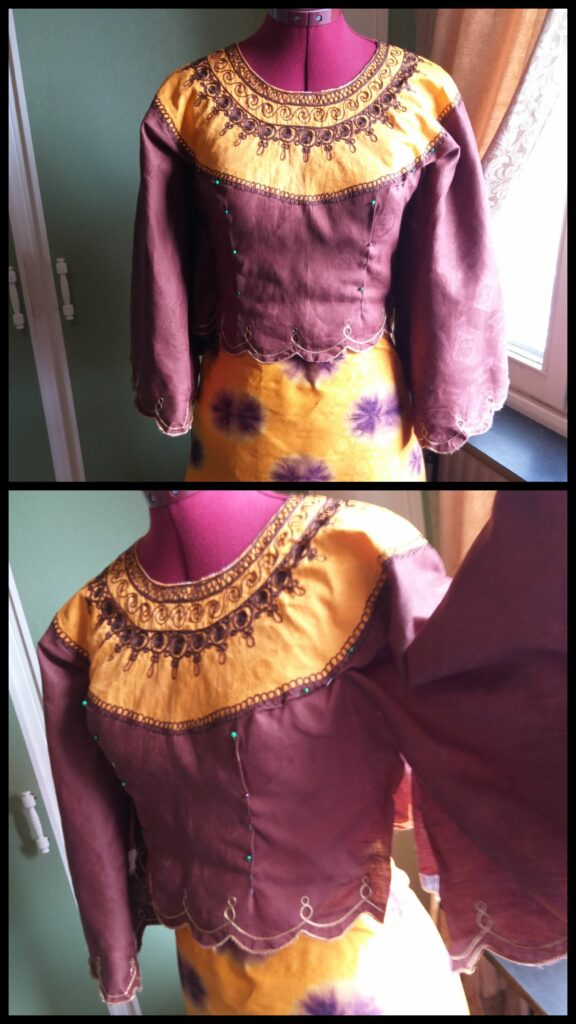 I believe the embroideries are made by a machine program but managed by hand (?), as they vary all over. I rotated the top one quarter, as the embroideries looked the best there. With darts below and at the sides of the bust, the bodice recieved tighter fit. I put two seams in the neckline at the back, in order to make it narrower and make the bodice a tad shorter. When the bodice had the right shape, I cut the fabric, dividing the bodice from the arms, but keeping it intact above the armpits. Because of the bust darts, there is some bulk at the armpits, but I don't think it's too obvious. A zipper closes under the left arm.
Jag tror att boderierna har gjorts med brodermaskin, men matats fram för hand (?) eftersom broderierna varierar över hela plagget. Jag roterade toppen ett kvarts varv för att få de finaste broderierna mitt fram. Med infodringar under och vid sidan om bysten blev lìvet tight. Med ett par sömmar baktill i halslinningen blev den mindre urringad och toppen blev lite kortare. När livet fått rätt passform klippte jag upp sidorna och separerade livet från ärmarna. På grund av infodringen vid bysten är det extra mycket tyg vid ärmen, men jag tycker ändå att det ser ok ut.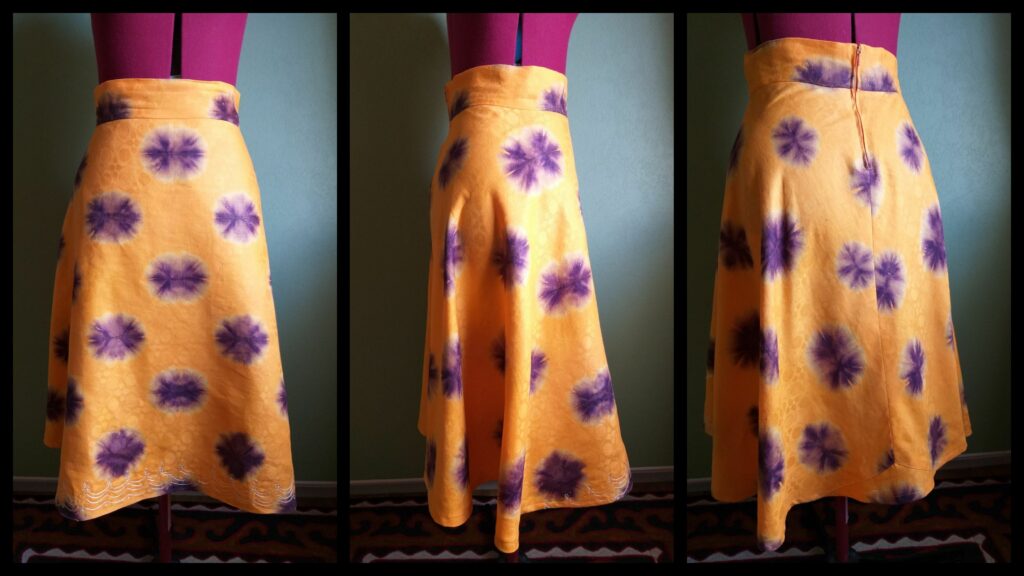 The model of the skirt required wider fabric, but I managed to piece it together.
Kjolens modell krävde egentligen ett vidare tygstycke, men jag kunde lappa ihop den.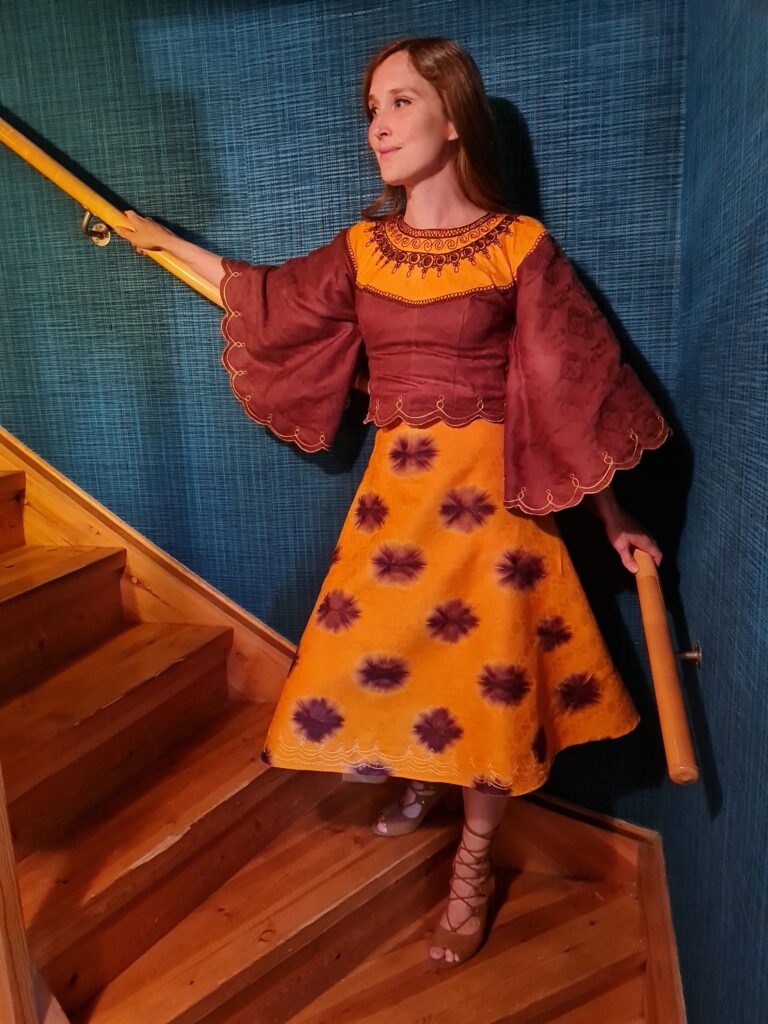 Today, by the end of the summer, we took pictures while little brother slept. I think it seems to belong here, at our 60s staircase.
Idag, i slutet av sommaren, tog vi bilder medan lillebror sov. Jag tycker att dräkten ser ut att höra hemma här, i vår 60-talstrappa.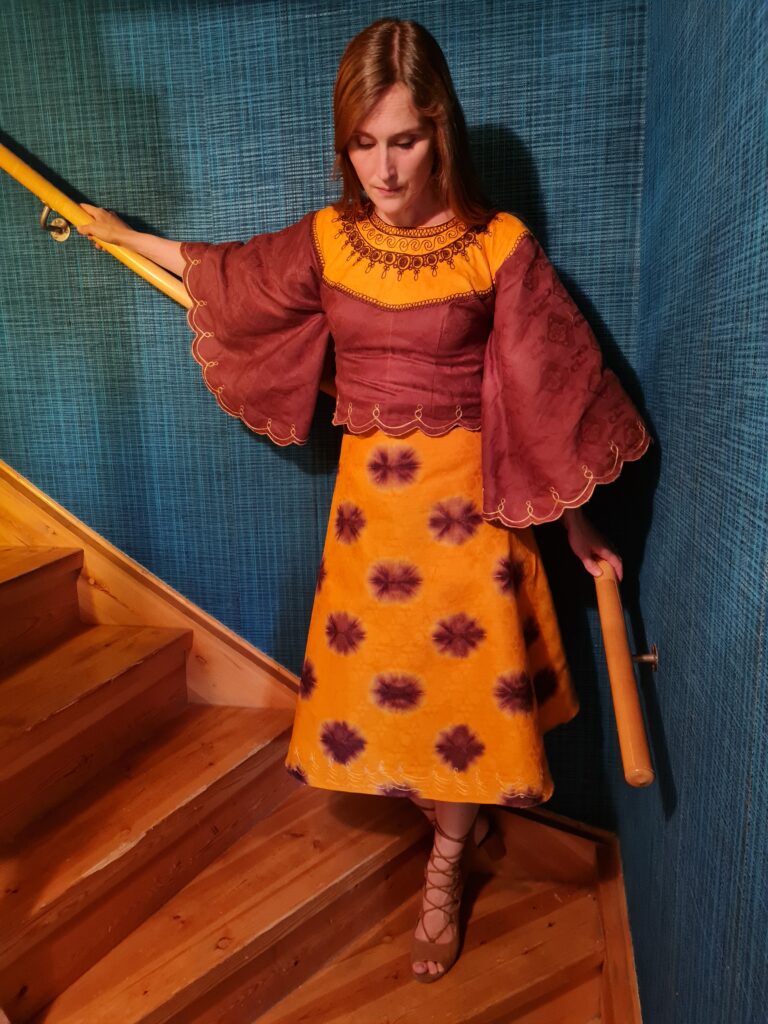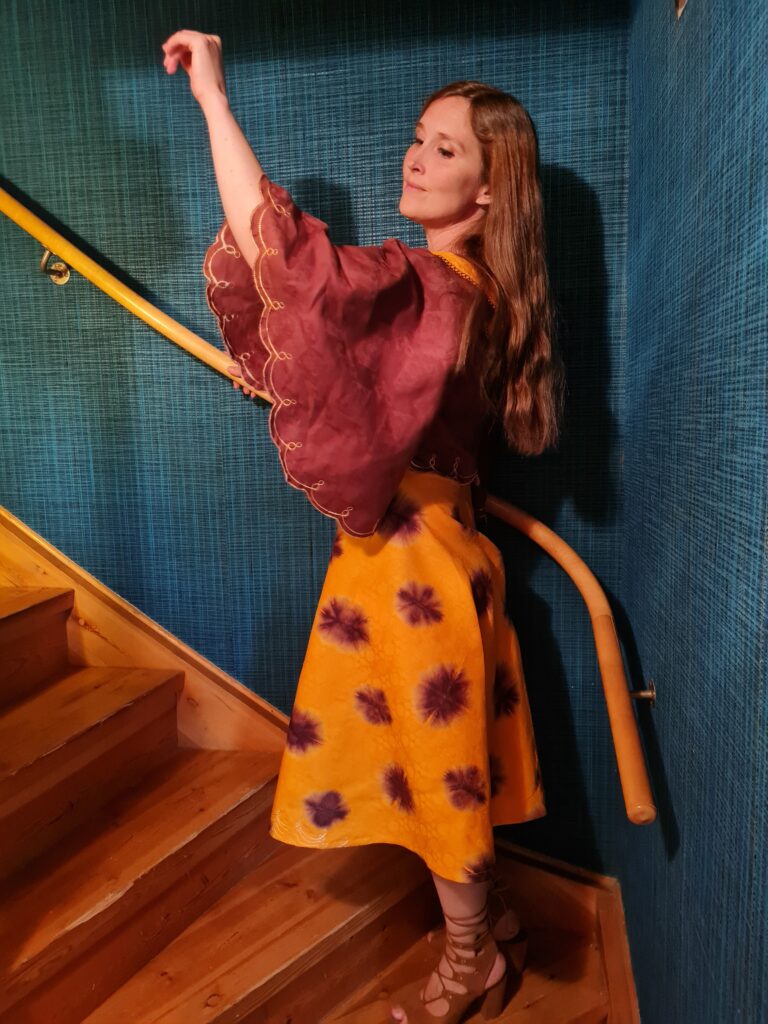 Tyvärr insåg jag först efter att ha krupit runt på golvet med toppen på och fixat med mönster inför nästa projekt, att detta tyg blir skrynkligt bara man tittar på det. 😅