As this spring was hot, I decided to sew a cool shirt for our youngest, as a protection from the sun. I would finally use the pretty fabric that his brother chose when I was pregnant, two years ago. ❤ As I made this shirt, big brother asked if he could have one too, and if course I couldn't resist.
Eftersom det var riktigt varmt redan under våren så ville jag sy en sval skjorta åt minstingen, att använda som solskydd. Jag använde tyget som storebror valde medan lillebror låg i magen för två år sedan. ❤ När storebror såg skjortan bad han om att få en likadan och jag kunde naturligtvis inte neka honom detta.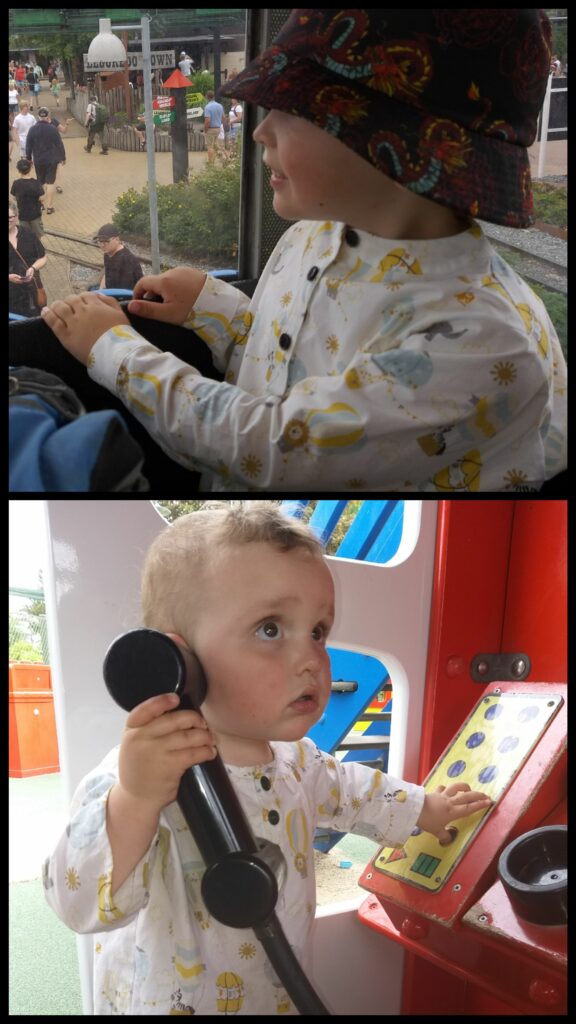 Dear Bonna captured this lovely photo after the sunday service (as I wore another of my earlier creations). Thank you so much for the picture!
Fina Bonna fotograferade oss efter gudstjänsten (på bilden bär jag en annan tidig kreation). Tack så mycket för bilden, Bonna!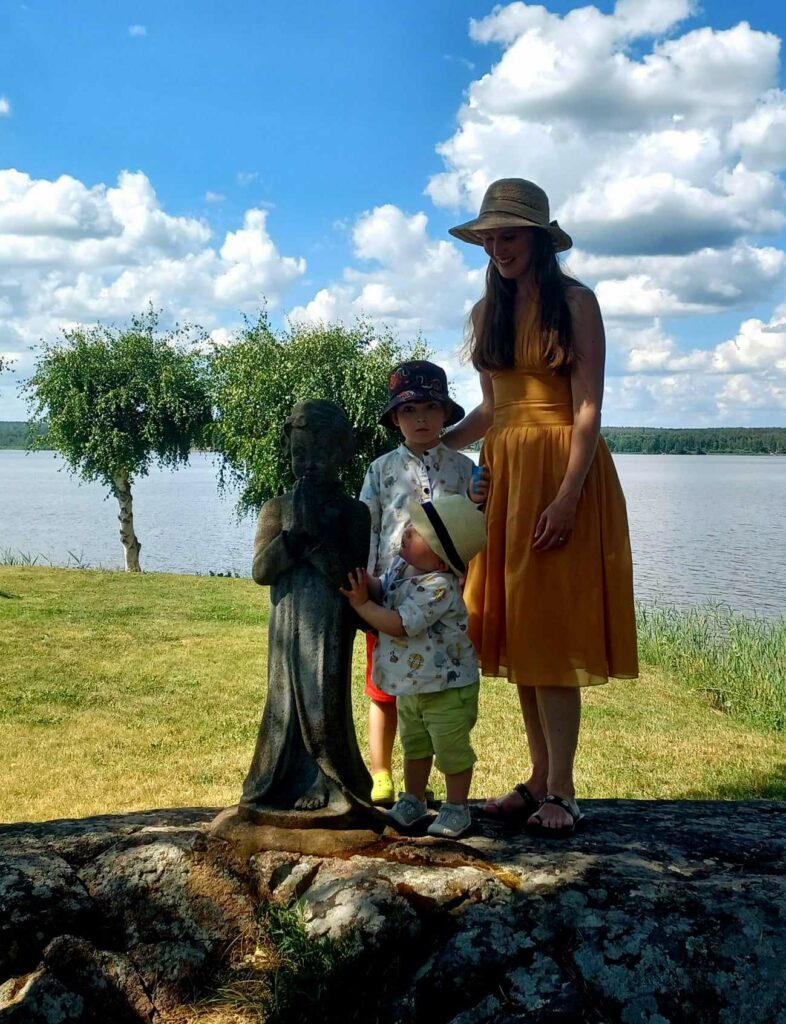 Here is a closer view of both shirts. Här kan man se skjortorna på närmare håll.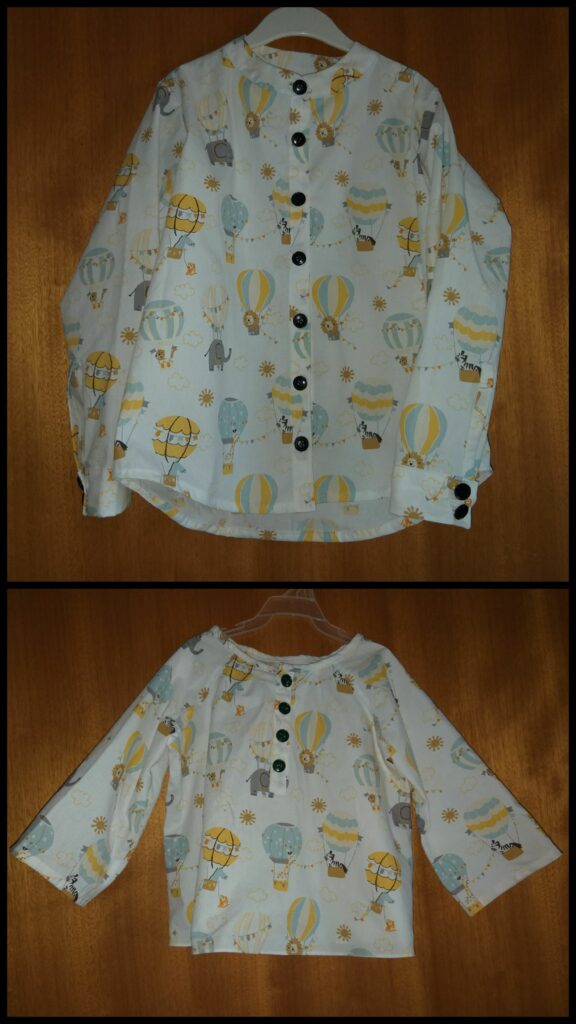 Tutorial for toddler's shirt
About ten years ago I found a soft, lightweight bedsheet from the 70s, with a floral print that reminded me of a beautiful dress worn by Grace Kelly in Hitchcock's Rear Window.
För ungefär tio år sedan hittade jag ett underbart tunnslitet 70-talslakan med blomstermönster som påminde mig om Grace Kellys klänning i Hitchcocks Rear Window.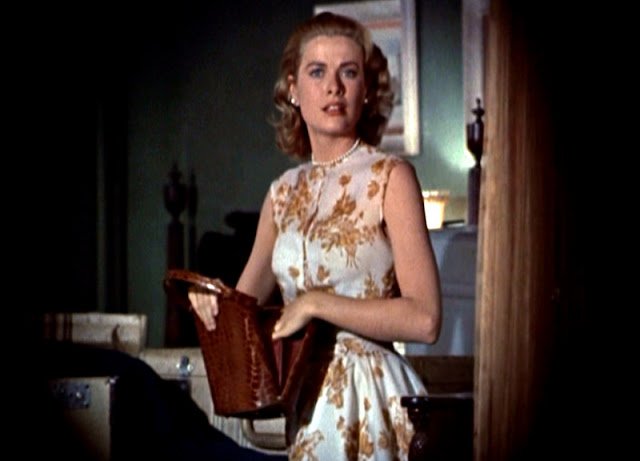 I made a more simple version, with a loose fit, tied with a bow at the waist.
Jag sydde en enklare variant, med luftig passform, sammanhållen med en rosett i midjan.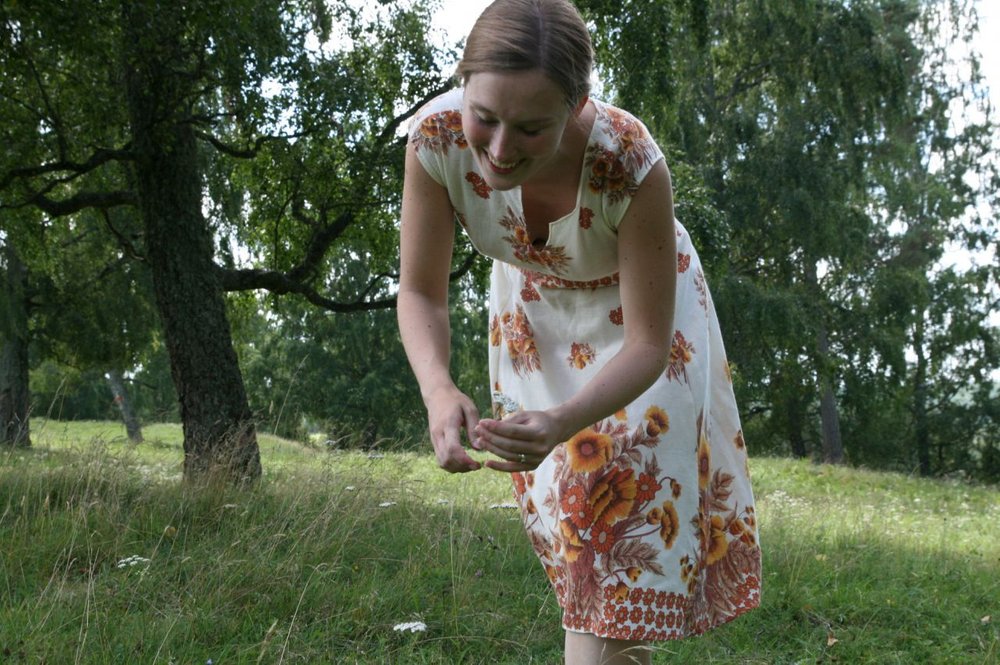 This dress was so incredibly comfy that I used a lot until it suddenly tore as I played with the kids the other day. I mourned it for a couple of hours until I found comfort in that it could be transformed into a shirt for the little one.
Denna klänning var så otroligt skön att jag använde den väldigt mycket, tills den slutligen sprack medan jag lekte med barnen. Jag sörjde den under ett par timmar, tills jag insåg att den kunde bli ytteligare en skjorta till minstingen.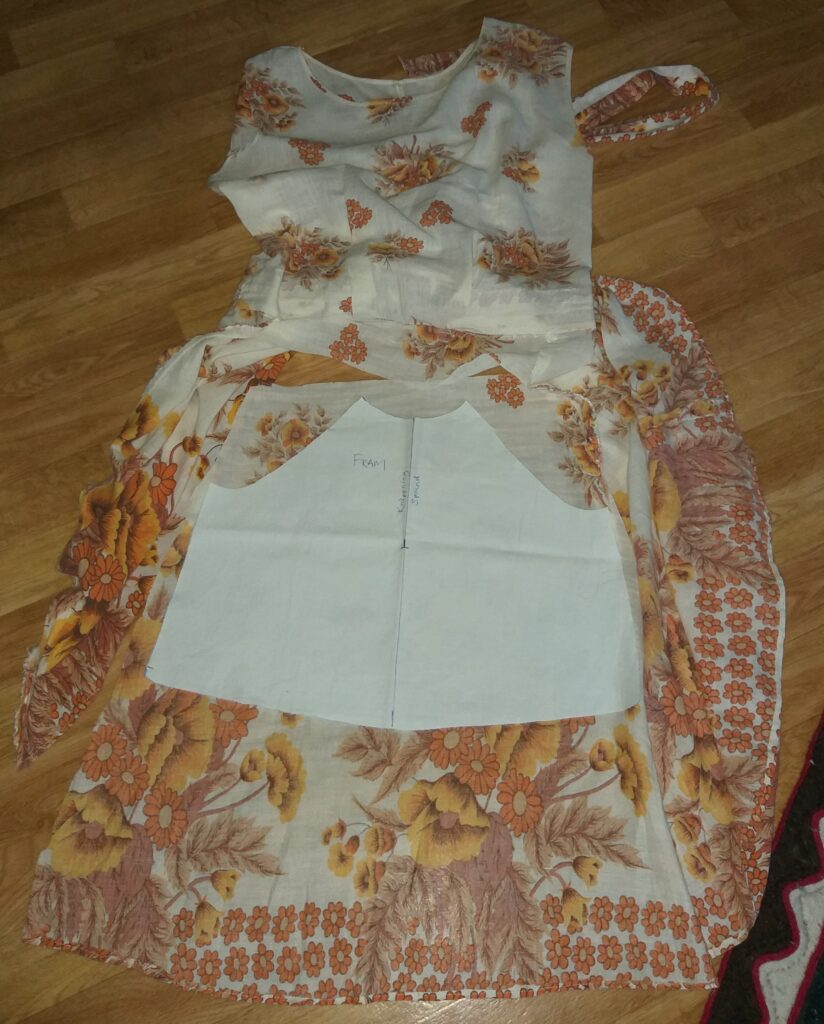 I used the same pattern as for the first shirt, which was copied from his beloved strawberry shirt.
Jag använde samma mönster som till den första skjortan, vilket jag kopierade från minstingens älskade jordgubbsskjorta.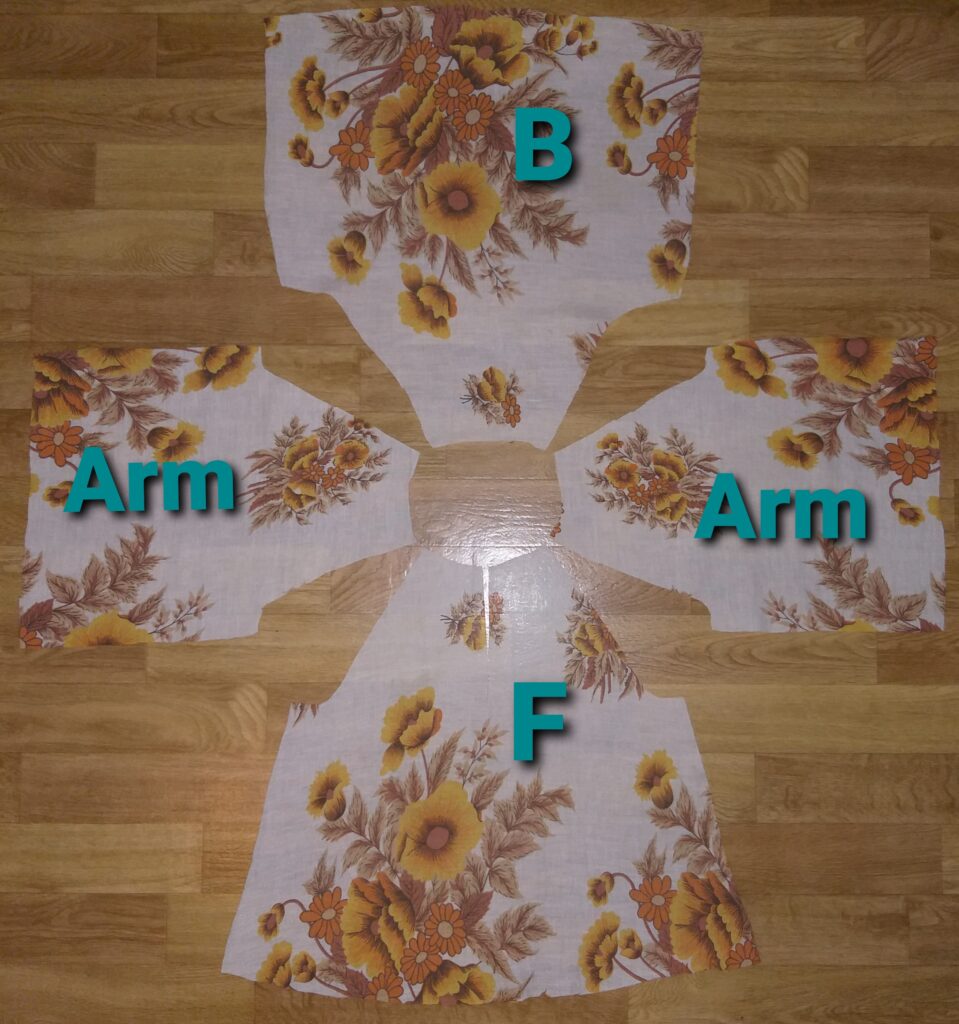 After cutting the four pieces, sew elastic inside the hem of the arms, then pulled the fabric to the right fit before making the seam along the arm.
Efter att ha klippt ut de fyra delarna, sydde jag in ett elastiskt band i ärmfållen. Sedan drog jag åt bander tills det var tillräckligt tight. Därefter sydde jag armlängden.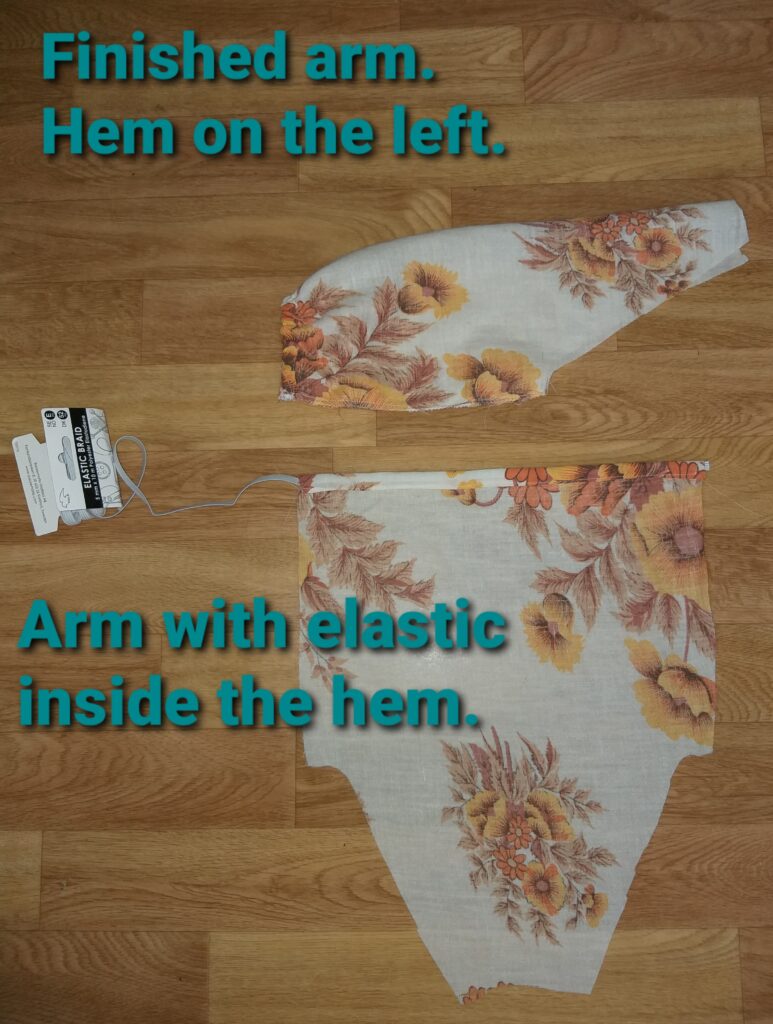 Then I moved on to the front opening of the shirt, before stiching the arms in place, binding the edges and making the bottom hem.
Därefter tog jag itu med öppningen i halsringningen och sedan sydde jag fast ärmarna. Sist sydde jag kantband i halslinningen och fållade botten.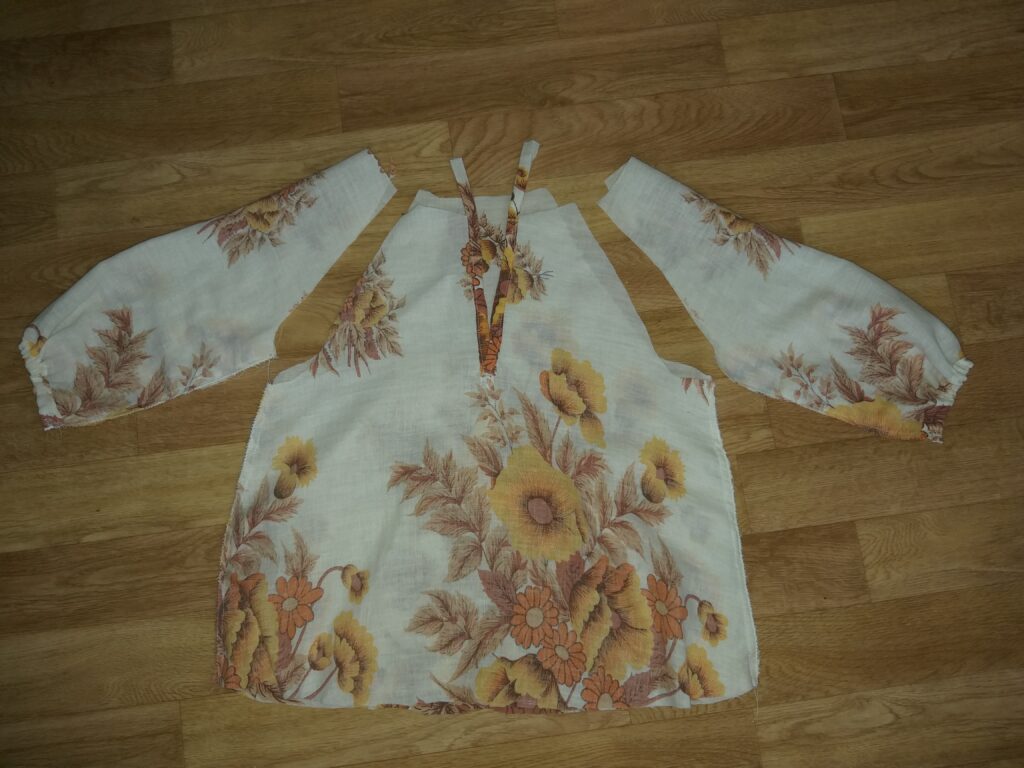 Today he tried it on and I believe he finds it just as comfy as I did my dress.
Idag testade han skjortan och jag tror faktiskt att han tycker att den är lika skön som jag upplevde klänningen.