This arm chair was beautiful when I inherited it from my grandparents. After much use, it was in a sad condition, with the fabric in tatters and one of the arms falling off.
Den här fåtöljen var riktigt vacker när jag ärvde den efter mina morföräldrar. Efter några års daglig användning var den dock i ett sorgligt skick, med tyget i trasor och med ett avbrutet armstöd.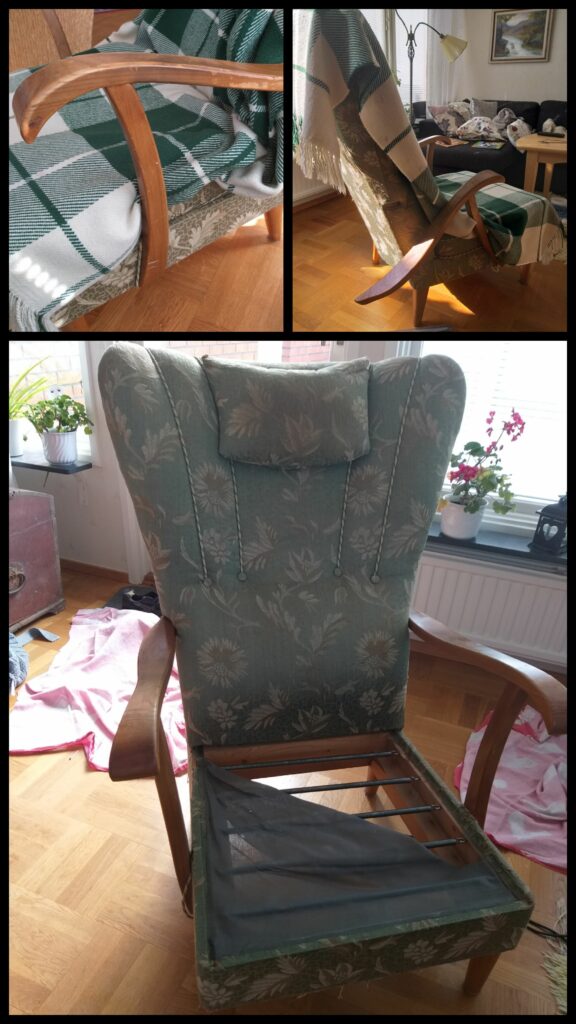 For my birthday, I was given fabric for renovating the dear heirloom. As I have never done anything similar before, I picked the armchair apart methodically, so that I would know in which order to put it together again. I sandpapered (?) the wooden parts and put on three layers of varnish (?). Then I put the new fabric on, using both staples and hand stitching. I know that I have probably committed some terrible mistakes but I am very happy with the result.
Jag fick ett fint möbeltyg i födelsedagspresent. Eftersom jag aldrig gjort något liknande tidigare, plockade jag isär fåtöljen metodiskt, så att jag skulle veta i vilken ordning jag sedan skulle sätta ihop allt igen. Jag sandpapprade armstöden och benen innan jag la på tre lager olja. Sedan klädde jag fåtöljen, med hjälp av både häftpistol och handsömnad. Jag är säker på att jag har begått några allvarliga synder inom tapetseringsvärlden, men jag är väldigt nöjd med slutresultatet.