I'm thrilled to inform you that there will be music this summer! All of the events is together with the lovely singer Hanna Karlsson and there will be different, exciting constellations for the instrument part. ?
Jag är så glad över att få berätta att det blir musik i sommar! Alla tillfällen blir tillsammans med den fantastiska sångerskan Hanna Karlsson, och på den instrumentala fronten kommer konstellationerna variera. ?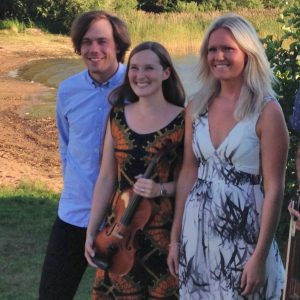 18 juli kl 19 – Mariannelunds torg – sångerska Hanna Karlsson, gitarrist Martin Karlsson, sångerska and violinist Susanna Antonsson
19 juli kl19 – Kröngården – Hanna Karlsson, Martin Karlsson, Susanna Antonsson
27 juli kl 18 – Vallersvik, Mariannelund – Hanna Karlsson, Susanna Antonsson och Marianne Nilsson vid pianot
3 augusti kl 19 – Nyllinge bränneri – gitarrist and sångare Kalle Sellbrink, Hanna Karlsson och en hel drös med fina musiker
You are most welcome!
Afterwards…
How wonderful it has been to make music once more. Our first concert, at the square of Mariannelund felt a little bit as a rehearsal before the concert at Kröngården, which was awesome! Alas, I have no really good pictures or whole songs recorded from that. My and Hanna's stop at Vallersvik was also very appreciated. The concert at Nyllinge was great fun – I was not very pleased with my own achievement, but it was so great to sing together with a whole band, full of accomplished musicians. And I made my debute as a 80s metal singer, singing Eye of the Tiger and Made for Loving You! ? Here are some photos that I have stolen from others.