As my only practical regency dress is now too big for me, I wanted a new, washable dress. Once again, I used the simple model with drawstrings at the neckline and under the bust, just as I have done with the girls' dresses. I remembered to have seen a dress with smooth waist at the front, but I have not been able to find that picture again. Has anyone else seen this picture, or did I make it up? Probably, the back should be open and closed by drawstrings, in order to be truly accurate.
Eftersom min enda praktiska empirklänning endast passade under graviditeten, var jag sugen på att sy en ny, tvättbar klänning. Jag använde modell som flickornas klänningar, med dragsko i urringning och under bysten. Jag mindes att jag sett en klänning där tyget låg slätt framtill, under bysten, men har sedan inte kunnat hitta bilden igen. Har ni sett den, eller har jag hittat på? För att klänningen skulle vara tidstypisk, borde den egentligen ha haft en öppning i ryggen, som stängts med dragskorna.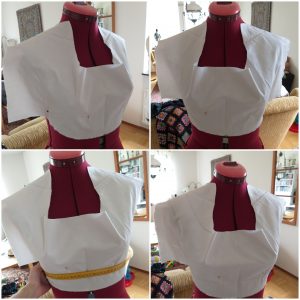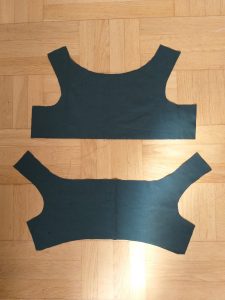 After sewing the front and back bodice parts together, I attached the skirt. In the front it lays smooth, while it is gathered in the back. At the waist seam, I added a waistband, where I hid the drawstring. At the inside of the neckline I also put a drawstring. I made a simple, straight arm. Last, I stitched the rolled hems by hand.
Efter att ha sytt samman fram- och bakstycke satte jag dit kjolen. Framtill ligger den slätt mot överdelen, medan den är rynkad baktill. Över sömmen under bysten fäste jag ett midjeband, som jag använde för dragskon. Ärmarna är bara raks tygstycken med ärmkulle. Jag handsydde rullfållarna sist.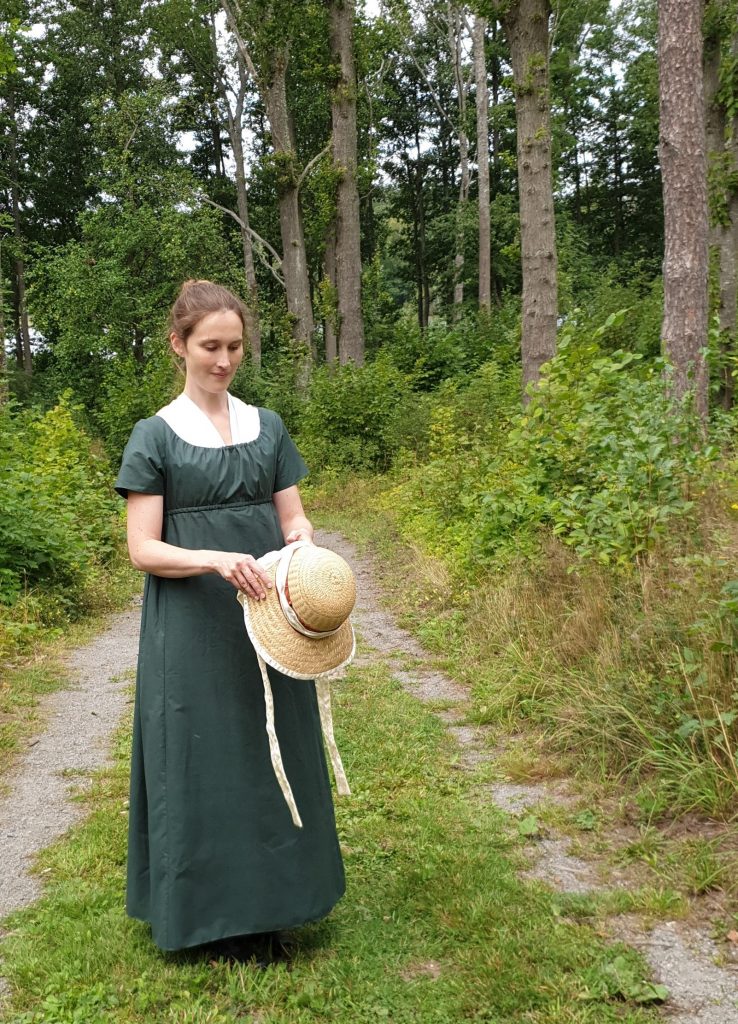 I am happy with the result. I felt like one of the Dashwood sisters. The only thing lacking now are long kid gloves. Please tell me if you find a pair for me!
Jag är nöjd. Jag kände mig faktiskt som en av systrarna Dashwood. Vad som verkligen saknas i denna ensamble är ett par långa skinnhandskar. Säg till mig om ni hittar ett sådant par, snälla!