As I suppose that my body shape will not be what it used to be for a long time, I wanted to make a modest gown for the last part of my pregnancy and the nursing period. I do not know if the fabric is accurate for regency fashion, but as I still have several metres left, I used the striped cotton fabric yet again!
Eftersom jag är medveten om att min kropp förmodligen inte kommer vara sig lik på väldigt lång tid framöer, ville jag sy en vardagsklänning att använda under sluttampen på graviditeten och under amningsperioden. Jag vet inte om tyget är korrekt för empirmodet, men jag har ju fortfarande tiotals meter kvar, så jag använde samma tyg igen.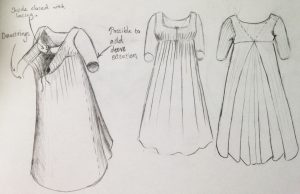 I used a bodice, where the lining is laced in the front and the dress fabric is gathered with drawstrings. I was inspired by many different vintage gowns, among which are these:
Jag valde en konstruktion där livet är fodrat och insidan snörs samman framtill och själva klänningstyget samlas med dragsko över och under bysten.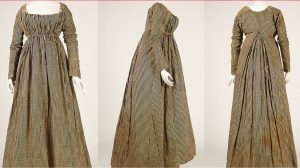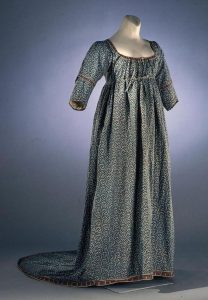 Fishu and Cap
For the modest motherly look, I needed a fishu for the neck line and a cap. The fishu will go well together with many of my regency dresses. There is a fantastic blog post about fishus here.
För den anspråkslösa, moderliga looken, behövde jag en chemisette till urringningen och en mössa. Chemisetten kommer passa till flera av mina empirklänningar. Här är ett jättebra blogginlägg om olika typer av chemisetter och schalar.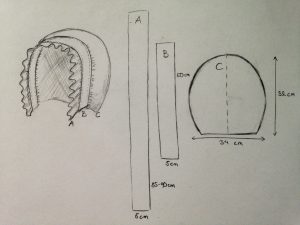 My main inspiration for the cap was this one, as it has no laces or expensive fabrics that would match poorly with my crude dress fabric. In my parents basement, there is a cupboard where they put old clothes, curtains and bed sheets, which have forfeited their purpose but could perhaps find a new use later on. Last week I dug deep and found an old, stained shirt with just enough unstained fabric for making a cap and a fishu!
Inspirationen för mössan kommer huvudsakligen från denna, eftersom den  inte är gjord i något dyrt tyg eller har någon spets, vilket skulle matcha mitt grova bomullstyg väldigt dåligt. I mina föräldrars källare finns det en garderob full av gamla undanlagda gardiner, kläder och sängkläder. Där grävde jag runt förra veckan och hittade faktiskt en gammal fläckig skjorta, som hade precis lagom med rent tyg över för att räcka till mössan och chemisetten.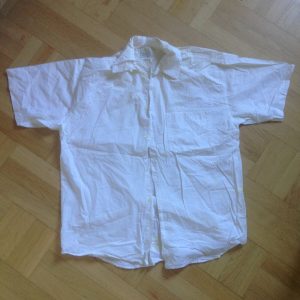 This is how it came out. I think that you can figure out how it is done by yourselves, so I will not linger at that.
Så här blev det. Jag tror att ni själva kan räkna ut hur man gör dessa enkla plagg, så jag går hastigt vidare.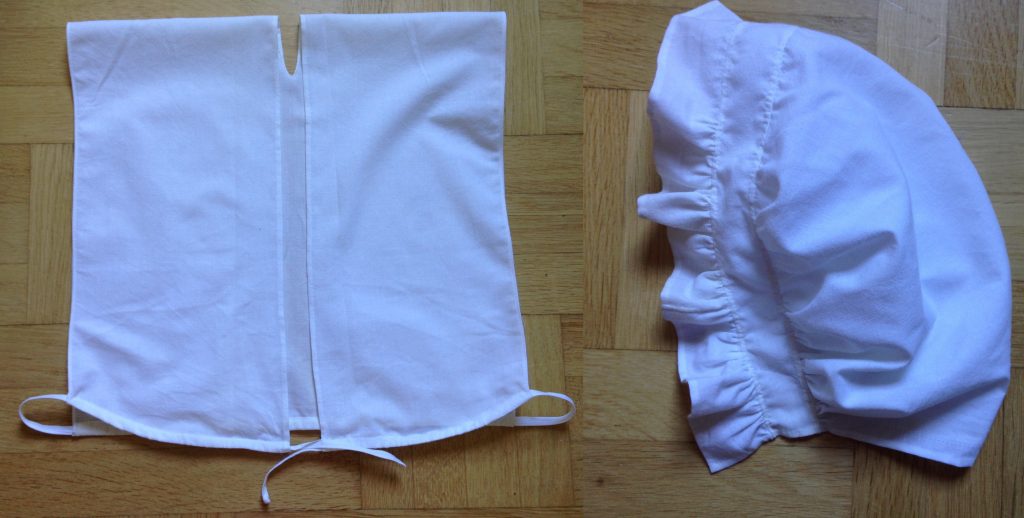 The finished gown with fishu and cap
I did not believe that you were interested in construction process of this one, as it is very similar to my other regency gowns. Here is how it is put on, anyway.
Jag trodde inte att ni var intresserade av att se hur denna klänning syddes, eftersom den påminner om de jag har gjort tidigare. Här ser ni åtminstone hur den tas på, över chemisetten.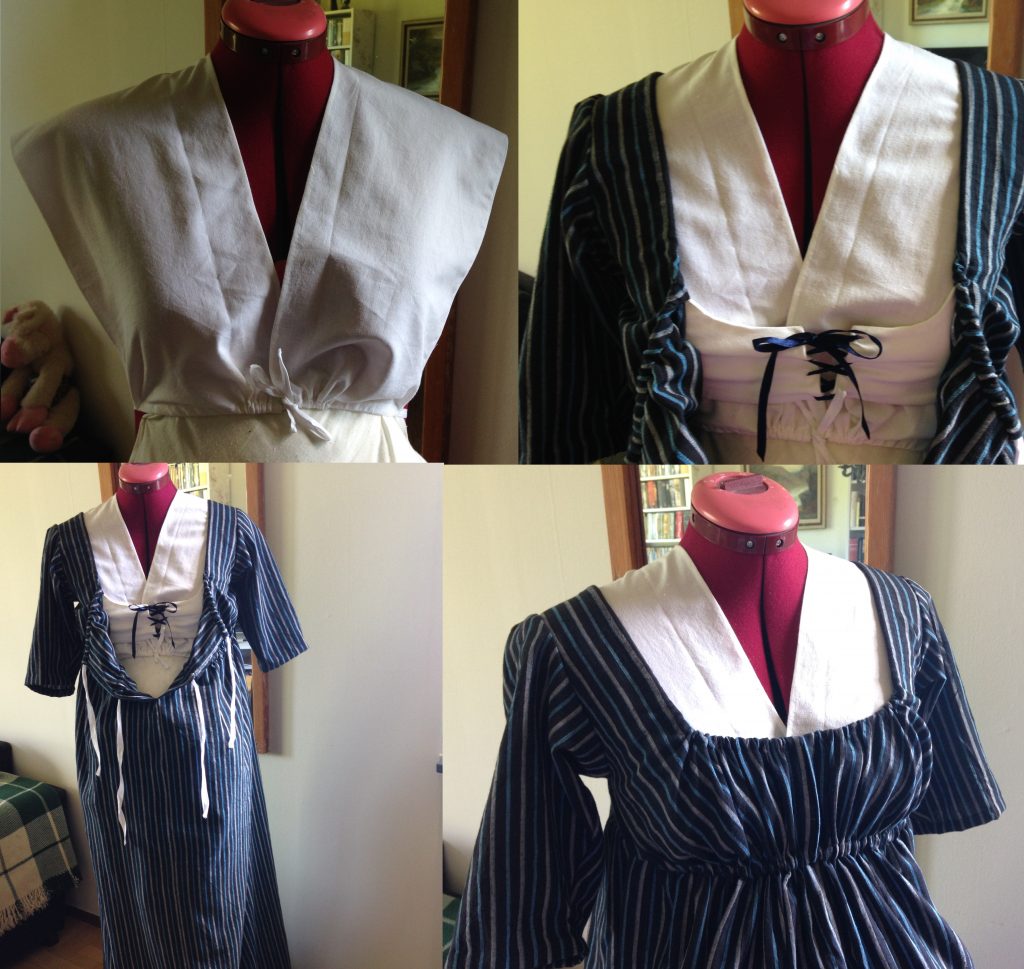 My new hometown, Västervik, is really beautiful this time of year. Maybe these pictures might tempt you to come and visit this dear part of Sweden?
Min nya hemstad, Västervik, är så vackert vid den här tiden på året. Kanske kan dessa bilder locka dig att besöka den här delen av Sverige?