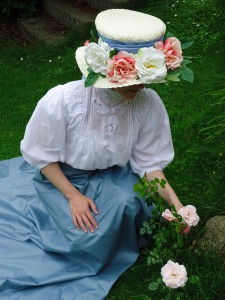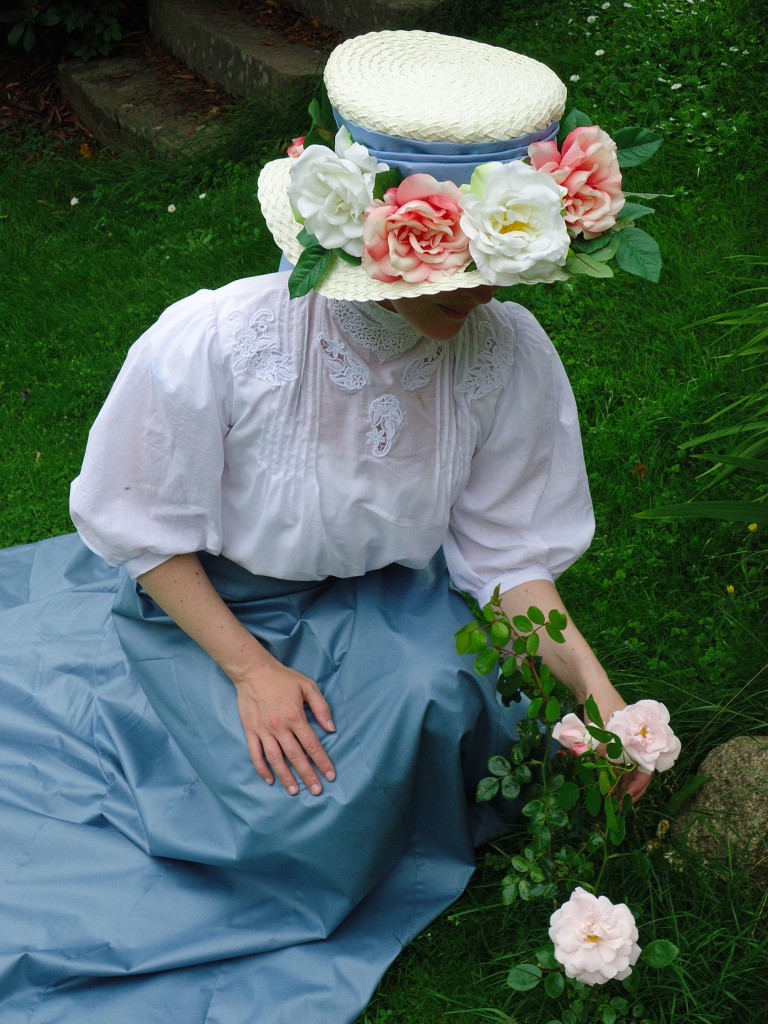 I have a dear friend, who loves historic fashions and has swooned over my Edwardian lady outfit. She has had a really rough time, so I wanted to do something for her, and promised her that she would have the outfit. Then I decided to make a new blouse for her, that would have long arms to protect her sensitive skin and that she would be able to close by herself. I dug deep into my stashes and found some lace left from the tank top that I used for the regency chemissette, and a matching off white cotton from other recycled materials.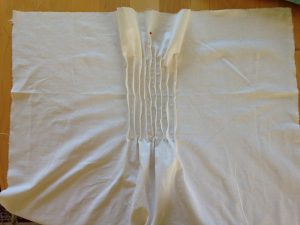 I layed out the pieces of lace on the mannequin in order to find the best design. Then I added the cotton fabric to fill the great voids. I used the same techniques as in the last high collar blouse:
I started with two rectangles of fabric – the back as wide as half of the bust measurement and the front 10 cm wider than the back
I stitched 5 mm wide pin tucks in the front, starting in the middle and working my way to the sides with 1 cm spaces between the tucks.
I stitched  the lace to the fabric, then I cut the fabric away on the wrong side and hemmed from the wrong side.
Then I added three pin tucks more on each side.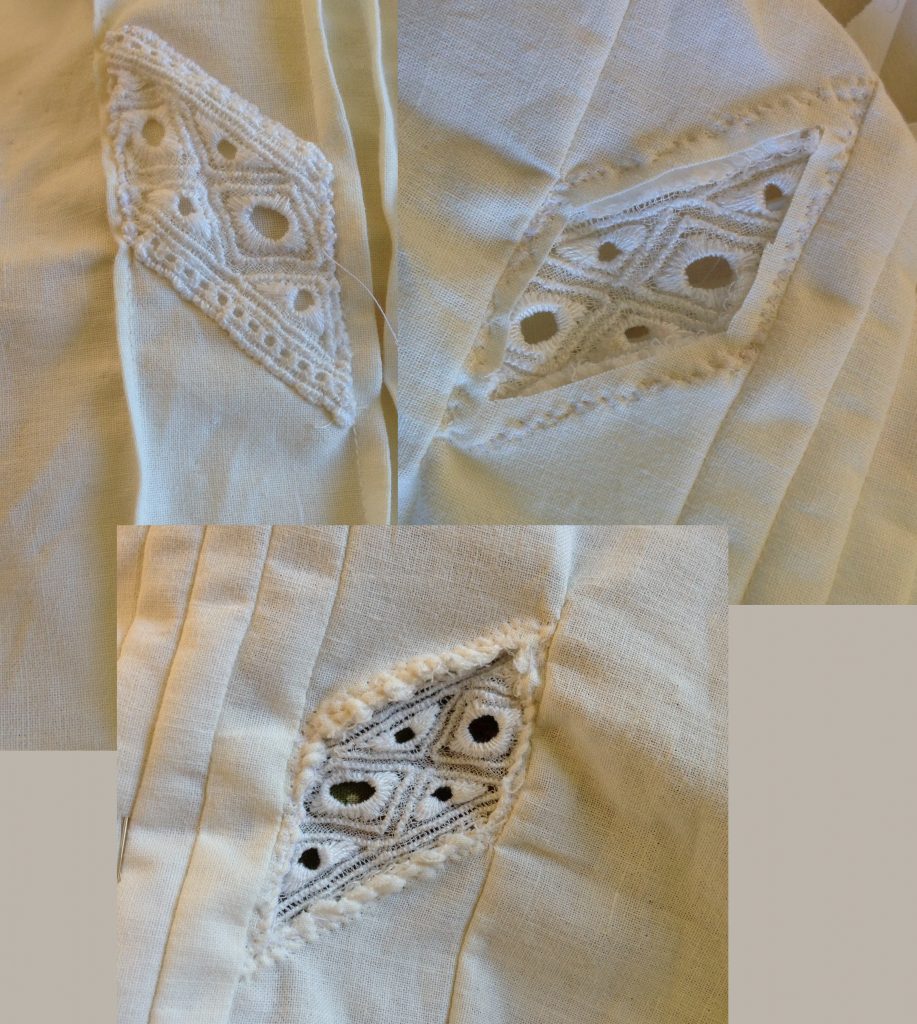 When this was finished, I stitched the front to the back on the shoulders and sides. Then I attached the great piece of lace and high collar to the bodice in the same way as the other pieces of lace.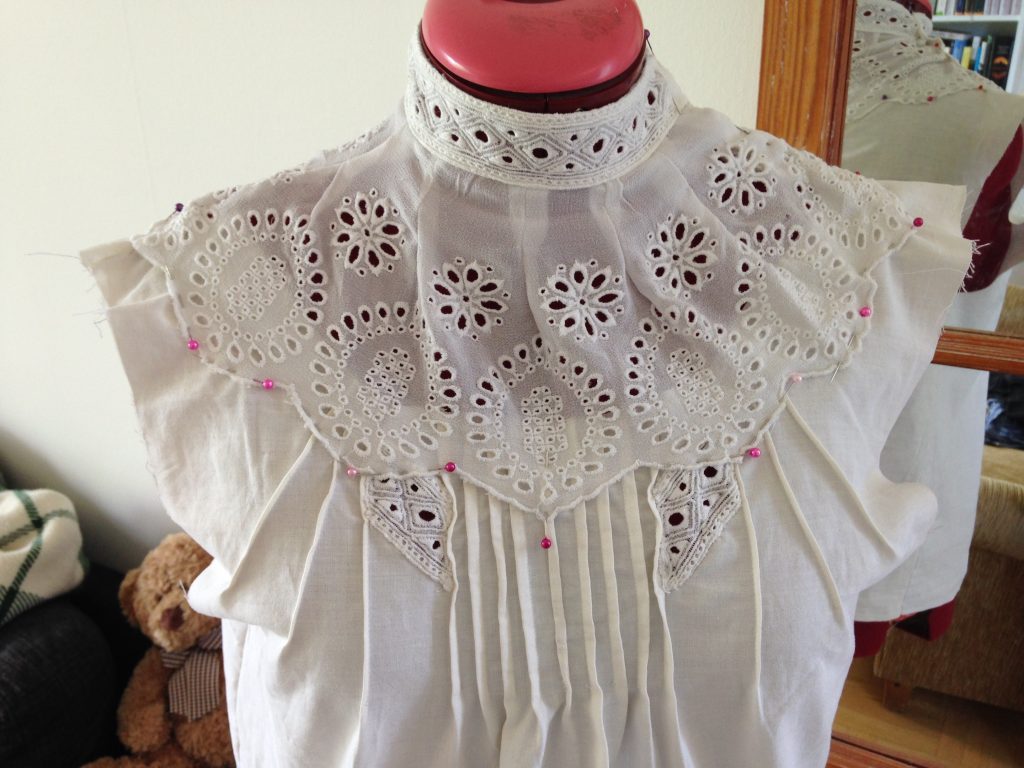 Next, I made the very simple arms: I measured the circumference of the armholes, cut to pieces of fabric with this width plus 5 cm, made a rounded top and added lace at the gathered end of the arm.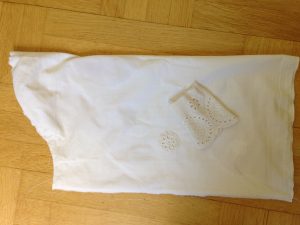 After attaching the arms to the bodice, I put push buttons and hooks and eyes for closing at the side of the neck. Then the blouse was finished. I can't wait to see my friend in this outfit.