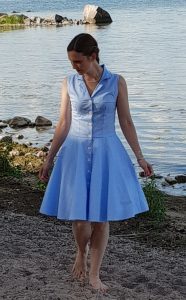 Since I got back to work, I have been struggling to reach my former level. Therefor I have dedicated the free moments during my baby's naps to reading medical literature again. This last week, I decided to give myself a treat instead, by making a well needed dress; my body has changed a lot during the past year.
På sistone har jag ägnat alla min bebis tupplurar åt att läsa gammal studielitteratur, för att komma tillbaka till samma nivå som jag hade innan jag gick på mammaledighet.  Senaste veckan bestämde jag mig dock för att sy en ny klänning till mig själv i stället, eftersom min kropp har ändrats så mycket under året så att mina kläder generellt inte sitter särskilt bra längre.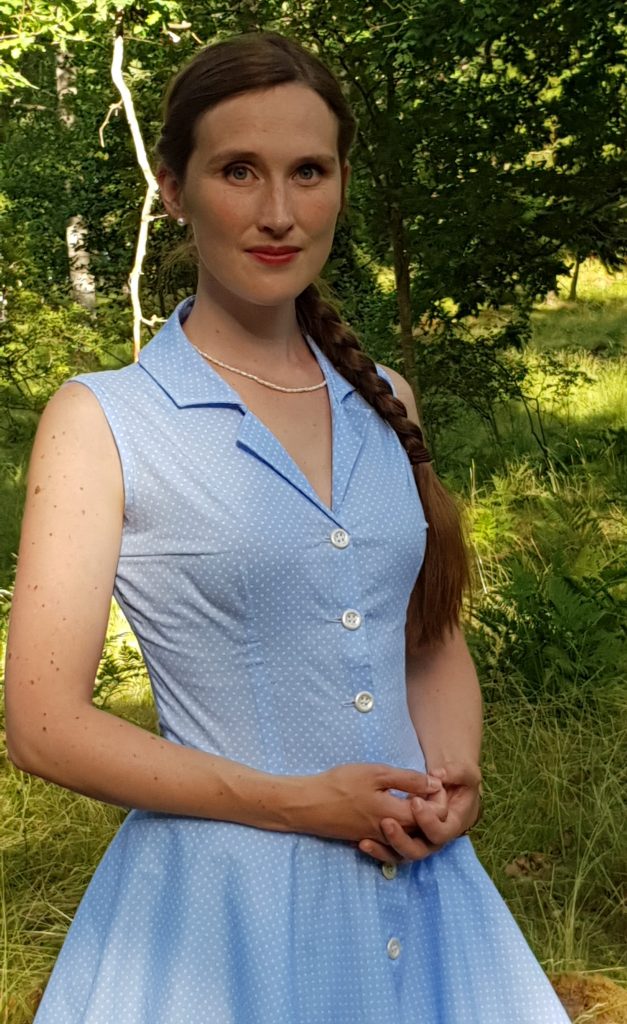 Alas, I live in a town without any fab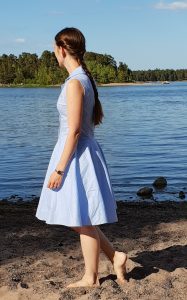 ric store. I bought this fabric last year in Söderköping, some days before the expected child birth. I did not have any matching buttons, so I asked for it on Facebook. A friend of mine had a box full of buttons, inherited from her grand mother, and she kindly gave these to me. After painting them with nail polish, they came out well, I think.This is the first time I have made this kind of collar and I am quite pleased with how it came out. I am less pleased with finding out that my bust has sunken down below the placement on my mannequin, so that the darts are subsequently placed too high on the dress. This I found out during the photo shoot. Then I also found out that the fabric gets wrinkled by anything; the wrinkles that you see on the pictures  formed during the five minute travel by car. Super annoying.
Märkligt nog bor jag i en stad utan tygaffär. Det här tyget köpte jag förra året i Söderköping, några dagar innan beräknat förlossningsdatum. Jag hade inga matchande knappar, så jag frågade på Facebook. En av mina vänner har ärvt en hel knapplåda av sin farmor, och gav dessa knappar till mig.  Det är första gången som jag gör denna slags krage, men jag tycker att det blev helt ok. Jag är mindre nöjd med att inse att min stackars byst har sjunkit ned under brovdockans nivå, så att inprovningarna i sidan sitter för högt. Detta insåg jag när jag såg bilderna. Dessutom blir tyget skrynkligt bara man tittar på det. Überirriterande.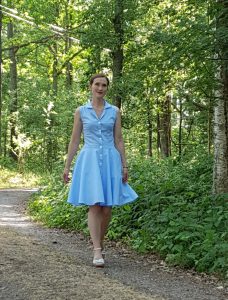 Very well. Except for these nuisances, I am quite pleased with the pattern and the dress as a whole. It feels so good to wear a dress that fits well and that does not become totally indecent as I lean forward to help my offspring challange forward through the vegetation.
Ja, ja. Förutom alla dessa irritationsmoment är jag nöjd med mönstret och klänningen över lag. Det är grymt skönt att ha en klänning som både sitter ok och inte blir totalt oanständig när man böjer sig fram för att hjälpa sin avkomma att ta sig fram genom vegetationen.