My father does not care about clothes. This high quality shirt,  made of fine Egyptian cotton, was damaged while  carrying wood. It felt wrong to just throw it away. I thought about just using the unstained parts, but then only the back and the collar remained, so the shirt has been lying in my stash for one year now, awaiting the serendipity.
Pappa bryr sig inte om kläder. Denna fina skjorta, i fin egyptisk bomull, blev sönderriven och nerfläckad när han bar ved. Det kändes fel att slänga så fint tyg. Jag hade tänkt behålla de oskadda delarna, men vid närmare granskning visade sig endast ryggen och kragen ha klarat sig. Därför har skjortan legat undangömd i väntan på en uppenbarelse.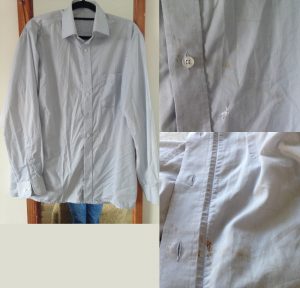 I often wore my historical clothing at home before becoming a mother. Now I have hardly worn anything historical for two years for fear of having it stained or torn and because of the impracticality (it is quite hard to crawl around on the floor and under furniture, wearing floor length skirts). One week ago the need for wearing something historical grew too great and I decided to wear Edwardian clothing for the Christmas dinner at work. Since I ended up sharing table with people who did not know about my interests, nobody understood that my strange hair and clothing was historical and I just felt awkward. I decided that it was time to make something historical that I could wear at home – practical for the sake of my son and nice looking for my sake. This was the perfect purpose for the damaged shirt!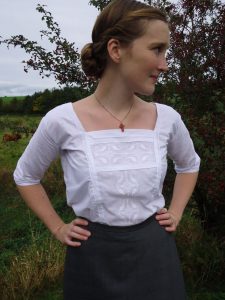 Innan jag blev mamma hade jag ofta historiska kläder till vardags. Nu har jag nästan inte använt något historiskt på två år, dels i fruktan att kläderna ska förstöras och dels för att det är så opraktiskt (det är ganska krångligt att krypa runt på golvet i hellång kjol). Förra veckan blev abstinensen efter att ha historiska kläder för svår, så jag bestämde mig för att ha min edwardianska dräkt till julbordet på jobbet. Jag hamnade vid ett bord med folk som inte känner till detta udda intresse, så ingen fattade att kläderna och frisyren var historiska och jag kände mig bara dum och missanpassad. Jag bestämde mig för att sy något slitstarkt historiskt plagg som jag skulle kunna ha hemma istället. Detta var ju det perfekta användningsområdet för den redan förstörda skjortan!
I decided to refurnish it – I took everything apart and switched sides for the front parts, so that the worst parts were placed at the sides, about the hight of the waistline. The front parts were sewn together and then the armholes made a deep neckline, that I needed to hide.
Jag sprättade isär alla delar och bytte plats på framstyckena, så att de värsta fläckarna hamnade i sidorna, nära midjan. Framstyckena syddes samman framtill. Ärmhålen bildade en djup urringning som behövde fyllas.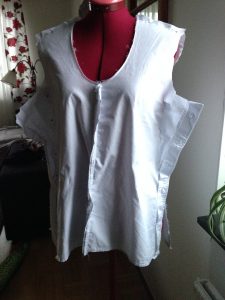 I used the pieces from the top of the back, to fill the neckline.
Jag använde delar från ryggens ovandel för att fylla igen urringningen.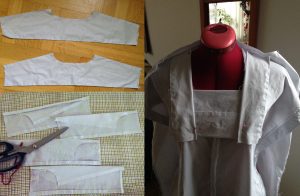 Since this blouse should not fit closely,  I made straight seams in the sides and cut armholes. Then i started decorating the neckline with the help of my sewing machine.  Because of the different layering along the neckline, the seams ended up very uneven, and I found myself masking my mistakes by adding more and more decorating seams.
Eftersom blusen inte ska smita åt runt kroppen, sydde jag bara raka sömmar i sidorna och klippte ärmhål. Sedan började jag dekorera runt urringningen med maskinsöm. På grund av alla olika lager blev sömmarna ojämna och jag la till fler och fler sömmar för att maskera tidigare fel.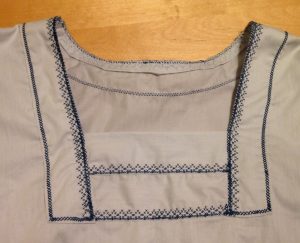 Then I gathered the top and bottom of the arms, so that the became poofy. I reinserted the the original cuffs, but shortened them and  used the wrong side out, as this was less stained.
Sedan rynkade jag upptill och nedtil på ärmarna, så att de blev puffiga. Jag satte tillbaka de ursprungliga manchetterna, men förkortade dem och vände ut avigan, eftersom den var mindre fläckig.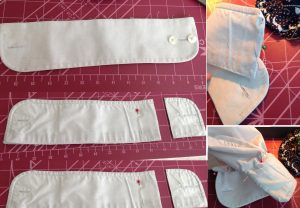 The stains remain, but you just see them when looking for them. As I made this blouse in a hurry, there is a vast amount of mistakes, but as I am to wear it at home, I am quite happy with the outcome.
Fläckarna är fortfarande kvar, men man ser dem bara när man letar efter dem. Eftersom jag sydde blusen snabbt och slarvigt är det galet många misstag här och där, men jag ska ju bara använde blusen hemma och jag är nöjd med slutresultatet.