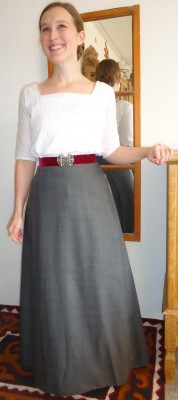 Det händer då och då att jag får fantastiska gåvor, från de mest oväntade håll. Förra hösten kunde jag fullborda min kappa, tack vare en snäll medresenär som skänkte mig en vacker pälskrage. Förra sommaren fick jag flera kassar med tyger av en bekant och för någon månad sedan fick jag, förutom en ny favoritfilm, tillskickat vackra spännen för att dekorera min edwardianska dräkt. De passar inte till lärarinnekjolen, men väldigt bra till min tidigare dräkt! Tack, Ulrika!
Förra veckan lät en vän mig gå amok i hennes sybord, som hon ärvt efter sin mormorsmor. Dessa skatter fick jag med mig hem!
From time to time it happens that I receive fantastic gifts, out of the blue. Last autumn I was able to complete my winter coat, thanks to a lovely travel companion who thought that I had better use of her old fur collar than her. Last summer I received several bags with fabrics, which have resulted in two dresses yet. About a month ago a dear acquaintance sent a movie (which has already become a new favourite) and a pair of beautiful belt buckles for my Edwardian outfit. They don't match the new skirt, but go very well together with my other Edwardian outfit. Thank you, Ulrika!
Last week, another dear friend of mine let me harvest what treasures I could find in her great grandmother's sewing table.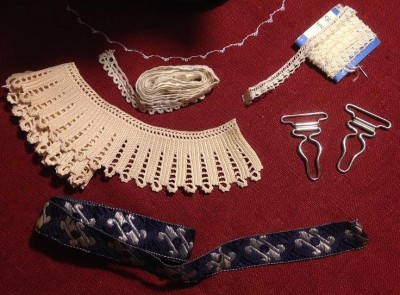 Till höger ligger, vad jag tror har varit, strumpebandshållare, men utan knappdelen. Den vita spetsen har hon själv virkat!
To the left is what I believe have been used in garters, but it lacks its buttons. The white lace, the great grandmother has knitted herself!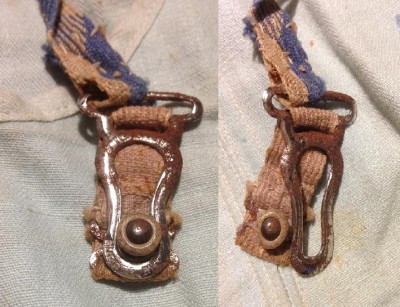 Jag kunde ju inte fullborda min edwardianska korsett i höstas, eftersom jag saknade strumpebandshållare. Vid fotosessionen promenerade jag utan denna elementära del och fick genast inspiration att använda gåvan från väninnan. Originalkorsettens strumpebandshållare ser ut så här.
I wasn't able to fully complete my teacher's outfit last autumn, because I couldn't get hold of appropriate garters. When I walked around without this elementary piece during our photo session, the stockings went down again and again I got inspiration for using what I had found in that sewing table. The garters of my vintage corset look like this.
Strumpebandshållare – konstruktion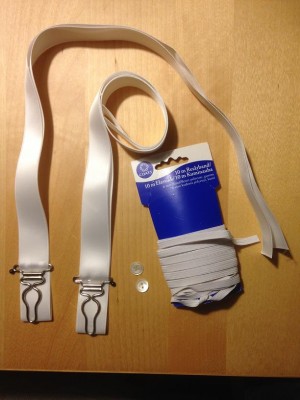 Dessa delar använde jag: strumpebandshållare, sidenband, resårband och pärlemorsknappar.
For making the garters, I used: "garter clasps", broad ribbon, elastics and mother of pearl buttons.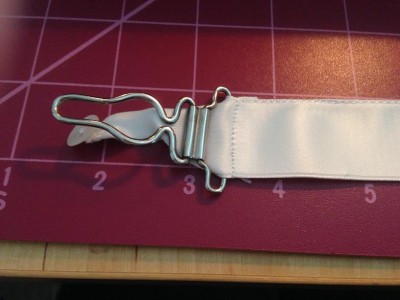 Jag sydde fast bandet (dubbelt) för hand och lät den främre delen gå ned som fäste för knappen.
I handstitched two layers of the ribbon together and left one layer longer than the other, for fastening of the button that hooks in the clasp.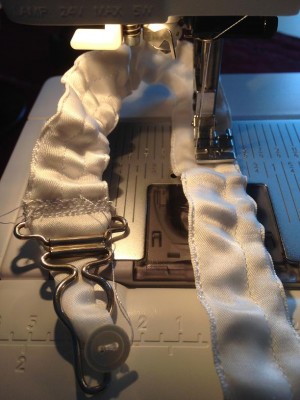 Sedan fäste jag två resårband nederst och sydde in dem i kanaler.
Then I fastened two elastics in that part of the ribbons sewed channels for them.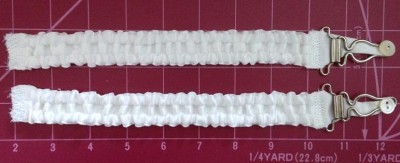 En stund senare var de redo att fästas i korsetten.
A little while later they were ready for being fastened to the corset.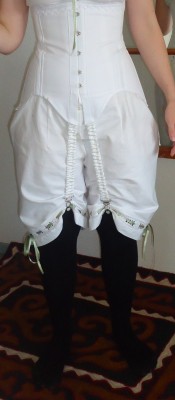 De fungerade utmärkt!
They work perfectly!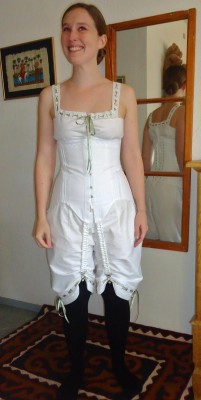 Originalunderklädernas ägarinna

Mina omtänksamma släktingar, på andra sidan Atlanten, har nu skickat några bilder och information om Hilda, som bland annat bar korsetten som jag har återskapat.
My thoughtful relatives on the other side of the Atlantic Sea have recently sent pictures and information about Hilda, the owner of the vintage clothes in the treasure chest.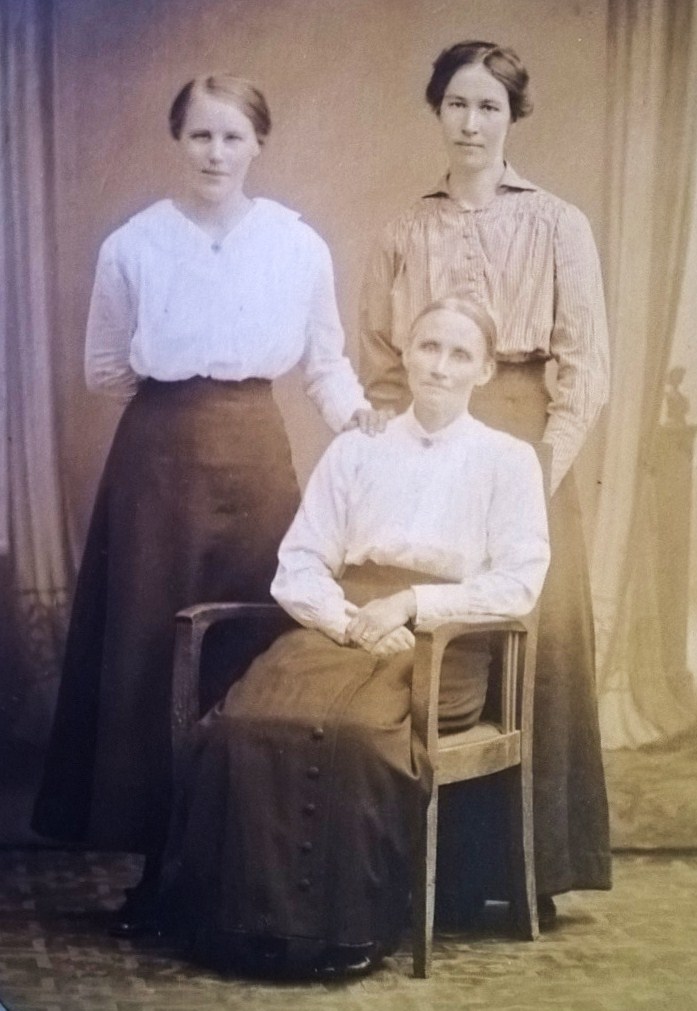 Hilda var syster till min farmors far, Gottfrid. Hon föddes 1894. På denna bild står hon till vänster, med sin storasyster till höger och sin mor sittande framför sig. Bilden är tagen 1915, året efter vad jag försökte återskapa ur fantasin!
Hilda was the sister of my grandmothers father, Gottfrid. She was born in 1894. In this picture she is the girl on the left, with her sister on the right and their mother sitting in front of them. The picture is from 1915, only one year after what I was trying to recreate clothes for!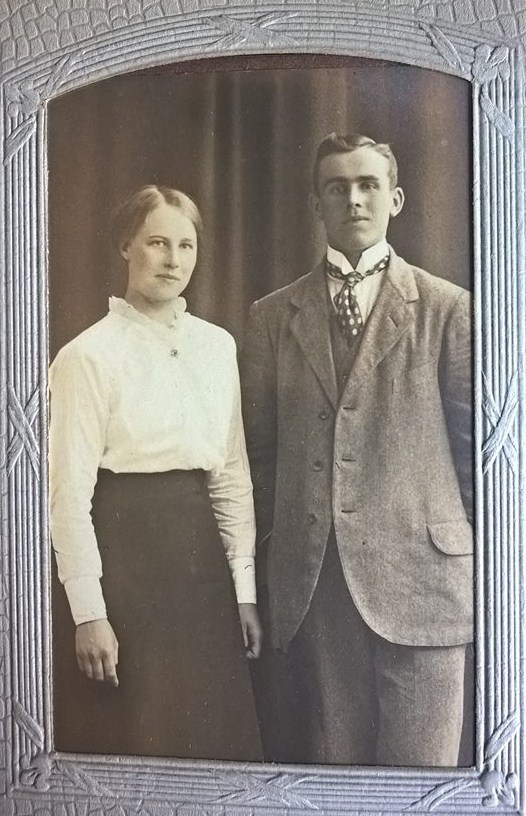 Här är Hilda tillsammans med sin bror Gottfrid. Mina släktingar tycker att vi är hiskeligt lika varandra och jag håller nog med om att vi verkar dela både ansiktsform och klädsmak. Hon var tydligen också en duktig sömmerska.
Here Hilda is seen together with her brother Gottfrid. My relatives think that we remind terribly much of each other. I can agree with that we share the shape of our faces and taste in clothes. She was also known for being a good seamstress.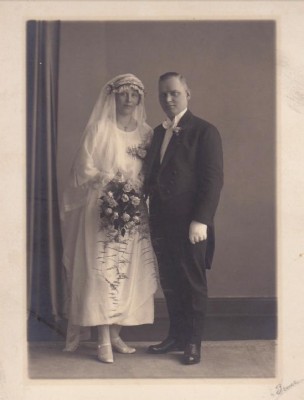 1923 gifte hons sig med göteborgaren Georg. Hon sydde sin bröllopsklänning.
In 1923 she married Georg, from Gothenburg. Of course she made her own dress.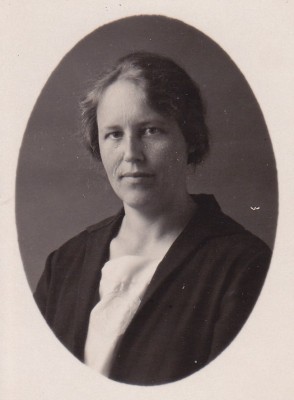 Bilden ovan är ett passfoto från 1927, antagligen taget inför flytten till USA.
This picture usher passport photo from 1927, probably before moving to the states.
Detta foto är taget runt 1930. Hilda står tillsammans med en av min farmors bästa vänner, kusinen Brita.
This photo is from about 1930. Hilda stands together with one of my grandmother's best friends, cousin Brita.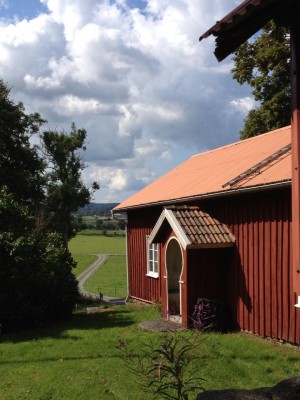 Hilda bodde i det här trevliga huset, som byggdes under 1700-talet.
Hilda grew up in this nice house that was built in the 18th century.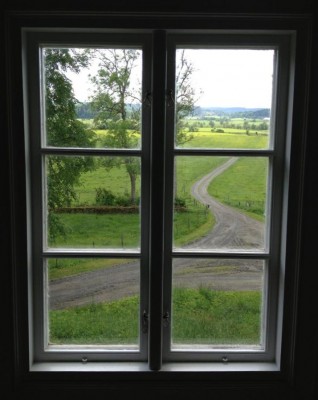 Denna härliga utsikt har man uppifrån vindsrummet, där min farmor har berättat att hon brukade sova om somrarna. I samma rum står den åtråvärda skattkistan.
This is the view from the attic, where my grandmother has told they used to sleep during the summers. The desirable travel chest stands in the same room.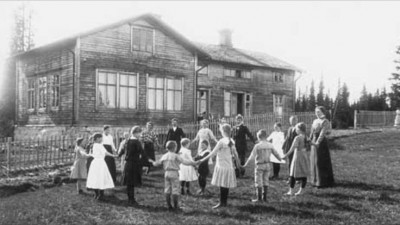 Jag avslutar inlägget med en bild från Jämtland, 1914. Denna pittoreska bild visar en lärarinna tillsammans med hennes elever. Det påminner om min egen romantiska bild av den tidens lärarinnor, tack vare Astrid Lindgren…
Åter igen vill jag tacka alla er snälla människor, som har bidragit till mitt projekt med material och inspiration! Tack!
I end this blog post with a photo from the north of Sweden, 1914.
This picturesque photo shows a teacher with her young students. It reminds of my romantic idea of the teachers of that era, and Astrid Lindgren is the one to blame. ? 
Once again, I want to say thanks to all you wonderful people, who have contributed to my project with material and inspiration!