Eftersom jag känner mig föga presentabel i mina vågade underkläder, ville jag inte fotografera dem utomhus, så ni får hålla till godo med dessa bilder. Här ser du också i vilken ordning man ska klä på sig de olika plaggen.
As I don't feel quite decent in my daring underwear, I didn't want to take the pictures outdoors, so you have to be contented with these pictures. Here you see in what order the different pieces should be put on.
Kombination av särk och mamelucker – ca 1913
Combination of chemise and drawers
Korsett – ca 1908
Corset cover kombinerat med särk
Corset cover combined with chemise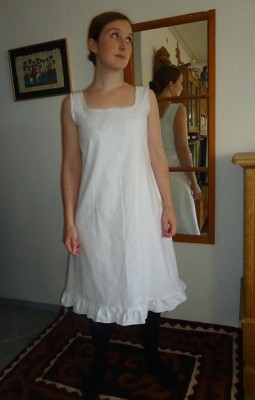 Underkjolen – från skattkistan – 1905-1920
The original petticoat from the treasure chest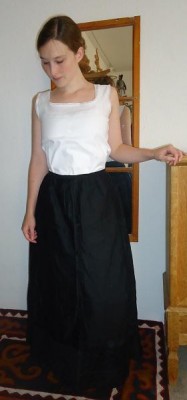 Sedan är det bara de "riktiga" kläderna som fattas.
Now I only have the "real" outer clothes left.

Visdomar från "Kvinnans bokskatt"
När jag skulle sätta igång med detta projekt, skickade den omtänksamma Ulrika ett utdrag till mig, ur Kvinnans bokskatt från 1913. Boken är läsvärd, både för att författarinnan skriver underhållande och för att boken ger god inblick i sin tids resonemang och vardagsliv. Jag kan inte låta bli att dela med mig av några favoritstycken:
Jag må vara gammal och bakåtsträvande, men låter inte detta ganska bekant?
"Ett mod må för övrigt vara aldrig så löjligt, det finner i alla fall sina anhängare, och sömmerskor och modister äro dess trogna förkämpar."
Något jag får tänka på, när jag ska välja kläder som matchar min enkla lärarinna:
"Den kvinna förblir alltid bäst klädd, som förstår att förena enkelheten med prydlighet, att välja sina färger efter sitt ansikte och sina kläder efter sin figur. Den  enkla, väl skurna, omsorgsfult sydda och välsittande klänningen, som naturligt och  smidigt följer figuren, blir alltid elegant utan alla garnityr eller tillsatser och verkar  alltid förnämt, allra helst om tygets kvalitet är av bättre slag."
Är inte detta uttalande fantastiskt likt Miss Bingly's uttalande, när hon vill belysa Lizzy's svagheter och framhäva sin egen överlägsenhet inför Mr. Darcy?
" … det enda mål, som är eftersträvansvärt, är detta outsägligt tilldragande behag  hos kvinnan, som ligger i ett `distingerat´ väsen, denna sammanfattning av harmoniska rörelser, tal, ton, sätt att vara, kläda och föra sig, som man genast märker och känner, men som är nästan omöjligt att beskriva."
Med denna underbara iakttagelse, vill jag avsluta dagens blogginlägg:
"Krinolinen var på sin tid ett förskräckligt plagg och drog i sin fulländning så mycket tyg, att en stackars familjeförsörjare med fru och flera giftasvuxna döttrar såg nära nog en hel förmögenhet gå åt till tyg, kappor och volanger, som skulle kläda dessa förskräckliga underplagg av band och stålfjädrar, till vilka mönstret tycktes vara taget från stommen till en kafferkraal i södra Afrika. Och ändå kan man knappast säga, att den tidens kvinnor togo sig på långt när så löjliga ut som nutidens damer
med sina smala kjolar och ofantliga hattar, som komma dem att likna vandrande champinjoner, där icke den över huvudet neddragna hatten i krukfacon gör, att de likna ett vandrande spöke utan huvud alls."