This Wednesday I had my very last exam and I passed. Crazy! Now there is only the Hippocratic oath, by the end of the month, between the world of medical doctorship and myself. It has been a hard ride, with many sleepless nights, tears of anguish and boring "holidays" filled with studies. But now it has finally come to an end. Wow.
I onsdags hade jag min allra sista tenta och klarade den. Galet! Nu är det bara det Hippokratiska läkarlöftet vid månadsslutet, som ligger mellan mig och världen av dokorskap. Det har varit en hård resa, med många sömnlösa nätter, tårar av ångest och tråkiga "lov" fyllda av studier. Men nu är det äntligen över. Wow.
This semester has been about as tough as the others and I have not had time for bigger projects (except for grandmothers wedding gown). Here comes some small projects that I have used as distraction, though.
Den här terminen har varit lika tuff som de tidigare och jag har inte haft tid för större project (förutom mormors brudklänning, förstås). Här kommer några småprojekt som jag har haft som distraktion.
I needed a chemisette for completing Tatyana Borisovna Potemkina's look. I got material from my ever benevolent mother, who sacrificed a sleeveless blouse for this purpose. I sew it on our bus trip back to Sweden, for the Christmas holidays, so nothing is documented, but before and after.
För att fullborda Tatyana Borisovna Potemkina's klädsel behövde jag en chemisette. Jag fick material av min ständigt nådiga mor, som offrade en ärmlös blus. Jag sydde samman överdelen på bussresan hem till Sverige över jullovet. Därför är ingenting av processen dokumenterat, men åtminstone hur blusen såg ut före och efter.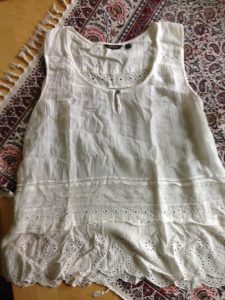 We were so horribly tired, my husband and I, when it was time for photographing the whole look, so the dress does not fit as well as it should. But you have seen the earlier photos, where it is perfect, haven't you?
Jag och min man var fasansfullt trötta när vi skulle fotografera dräkten, så tyvärr sitter den inte så bra som den borde. Men du har väl sett de tidigare bilderna, där den sitter perfekt, eller hus?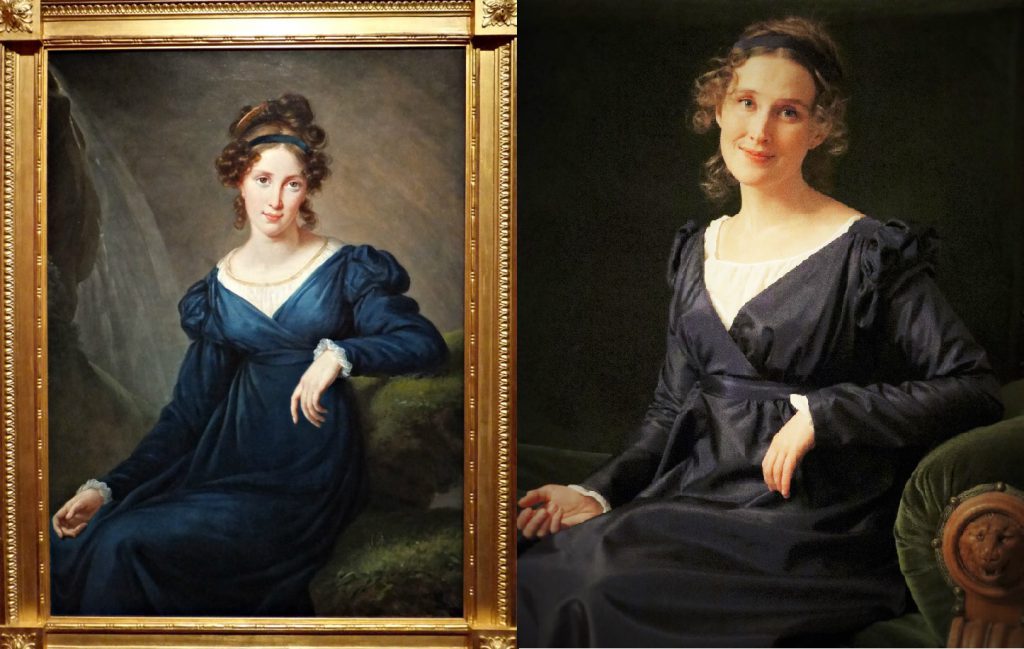 My brother has grown an impressive moustache. It needs some special care. I made a mustache net for his birthday. Therefor I took one of my hair nets and attached an elastic ribbon. I hid the knots underneath some manly bows.
Min bror har fått en präktig mustasch. Den behöver lite extra omvårdnad. Därför gjorde jag ett mustaschnät åt honom i födelsedagspresent. Jag använde ett hårnät och knöt fast ett svart resårband. Knutarna dålde jag under manliga rosetter.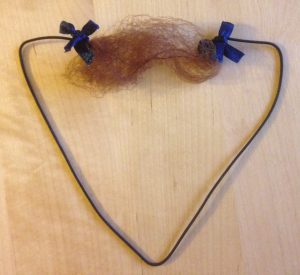 The case for my cell phone was in a horrible state when I should go to my last exam. Because we had the opportunity to use the Internet, while interviewing and examining our patient, I felt that it would be directly disrespectful to use filthy, unhygienic case more. So I used an old scrap fabric (from the lampshade) to dress it up a bit. Sweet. Then I discovered that there was absolutely no time for checking stuff on the internet anyway, but I'm glad I now don't have to feel gross when I want to use my cell phone.
Mitt mobilfodral såg förfärligt ut när det drog ihop sig för min sista tenta. Vi skulle ha möjlighet att använda internet under journalskrivningen och detta kunde jag bara komma åt via min mobil. Därför kände jag att det skulle vara näst intill respektlöst mot patienten om jag använde detta äckliga fodral. Jag klädde om fodralet med en gammal stuvbit, från när jag klädde om en lampskärm. Det blev ganska fint. Sedan blev det absolut ingen tid över för att använda internet ändå, men det är skönt att slippa känna sig äcklig när man använder sin telefon.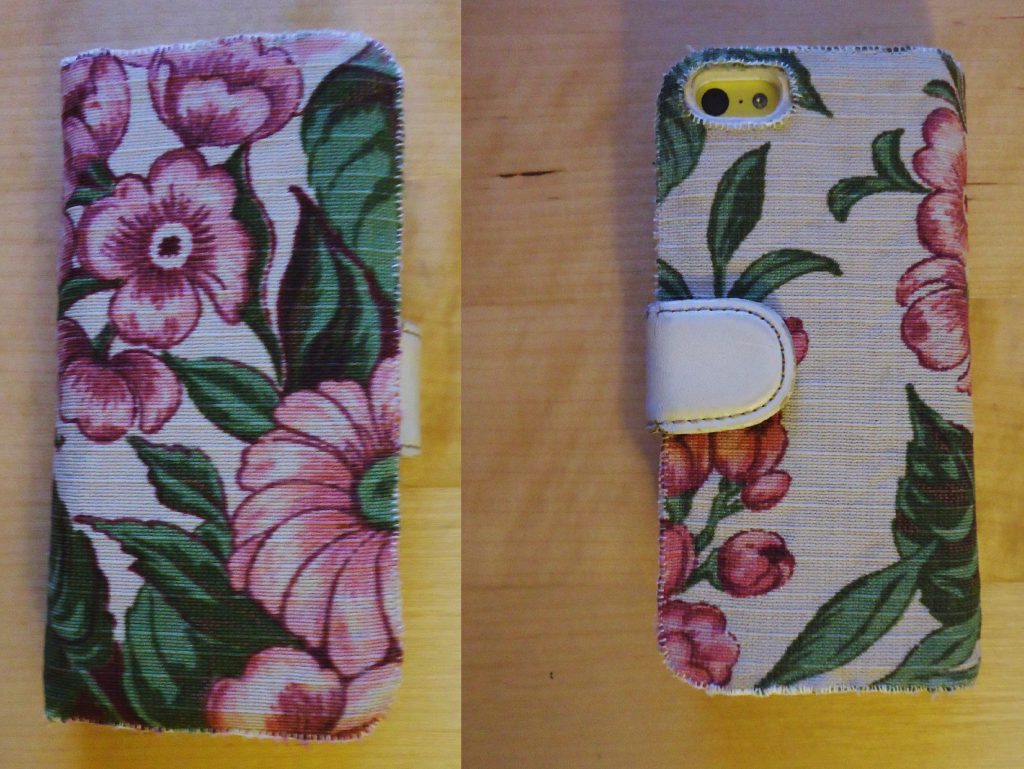 After having made my Chinese silk dress, I found out that I maybe should have a fluffy petticoat underneath. I had some fabric at home, so I threw this together.
Efter att jag hade sytt min kinesiska sidenklänning, insåg jag att den kanske skulle sitta bättre med en fluffig underkjol under. Jag hade lite tyg hemma, så jag slängde ihop denna.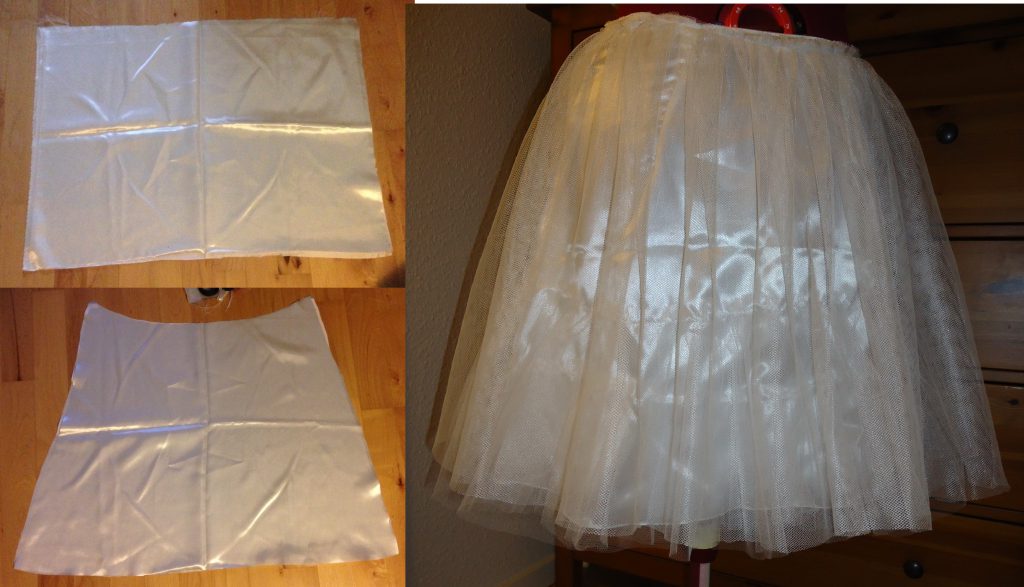 Today, I also made a bow tie for my husband, in the same fabric as the dress. We'll see if he can wear it without suffocating.
Idag sydde jag en matchande fluga åt min man. Vi får se om han dessutom kan använda den utan att kvävas.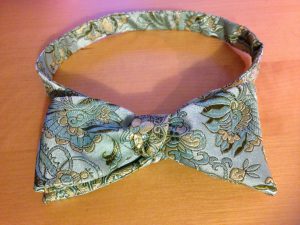 Here is a good tutorial for making bow ties, with a pattern. I had no idea how to tie it, so I found a tutorial for that too.
Här är det en bra instruktion för hur man syr flugor, med tillhörande mönster. Jag hade ingen aning om hur man knyter flugor, så jag hittade en instruktionsvideo för det också.
I also wanted a matching purse, so I took the few scraps left of the silk and cut an old plastic portfolio to pieces. The plastic stabilizes the front, back and lid. There was not enough fabric to match the patterns. The lining is from the same fabric as the petticoat. I was able to make a little pocket at the back of the purse, by overlapping the lining and the main fabric.  For shoulder strap, I used a plastic necklace bought at a Second Hand store many years ago. I was in a real hurry, so I cut the fabric and threw the purse altogether by instinct. In spite of this carelessness, I think the purse looks really nice.
Jag ville ha en matchande liten handväska, så jag tog de sista små stuvbitarna och klippte itu en av mina gamla plastmappar som jag använt under utbildningen. Mappen ger stadga fram, bak och i locket. Fodret kommer från samma tyg som underkjolen. Genom att överlappa fodret och sidentyget, fick jag till en ficka på bakre väggen. Till axelband använde jag ett gammalt plasthalsband från Second Hand. Jag hade väldigt bråttom, så jag klippte till tygbitarna och sydde samman handväskan på ren instinkt.  Trots denna vårdslöshet, tycker jag att den blev riktigt fin.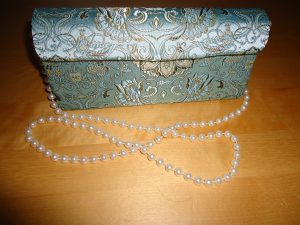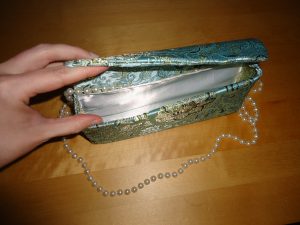 Inauguration/Hippocratic Oath, the 27th of January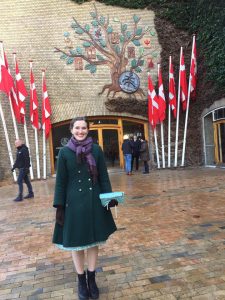 Yesterday was the Inauguration/Hippocratic Oath. Today I am exhausted and so inexplicably happy! It is a big thing to swear to always serve others, always do your best and to never make any difference between patients. But its a good thing.
Igår var Läkarlöftet. Idag är jag helt utpumpad och så extremt glad! Det är en väldigt stor grej att lova att alltid tjäna andra, alltid göra sitt allra bästa och aldrig göra skillnad mellan sina patienter. Men det är en väldigt bra grej!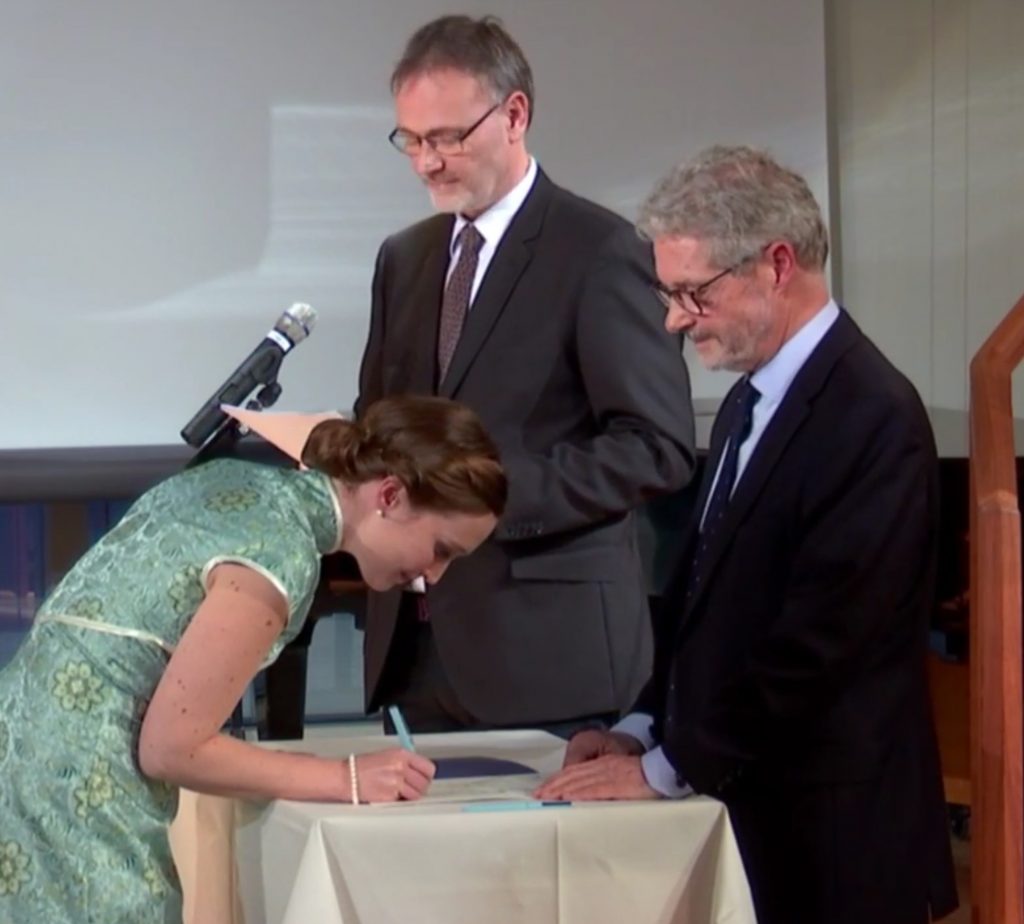 I was very happy that my parents were able to come and celebrate with me! They have been a huge support to me during this education.
Jag var väldigt glad för att mina föräldrar hade möjlighet att komma och fira med mig! De har varit ett stort stöd för mig under den här långa utbildningen.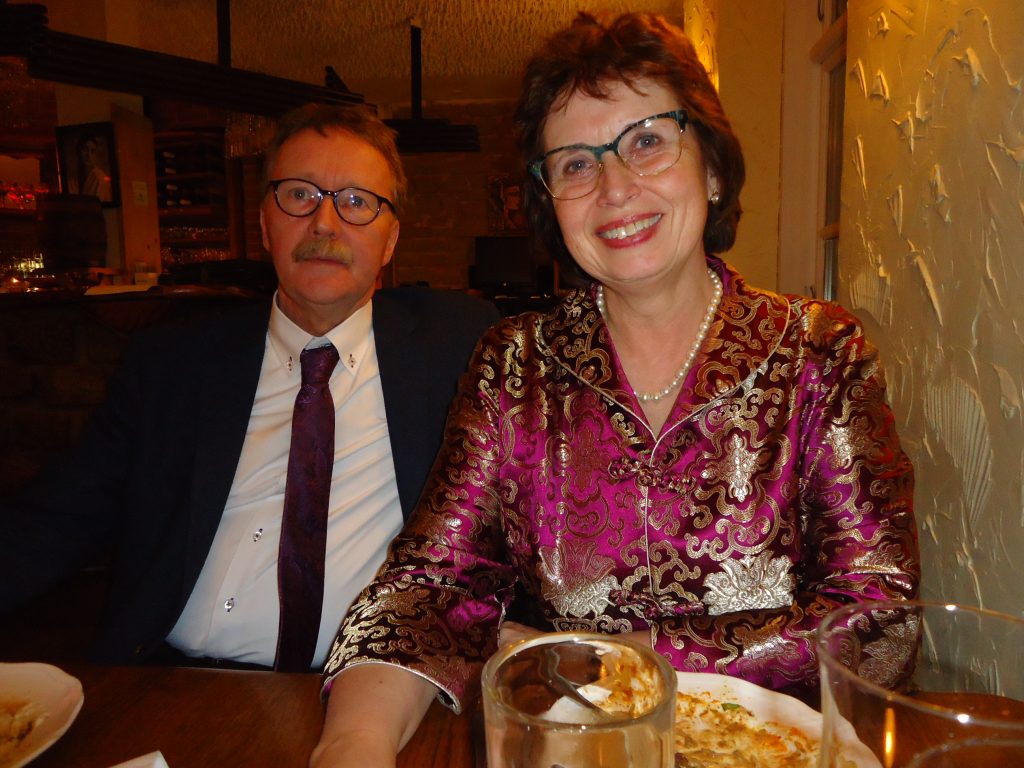 My greatest support, though, has been my everpatient and loving husband. Thank you so much!
Mitt allra största stöd har dock varit min alltid tålmodige och älskande man. Tack så otroligt mycket!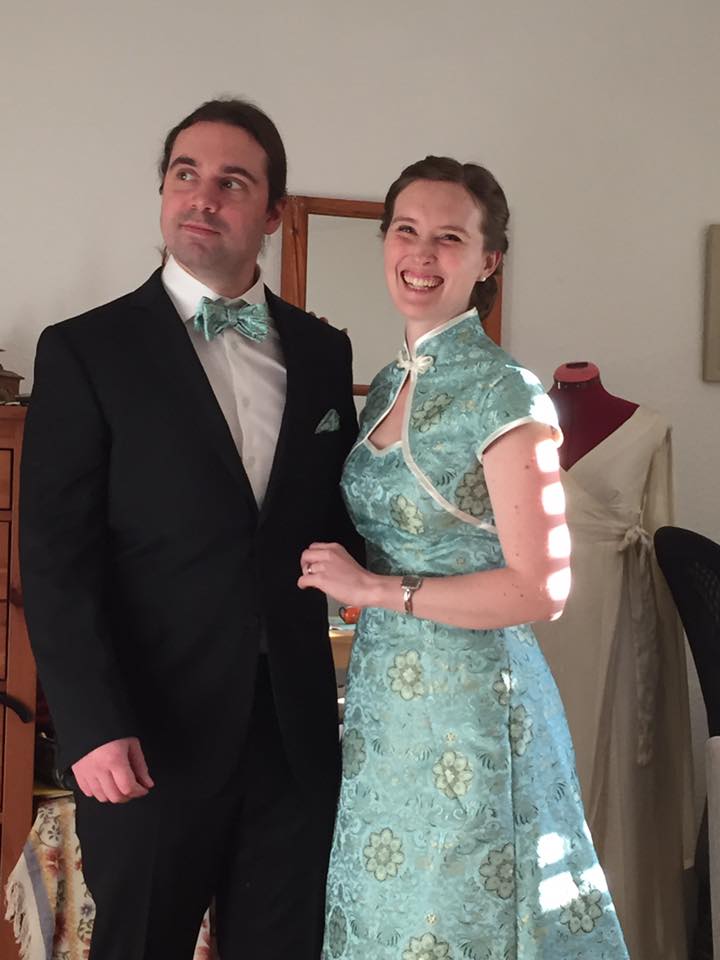 Off course there have been many heroes involved during these six years! Among them, I have to mention the rest of my family, the family of my husband and my dear Århus-friends Svea, Ingeborg, Camilla, Frida, Hildegunn, Paulina, Abi and Christina and all other lovely people spread out in over Sweden and the rest of the world. Thank you so much for not giving up on me, when I'm in anguish after many sleepless nights and when I reject fun things because of studies. Thank you for all nice distractions that have made surviving possible. I love you and am so thankful for having got to know you! Hope that we will see each other again.
Det har så klart varit många hjältar inblandade under dessa sex år! Bland dem, måste jag nämna resten av min familj, min mans familj och mina kära Århus-vänner Svea, Ingeborg, Camilla, Frida, Hildegunn, Paulina, Abi, Christina och alla andra underbara människor i Vimmerby och resten av världen. Tack så mycket för att ni har stått ut med mig när jag har haft ångest efter många sömnlösa nätter och när jag har avstått från roliga påhitt på grund av studierna. Tack också för alla trevliga avledande förströelser. Jag älskar er och är så tacksam för att ha fått lära känna er! Hoppas att vi får ses igen.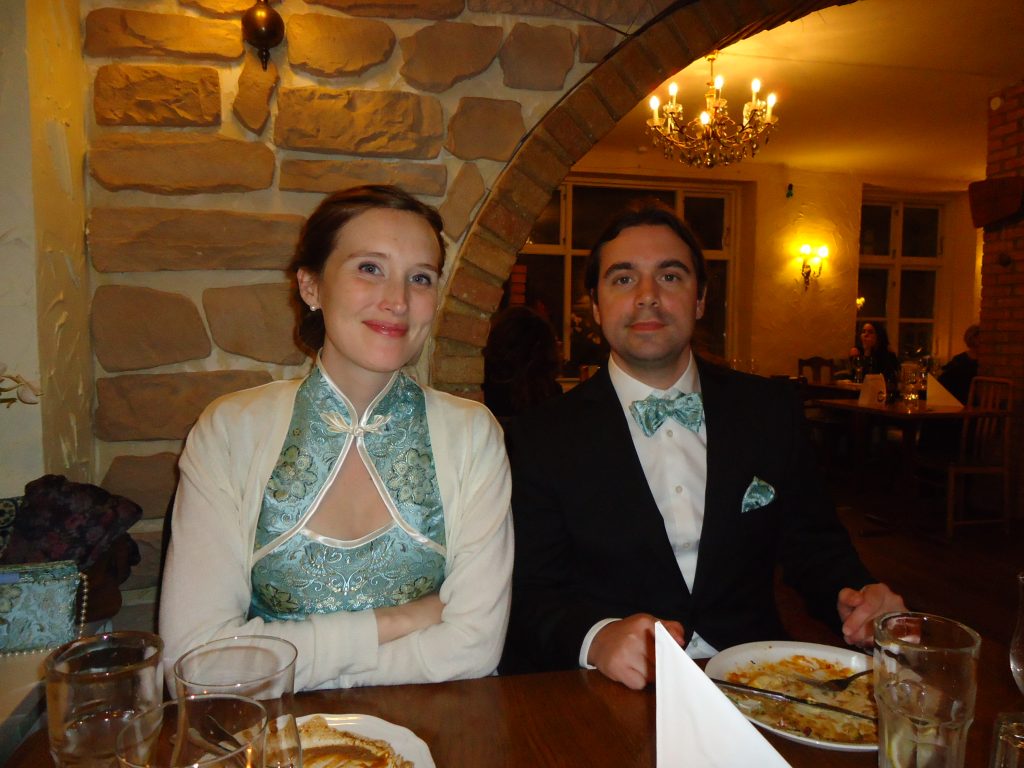 This post ended up being more cheesy than I could have ever imagined. Perhaps it's because of the cheesy music in the background or just because of that I really have so much to be thankful for.
Have a good day!
Detta blogginlägg blev visst väldigt mycket mer tårdrypande än jag hade tänkt mig. Kanske beror det på den sliskiga musiken jag har i bakgrunden, eller bara på att jag har så otroligt mycket att vara tacksam för.
Ha det fint!