The history of a dress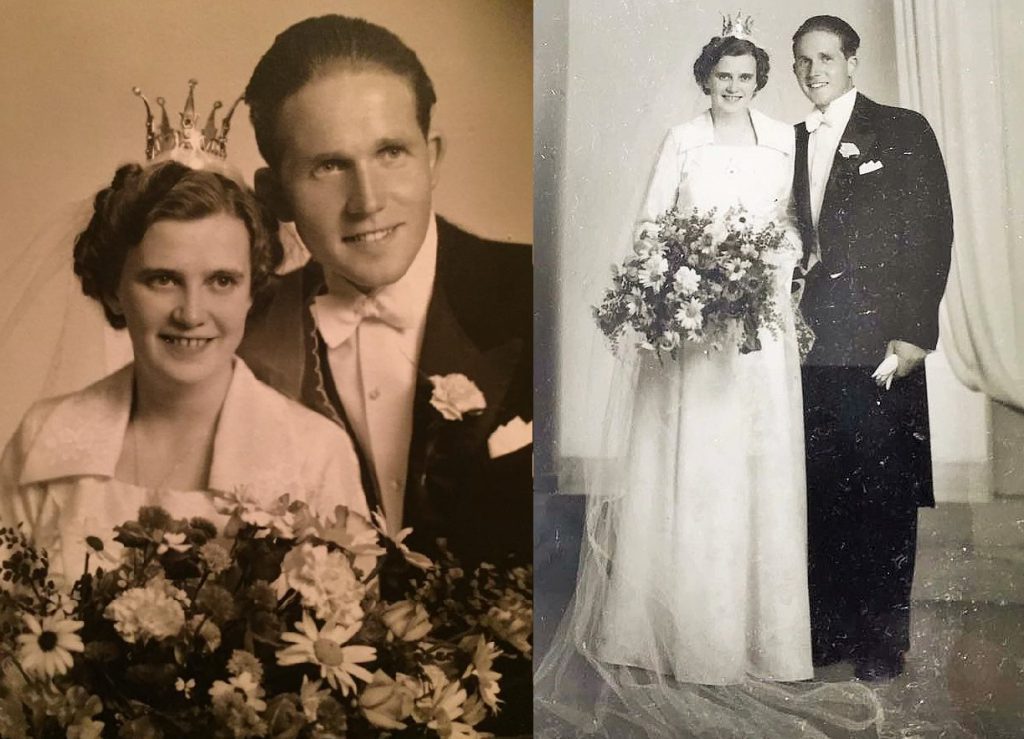 My dear grandmother got married 1951. Her bridal gown was made from a beautiful, white silk brocade. Some years later, she dyed and reconstructed the dress, in order to wear it to her sister's wedding.
About 50 years later, my brother and sister and me, made our own fantasy movie – Snow White And The Skizophrenic Maniac – where my sister, who played the beautiful, wicked queen, wore  the beautiful, salmon coloured dress. Unfortunately, I don't have any picture of either my grandmother or my sister in the dress, but I have picture of myself wearing the dress to a costume party, playing another queen.
Mormor och morfar gifte sig 1951. Mormors brudklänning var sydd i vacker, vit sidenbrokad. Några år senare färgade hon och sydde om klänningen, för att kunna använda den på sin systers bröllop. 
Ungefär 50 år senare spelade jag och mina syskon in "Snövit och den skizofrene galningen" (en fantastisk film) och min syster, som spelade den ondskefulla drottningen, använde den numera laxrosa klänningen. Tyvärr har jag varken bild av mormor eller min syster i klänningen. Här är dock en bild av mig själv på en maskerad, där jag skulle spela drottning Silvia.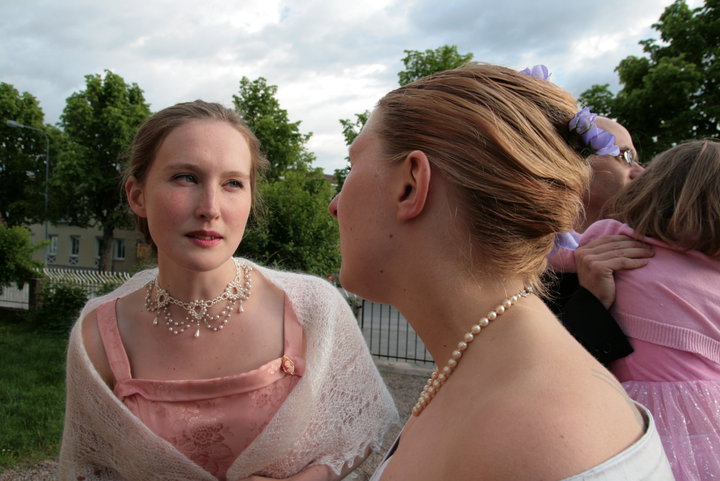 Soon, hopefully, I will get my medical degree. Then I would like to wear something really festive and elegant. For some years I have dreamed of reconstructing and dying the dress once more to suit my body and skin type. This fall, I finally had the courage to rip all of the seams and get to it, with the goal of wearing the dress at the great party.
Förhoppningsvis tar jag min läkarexamen snart. Då vill jag ha på mig något riktigt festligt och elegant. I flera år har jag drömt om att sy om och färga denna klänning så att den ska passa min kroppstyp och hy bättre. I höst har jag äntligen samlat mod för att sprätta upp alla sömma och sätta igång med projektet, för att kunna ha klänningen på examensfesten.
Construction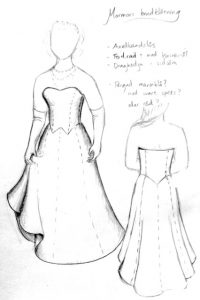 I wanted to remove the awkward shoulder straps and tape at the top. I really love the construction at the waist, so I kept the dress as it was from the waist downward, but ripped all seams in the bodice.
Jag ville ta bort de fula axelbanden och bandet upptill på livet. Jag älskar midje-konstruktionen, så jag behöll kjolen som den var, men sprättade upp alla sömmar upptill.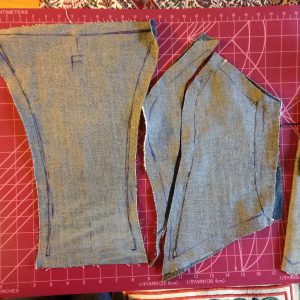 I wanted a sturdy material underneath the silk, so I traced the pattern of the bodice to a discarded pair of jeans (thanks, bro) and fitted the pieces over my victorian corset.  As you see, there was some discrepancy between the measures of the original wearer's bust and mine. I was astonished to see that this tall and, in later years very sturdy grandmother of mine, had almost the same measurement around the waist as myself. Then I was reminded that she both was above average height (172 cm) and had to bear viscous comments in the farming community, about how skinny she was in her youth.
When I had finally got the right fit, I sew the pieces together and put boning in the seam allowances. In the front, I used spiral steal. Because I wanted as little bulk as possible, I decided not to hem the boning channels. The edges won't fray much anyway, facing the dresses inside.
Jag ville ha ett stadigt material under sidenet, så jag kopierade livets mönster till ett par avlagda jeans (tack, Gabriel!) och satte ihop delarna utanpå min viktorianska korsett. Som synes var det en rejäl skillnad mellan mitt och min unga mormors bystmått. Jag förundrades över hur denna långa och på senare år väldigt stadigt byggda kvinna, kunde ha nästan samma midjemått. Mamma påminde mig dock om att mormor var längre än medelmåttet och fick uthärda de nedlåtande lantortsbornas kommentarer, som "Du är ju mager som en gärdsgårdsstör".
När jag äntligen fick till rätt passform, sydde jag ihop delarna och placerade jag korsettstål i sömmarna. För att slippa synliga kanaler fällde jag sömsmånerna över stålet och sydde fast utan att fålla. Framtill använde jag spiralstål.


I had planned on dying the dress in a darker red, but discovered some some marks that couldn't be removed and considered dying the dress black.  I don't own any enormous pots and I didn't want to put the beautiful silk gown in its then disintegrated state, in a washing machine, so I couldn't dye the fabric at home anyway.
Suddenly, I was called to interviews in Sweden, for my medical internship. These interviews were close to my parents home, so now was my chance to dye the dress! It seamed a bit disrespectful to dye my grandmother's bridal gown black, so I bought the red textile colour (Dylon was the only one I could lay my hands on with that short notice) and left for Sweden the very next day.
Jag hade tänkt färga klänningen mörkare röd, men upptäckte några märken som jag inte kunde tvätta bort och började överväga att färga klänningen svart. Jag äger ingen tillräckligt stor gryta för tygfärgning och jag ville inte stoppa den söndersprättade klänningen i tvättmaskinen, så jag kunde inte färga tyget hemma.
Plötsligt kallades jag till AT-intervjuer i Sverige. Dessa skulle vara nära mina föräldrars hem, så nu såg jag min chans att färga klänningen. Det kändes närmast hädiskt att färga mormors brudklänning svart, så jag köpte röd textilfärg (Dylon var det enda jag kunde få tag i med så kort varsel) och åkte till Sverige nästa dag med en väldigt märklig packning – formella kläder för intervjuerna, en söndersprättad sidenklänning, textilfärg, 1 kg koksalt och latexhandskar.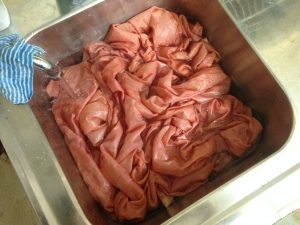 I started with soaking the dress and was amazed to find that it looked like intestines…
Jag började med att blötlägga klänningen och förundrades över hur mycket den liknade tarmar…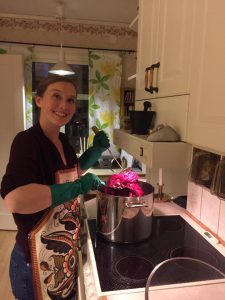 Then I started cooking. I thought I was very careful indeed – I used more colour than prescribed and I kept the fabric in motion most of the time at the stove. When the dress had dried, though, I found that the dress had not aquired the burgundy red I aimed for and that the stains had got an even deeper colour than the rest of the dress. When I discovered something resembling burning marks, I decided to go for the black colour, in order to salvage the remains of my dream dress.
Sedan påbörjade jag matlagningen. Jag tyckte att jag var otroligt noggrann – jag använde dubbelt så mycket textilfärg för att verkligen få en mörk färg, eftersom färgen inte var anpassad för siden och jag rörde ihärdigt runt tyget i grytan. När klänningen hade torkat, upptäckte jag dock att klänningen, trots all extra färg inte hade blivit vinröd utan vackert rosenrosa. Fläckarna som färgen skulle täcka, var nu istället mycket mörkare än resten av tyget och nu hade tillkommit fasansfulla brännmärken över hela kjolen. Jag var nära att ge upp, men ville ändå testa att färga klänningen svart, för att se om den kanske kunde räddas ändå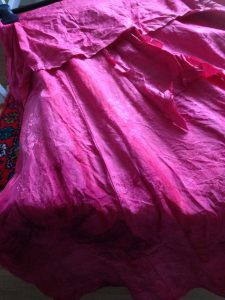 I went to the local grocery store and hope to find Herdins textile hand wasch-colour for natural fibers, but only found Herdins "wash it back – black", that could only be used in washing machine. This seemed like a risky project, so I was not too glad to spend more money on it. Then my sweet mother stepped in and financed the purchase.  Anxiously I put the fine silk in the washing mashine and waited for my doom. The result of this colouring was amazing!
Back in Denmark, I did not only have a future job to look forward to, but also a beautiful fabric to work with. I sewed the pieces together according to the boned bodice and made a heart-form at the bust lining.
Jag gick till alla Vimmerbys mataffärer, i hopp om att finna Herdins textilfärg för naturfiber, men förgäves. På ICA hittade jag dock Herdins "Wash it back – black", som bara kunde användas i tvättmaskin. Det verkade vara ett riktigt riskprojekt, så jag var tveksam till att spendera mer pengar på det. Men då trädde mamma in som en räddande ängel och finansierade detta inköp. Med hjärtat i halsgropen stoppade jag in sidenklänningen i tvättmaskinen och väntade nervöst på att se hur det gått. Resultatet blev underbart!
Tillbaka i Danmark hade jag nu både ett framtida jobb att se fram emot och ett underbart tyg att arbeta med. Jag sydde samman bitarna utifrån jeansstommen och klippte till en hjärtform i urringningen.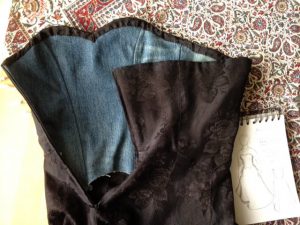 After having lined the upper part with the remains of the original hemline, the dress was finished.
Efter att ha fållat upptill med tyg från orginalklänningens bortsprättade bitar, var klänningen äntligen klar.
The dress, with goth styling – since it is Halloween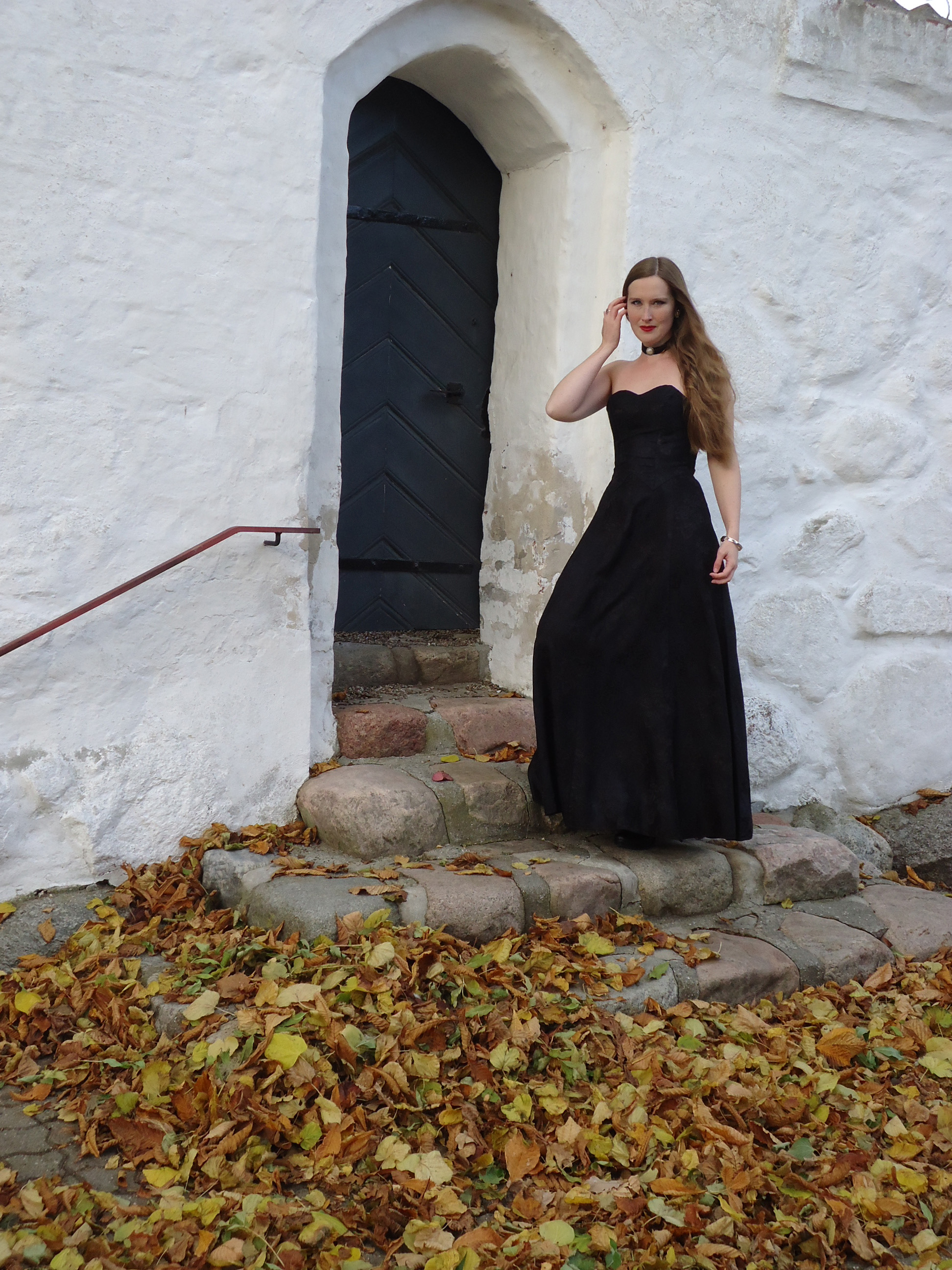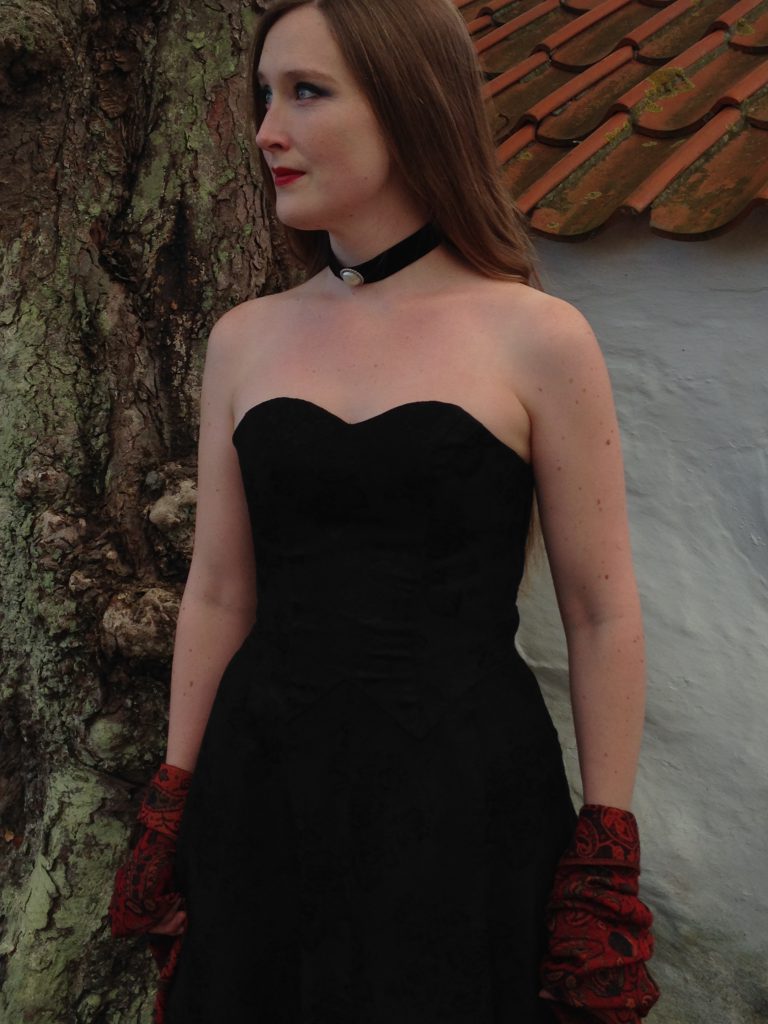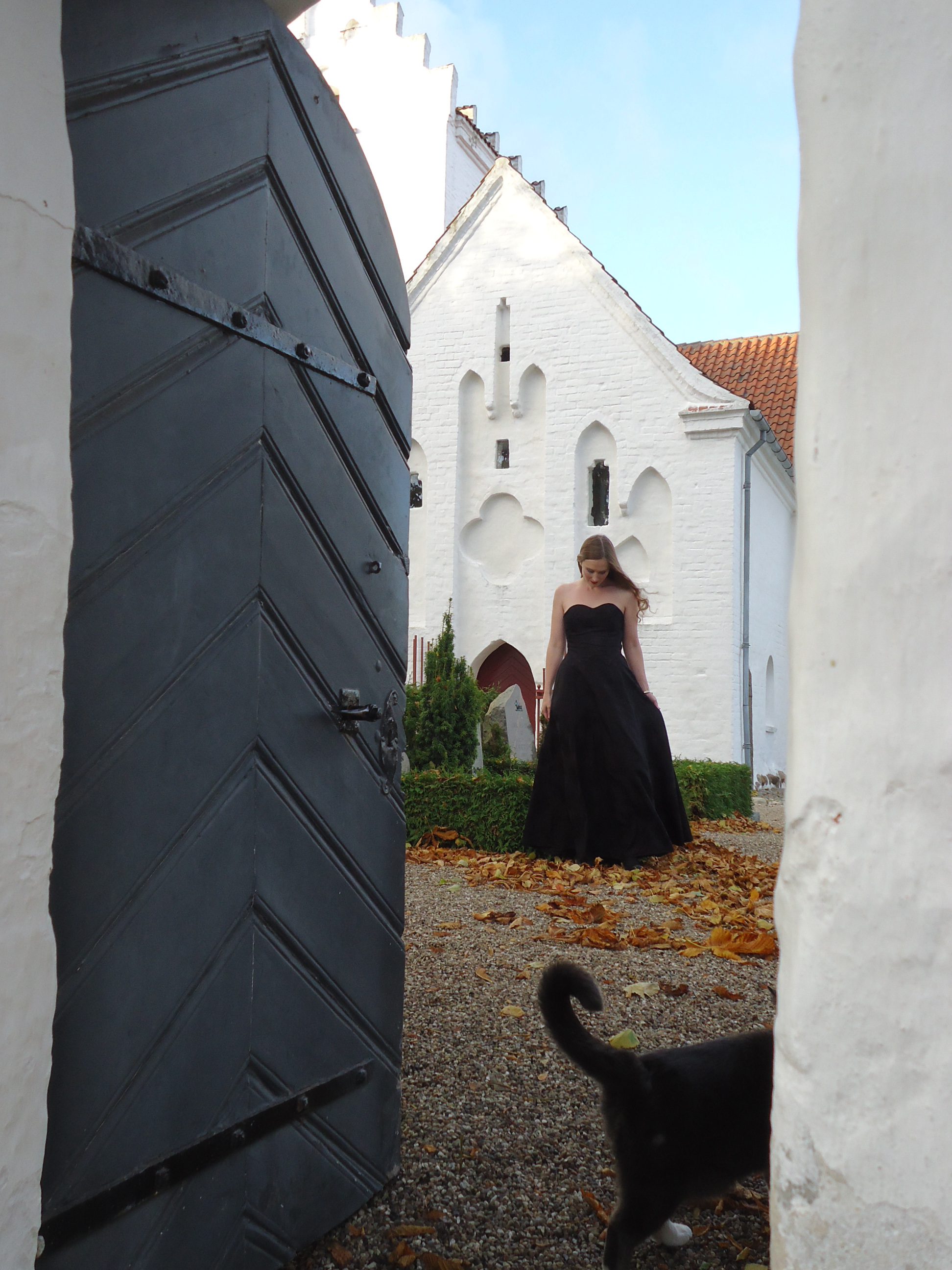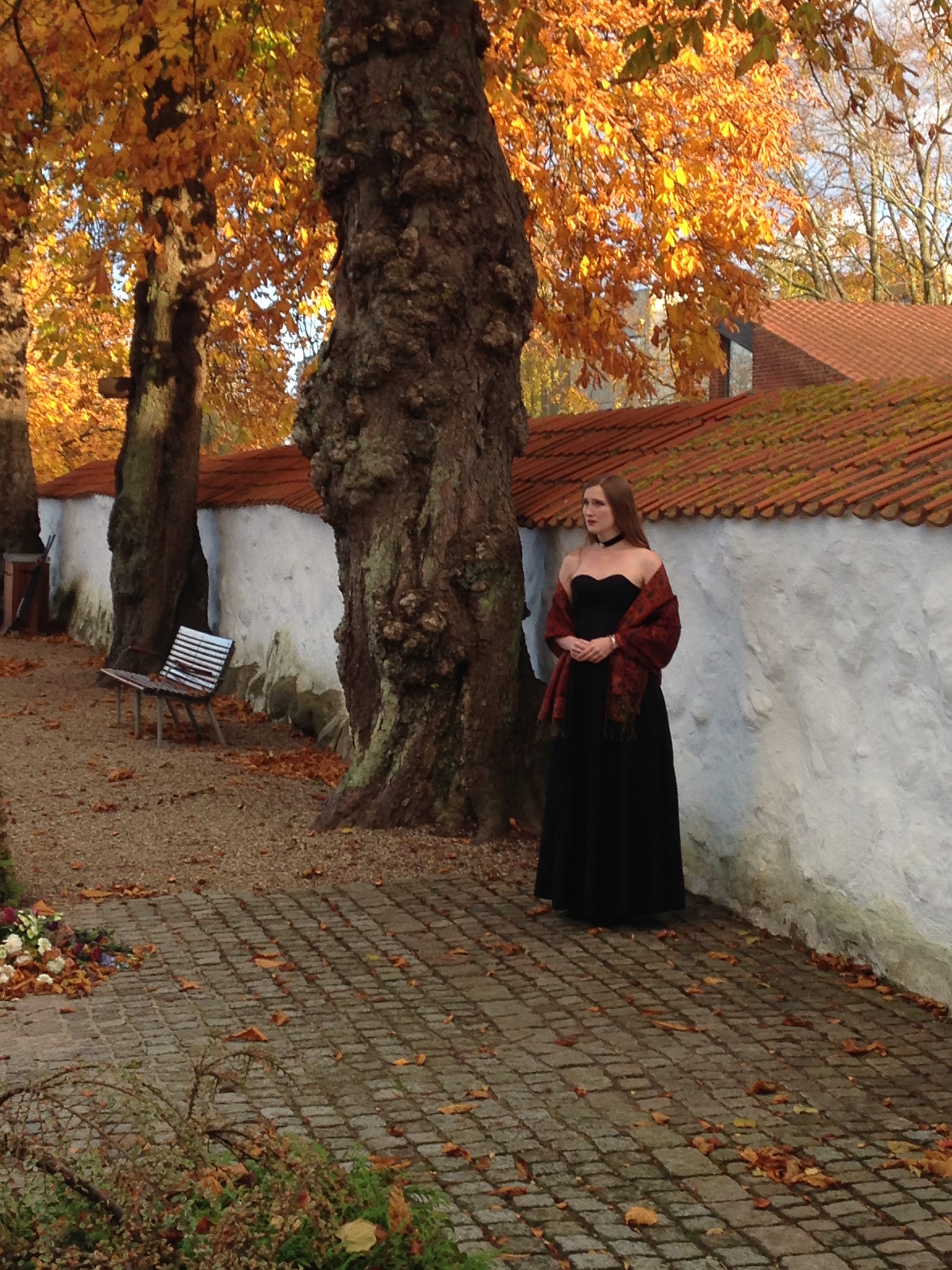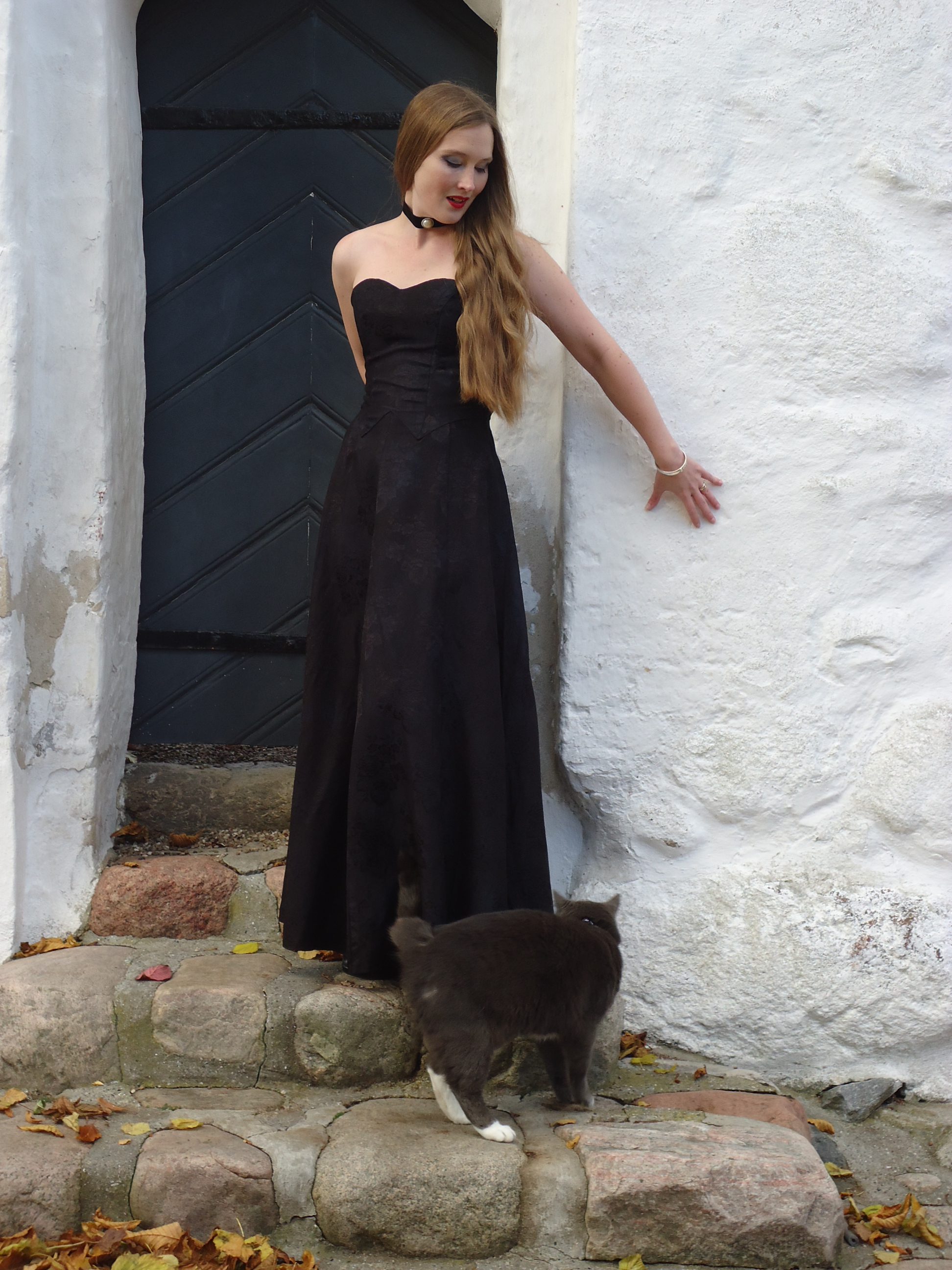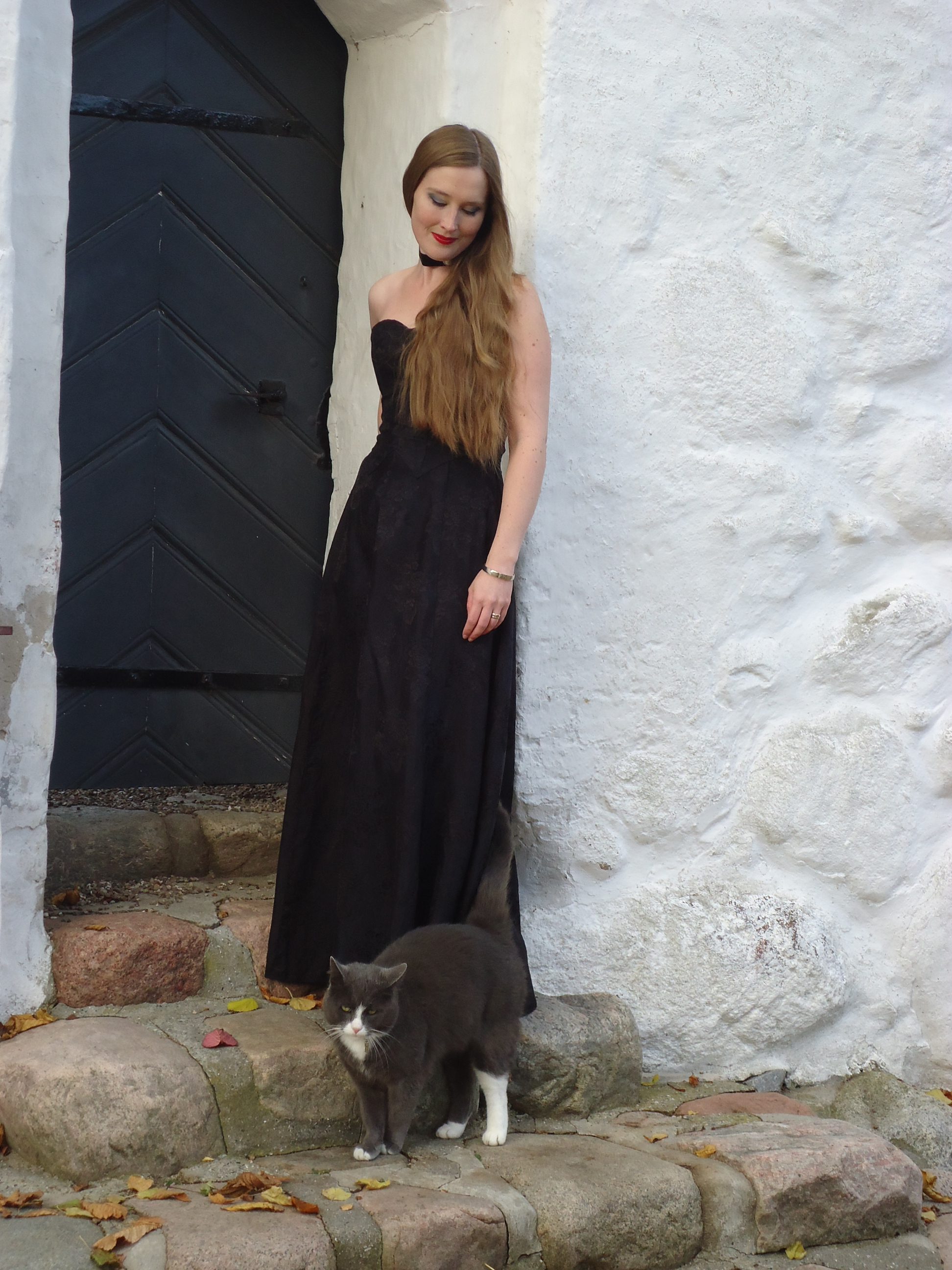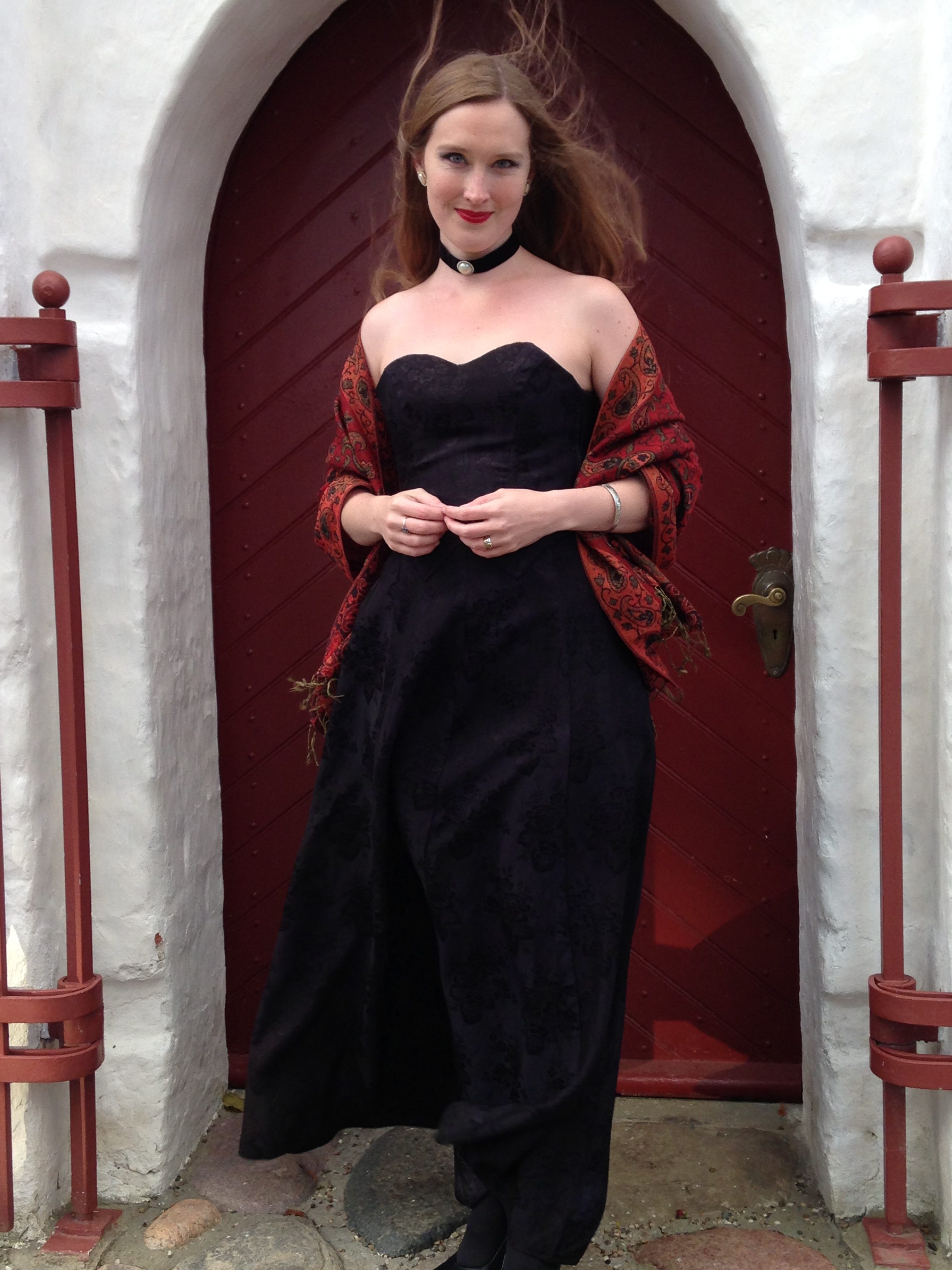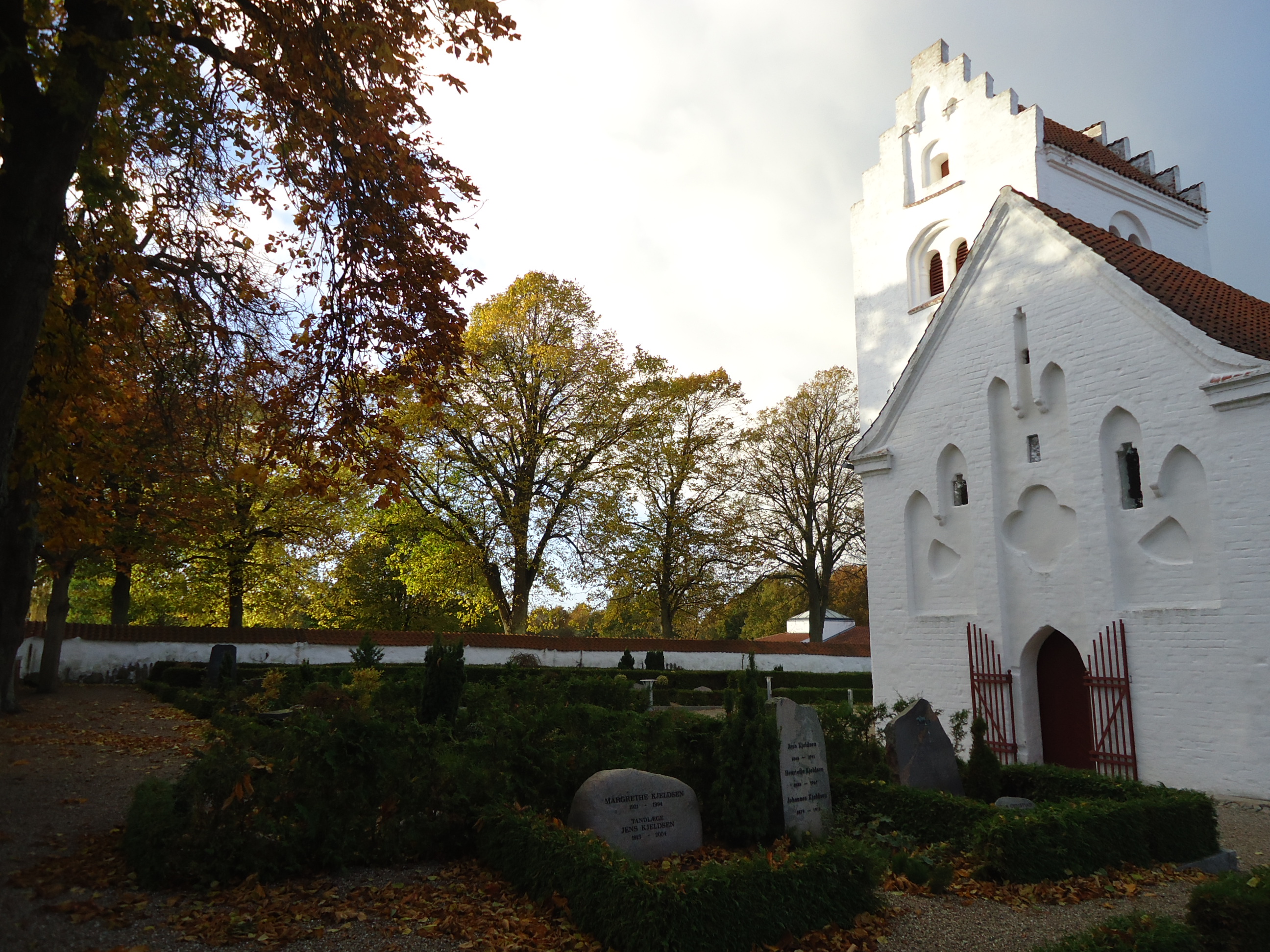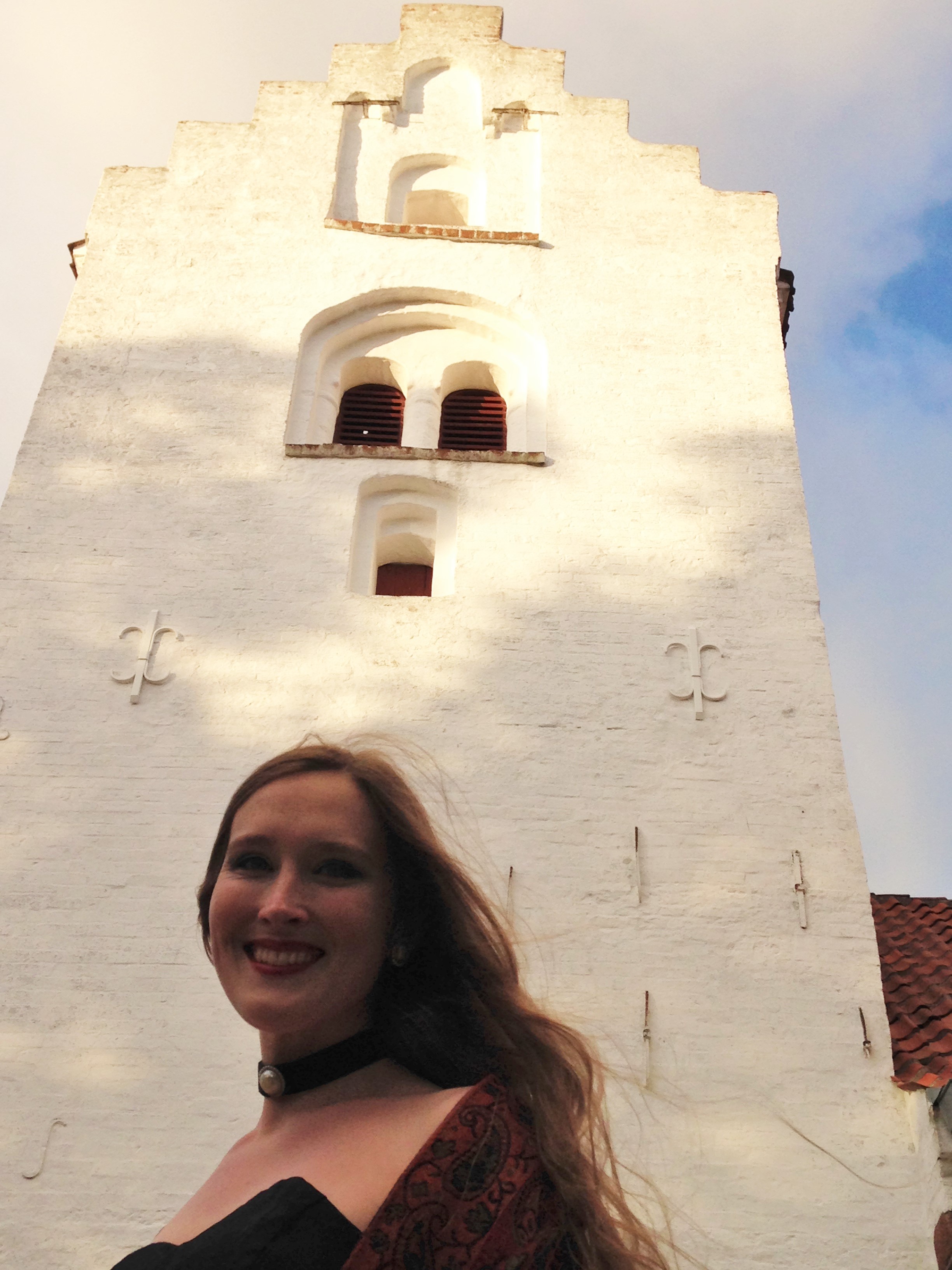 Happy Halloween!