Min gamla dator är totalt opålitlig, så när den plötsligt bestämde sig för att ta semester i två veckor inför psykiatritentan, insåg jag att jag måste köpa en ny. I november ska jag veckopendla till min praktik. Jag vill inte utsätta datorn för onödiga påfrestningar under resorna, men vill samtidigt undvika extra utgifter, så nu har jag gjort ett datorfodral av material som ändå låg hemma och skräpade:
Skumgummi – tidigare använt till en numera skrotad gungstol
2 bordstabletter – tänkta som nödlösning till edwardiansk hatt, men sedan hittade jag bättre , varför dessa blev liggande.
Gult fodertyg – spill från Skattkammarens baner.
Björntråd – från diverse jeansuppläggningar
Dragkedja – arvegods
My old lap top is unreliable, so when it suddenly decided to take a vacation for two weeks just before my psychiatry exams, I realized that I had to by a new one. In November, I will commute weekly for my internship. I do not want to put this expensive new device in danger during the journeys, but at the same time I want to save money. Therefor I have made a lap top case out of materials that I would never use otherwise:
Foam rubber – earlier used for a rocking chair
Two tablets (?) that I had planned to use as an emergency solution for my Edwardian hat, but then I found better ones and these were left in the bottom of a drawer
Yellow lining material – leftovers from the Sunday School flag
Bear thread – from some jeans
Zipper – inherited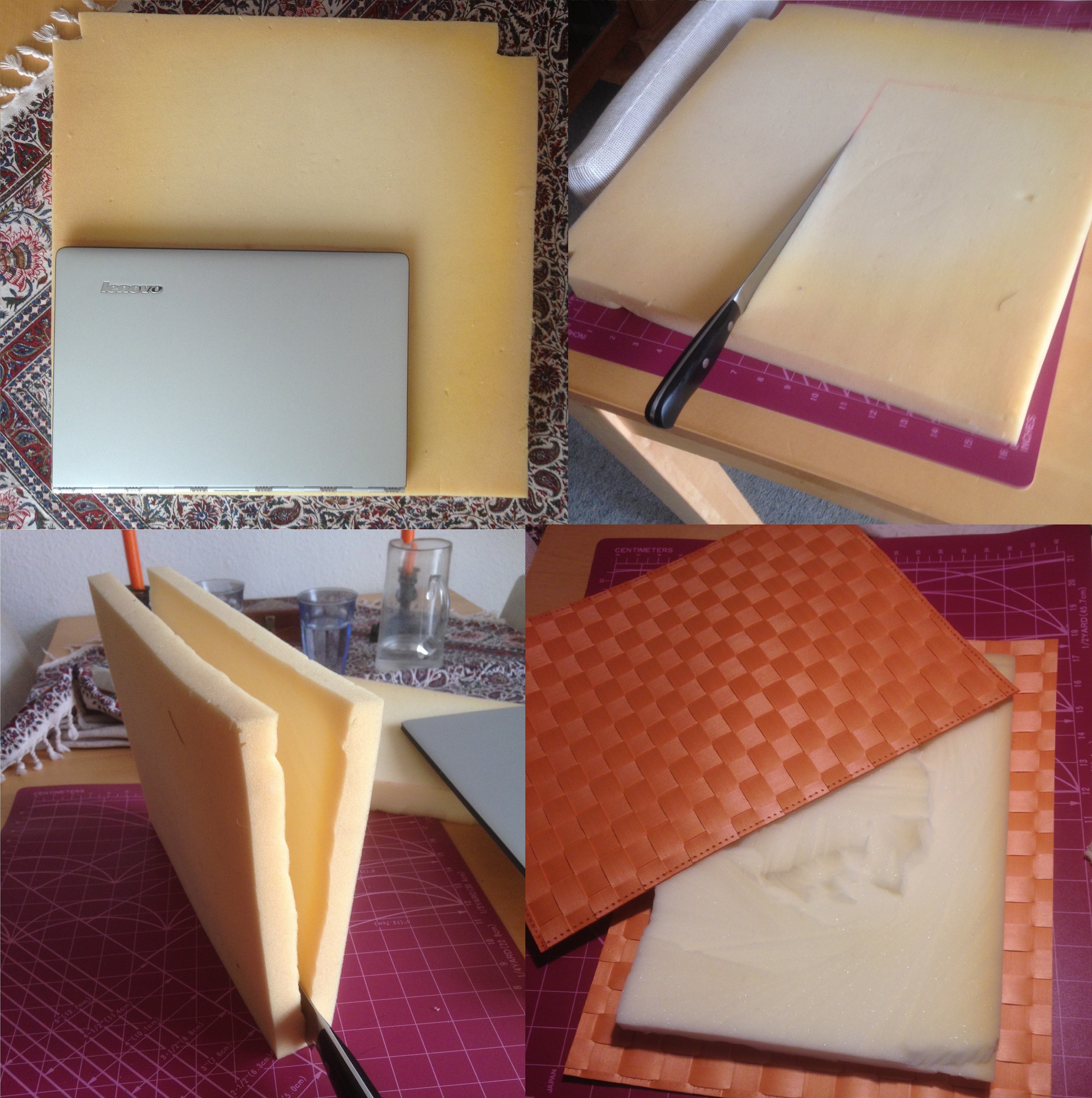 Först ritade jag upp datorns mått på skumgummit och skar ut med hjälp av brödkniv. Sedan delade jag detta på mitten, men lämnade de nedersta millimetrarna. Jag testade att lägga in datorn och insåg att att skyddet var överdrivet tjockt, så jag skar bort ytterligare på utsidorna.
First, I draw the measurements of the laptop on the foam rubber and cut it with a bread knife. I cut it open, leaving a few millimeters at the bottom. I tested putting the computer in between the layers and realized that it was way too thick. I cut away more from the outside.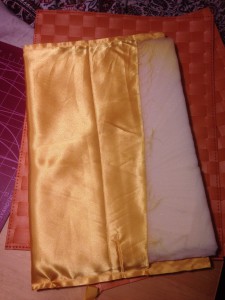 Jag fordrade insidan med tyg, genom att först vika på mitten och stoppa ned mellan skumgummilagren och sedan vika ut det överflödiga tyget mot utsidan. Därefter sydde jag längs kortsidorna, så att det bara var kvar en öppning upptill för datorn.
I lined the inside, by folding the fabric on half and put it down in between the foam rubber layers, then I folded the remaining fabric over the outside. Then I sew the short sides, leaving the long side open for the lap top.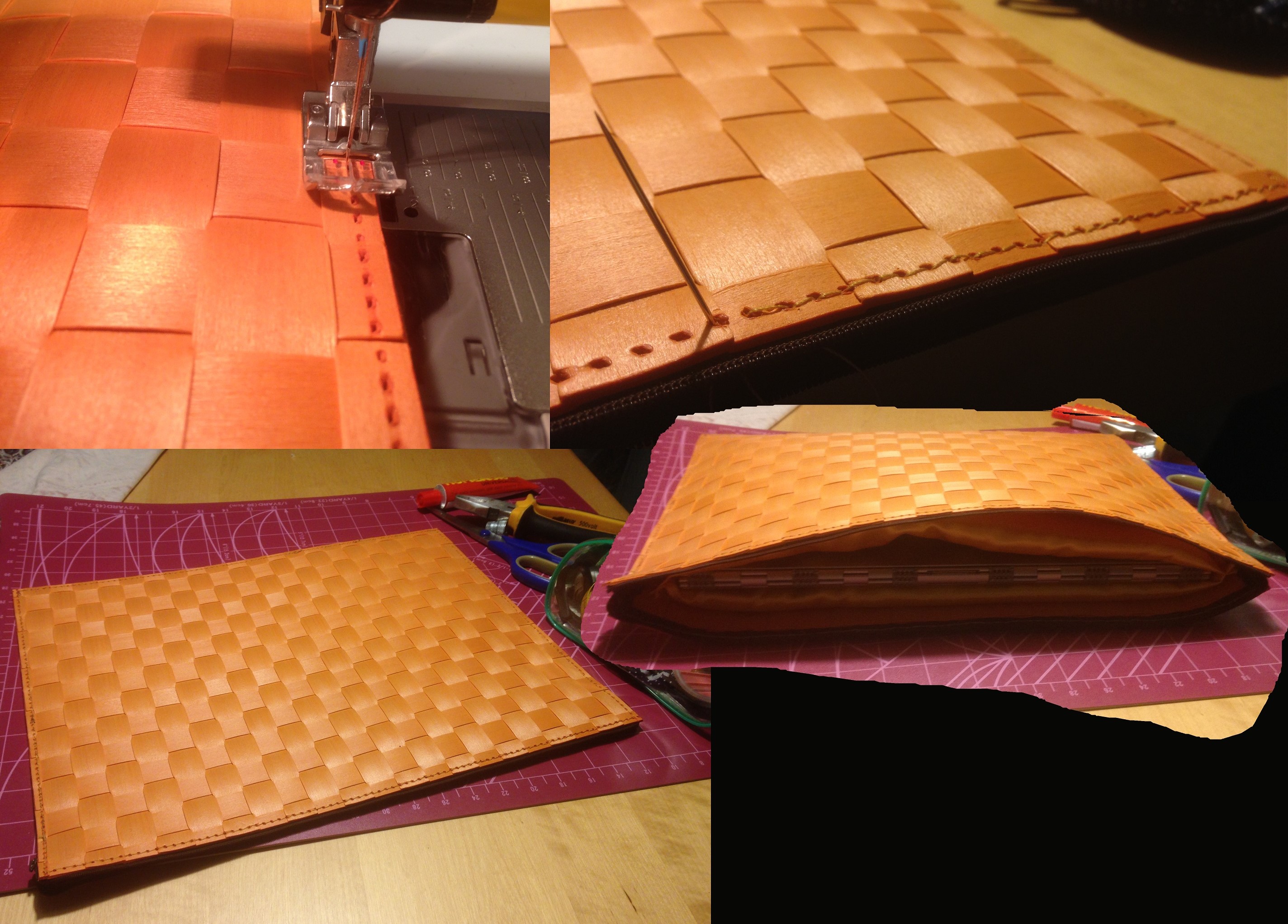 De två bordstabletterna sydde jag försiktigt samman på maskin, med jeansnål och björntråd. En långsida och de närmaste 2 centimetrarna på båda kortsidor lämnades osydda. Här satte jag in en dragkedja, som jag sydde fast för hand. Sedan stoppade jag in fyllningen och datorn.
I stitched the two table tablets together on machine, with jeans needle and bear thread. One long side and the two centimeters closest to this side remained unsewn. Here I put a zipper, which I hand stitched in place. Then I put the foam rubber and lining inside.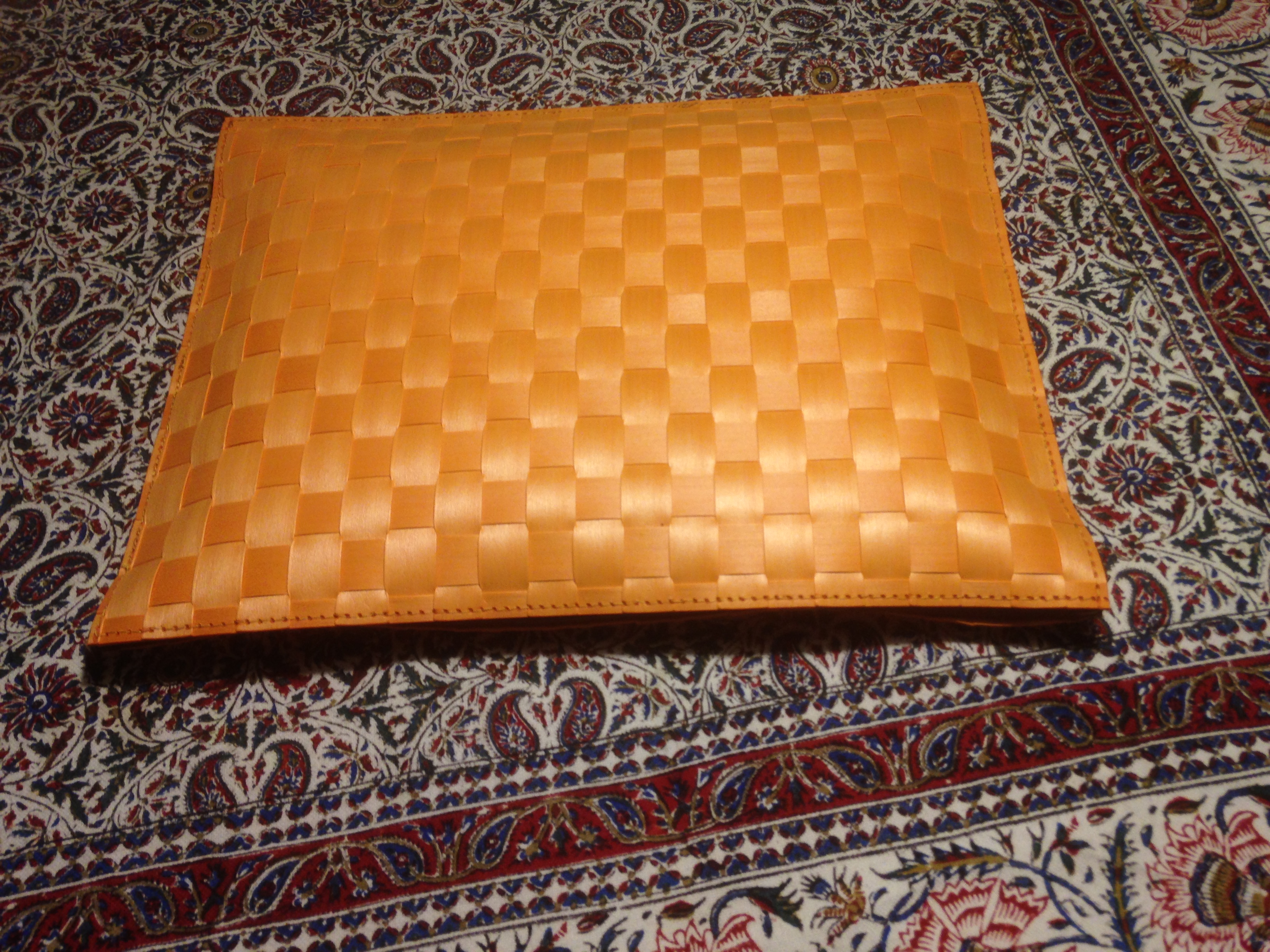 Mitt mål var att sy ett fodral som skulle ge gott skydd, samtidigt som det inte skulle ge ett för lyxigt intryck, eftersom jag inte vill göra datorn mer stöldbegärlig än vad den redan är. Jag tror att jag lyckades.
My goal was to make a case that would give a good protection, at the same time as it would not give a too luxurious impression, as I do not want to make the lap top more tempting than it already is. I think that I succeeded.