This weekend was so great. We had sunny walks. There were friendly cats (we are always craving for cats) and ripe apples fell to the frosty ground, as if crying, "Make an apple pie out of us".
For the first time in weeks, I had both energy and was in mood for singing. At last, I even was brought to sketching, thanks to a very interesting documentary about trappers on the Taiga, in Siberia. They live in an old fashioned way and the nature is so beautiful – several times during the documentary, I told my husband "Oh, I would love to sketch that picture". When documentary was finished, I fished my sketching stuff out from the back of the closet and started sketching my favorite trapper, fishing in the night, but with a fairytale costume. Hopefully there will be more sketches later on.
Den här helgen var underbar. Vi fick soliga promenader. Vi träffade sällskapliga katter (vi har ju konstant kattabstinens) och mogna äpplen dunsade ned på den frostiga marken, som om de ropade "Gör en äppelpaj av oss".
För första gången på flera veckor hade jag både energi till och lust att sjunga. Till slut började jag till och med skissa, tack vare en intressant dokumentär om pälsjägare på Taigan. De lever på ett gammeldags, närmast uråldrigt vis och naturen är så vacker. Flera gånger var det scener som jag kände att jag skulle vilja måla själv. När dokumentären var slut, fiskade jag upp mina pennor ur garderobens djup och började skissa min favoritjägare, när han fångar fisk om natten, med hjälp av ett eldklot hängande i båtens för. Jag bytte dock ut hans praktiska militärkläder mot en lite mer sagolik dräkt. Förhoppningsvis kommer det fler bilder framöver.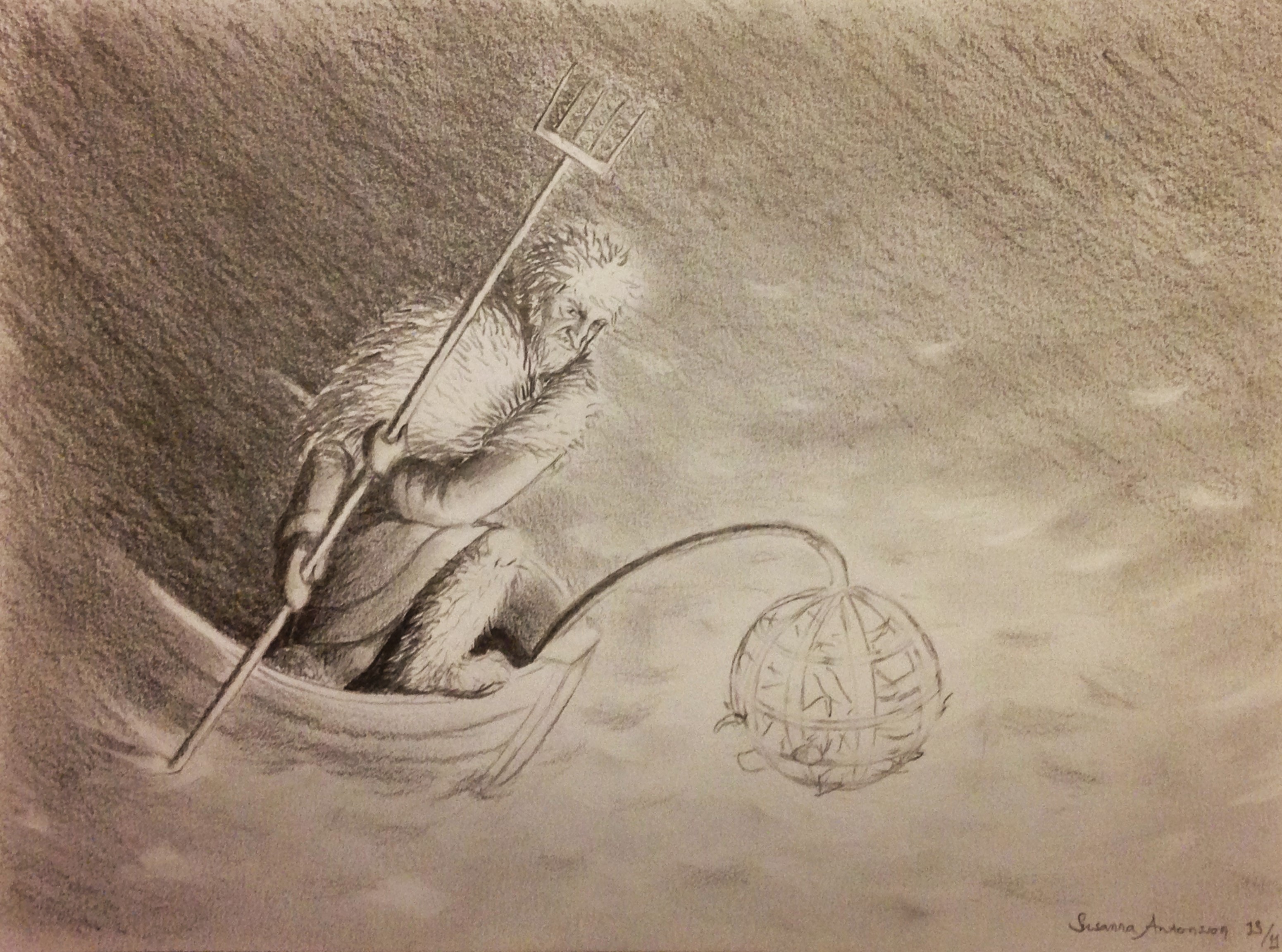 While I had the inspiration, I also finished this picture. I started making it on one of the laziest summerdays, by one of my favorite lakes, in the middle of the lingonberry woods.
Medan jag hade inspiration, avslutade jag denna bild. Jag började skissa på den en varm sommardag, då jag låg bland lingonriset under tallarna intill den svala Försjön.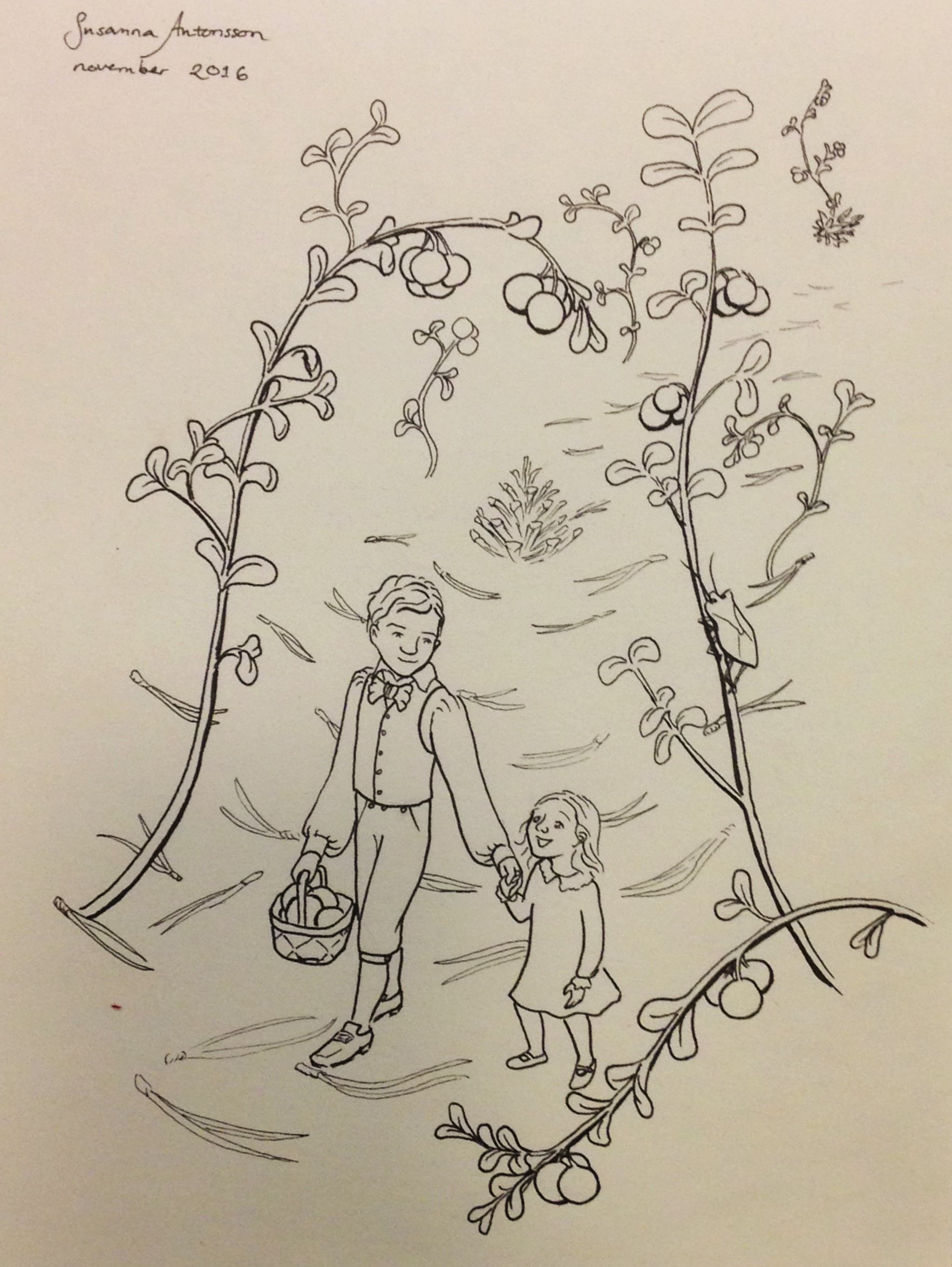 We had a lovely rose bouquet, which had seen its best days. I couldn't throw it away without at least trying to make something of it first.
Vi hade en vacker rosenbukett, som nu blommat över. Jag kunde dock inte slänga den innan jag testat att göra något fint av det som var kvar.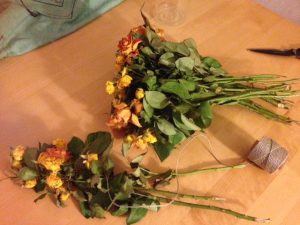 I made a flower garland, winding the roses together, one by one.
Jag gjorde en blomstergirland,  och tvinnade samman rosorna, en efter en.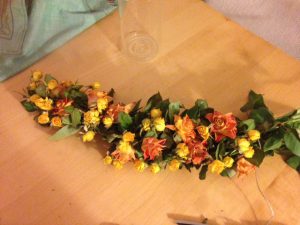 When I had used all roses, I bended the garland into a circle.
När jag hade använt alla rosor, böjde jag girlanden, så att den fick en cirkelform.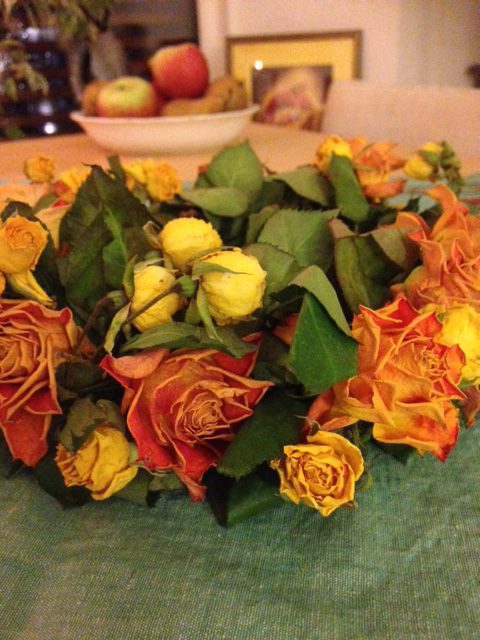 I think it looks quite lovely.
Jag tycker att det ser riktigt trevligt ut.