Min främsta mecenat, tillika min hulda moder, har under något år hintat om att hon skulle kunna tänka sig att ha en Susanna Art-klänning. Tyvärr har det varit alltför uppbokade scheman när vi två har befunnit oss i samma land, så det har inte blivit av.
I julas kom jag direkt från en psykiatritenta och skulle börja plugga till nästa tenta så snart som möjligt. Hela hösten har dock varit förfärlig och nu var jag helt utpumpad. Förutom tentaplugget, hade jag under julhelgen planerat in åtta sångtillfällen (så här lät det vid ett av tillfällena: https://www.youtube.com/watch?v=V9oaLkCUV9A ). Jag bara längtade efter en ursäkt att slippa plugga. Därför kunde jag inte motstå frestelsen när mamma frågade om jag inte ville sy en sval klänning åt henne, inför en resa till Tanzania, av tyget hon fått av en av sina bästa väninnor där för  flera år sedan.
My greatest benefactor, and also my dear mother, has hinted for some years at the possibility of owning a Susanna Art dress. Unfortunately both our calendars have been too crowded during the short times we've been in the same country, so hear humble wishes haven't been fulfilled.
This Christmas I visited my Swedish home, coming directly from an exam in Psychiatry anc had planned to start studying for the next exam as soon as possible. I've had a really bad time through all this semester, though, so now I was totally exhausted. Except for the studies, I was booked for singing at eight different events during the Christmas holidays (this is what it sounded like at one of them: https://www.youtube.com/watch?v=V9oaLkCUV9A). I just begged for an excuse for not studying. You might understand that I couldn't resist the temptation when mum asked me to sew a cool dress for her trip to Tanzania. She had been given the fabric by one of her best friends there, many years ago. Now it would finally be used.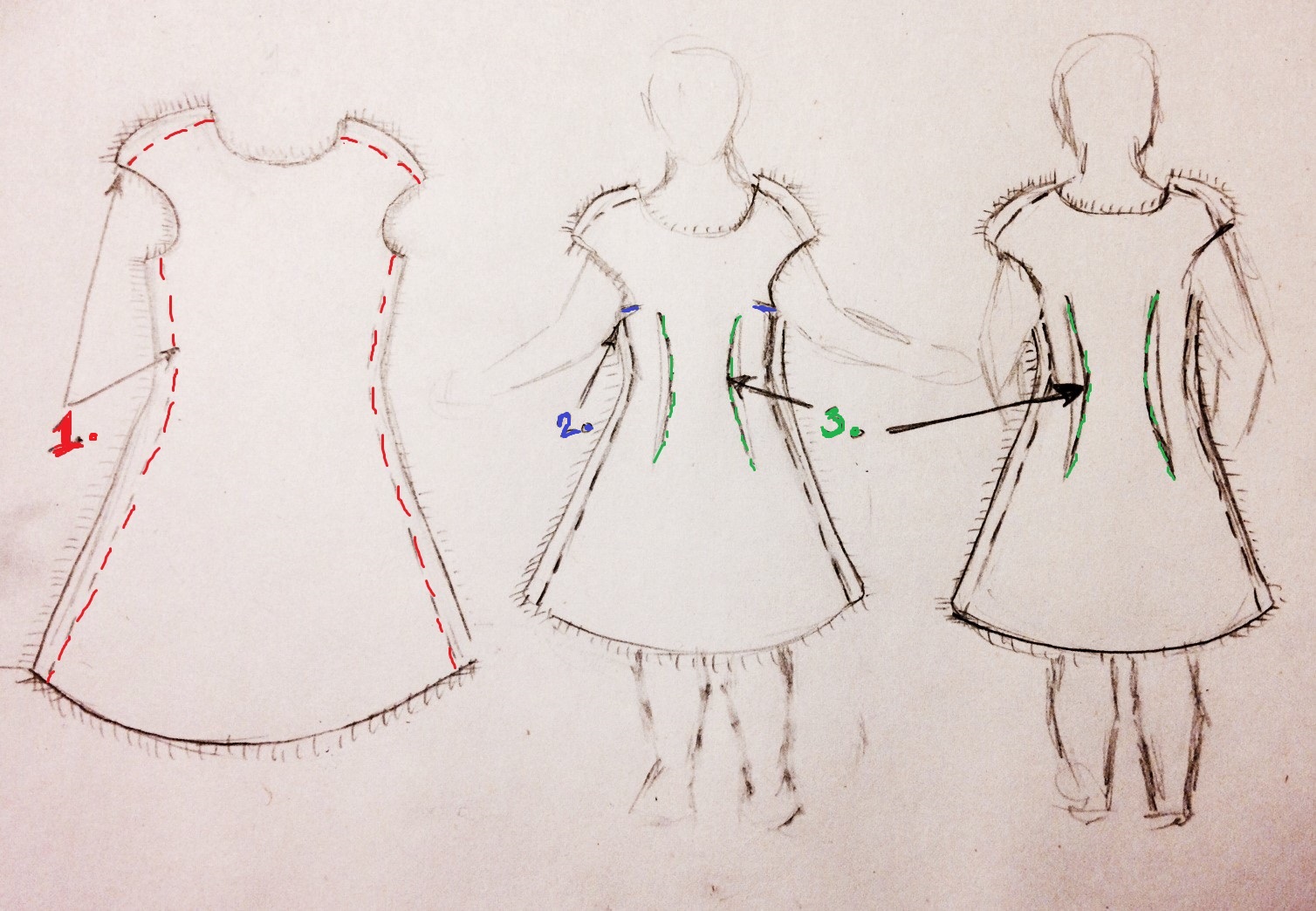 Det första jag gjorde, var att lägga ut en av hennes välsittande, figursydda klänningar på tyget. Sedan klippte jag till tyget med 1 dm marginal på alla sidor, för att ge utrymme för insnitt och felberäkningar.
Sedan nålade jag längs sidorna och upptill (markerat med rött på bilden). Detta tält fick hon dra över huvudet och sedan kunde jag justera den befintliga nålningen, för att ta bort veck.
Därefter nålade jag insnitt vid bystens sidor (blått på bilden), så att tyget nedanför insnitten föll trådrakt ned mot golvet.
Nästa steg var att nåla två  insnitt med start utför bysten till ca 1 dm under midjan, samt i ryggen (grönt på bilden).
När klänningen satt perfekt och den även kunde dras av min kära kund, sydde jag längs alla nålningar (först byst-insnitten, sedan sidor och axlar och sist insnitten fram och bak).
Därefter fållades kjolen till passande längd.
Sist sydde jag infodring i ärmsprunden och halslinningen, med hjälp av kantband, gjort av samma tyg.
Så här fin blev hon!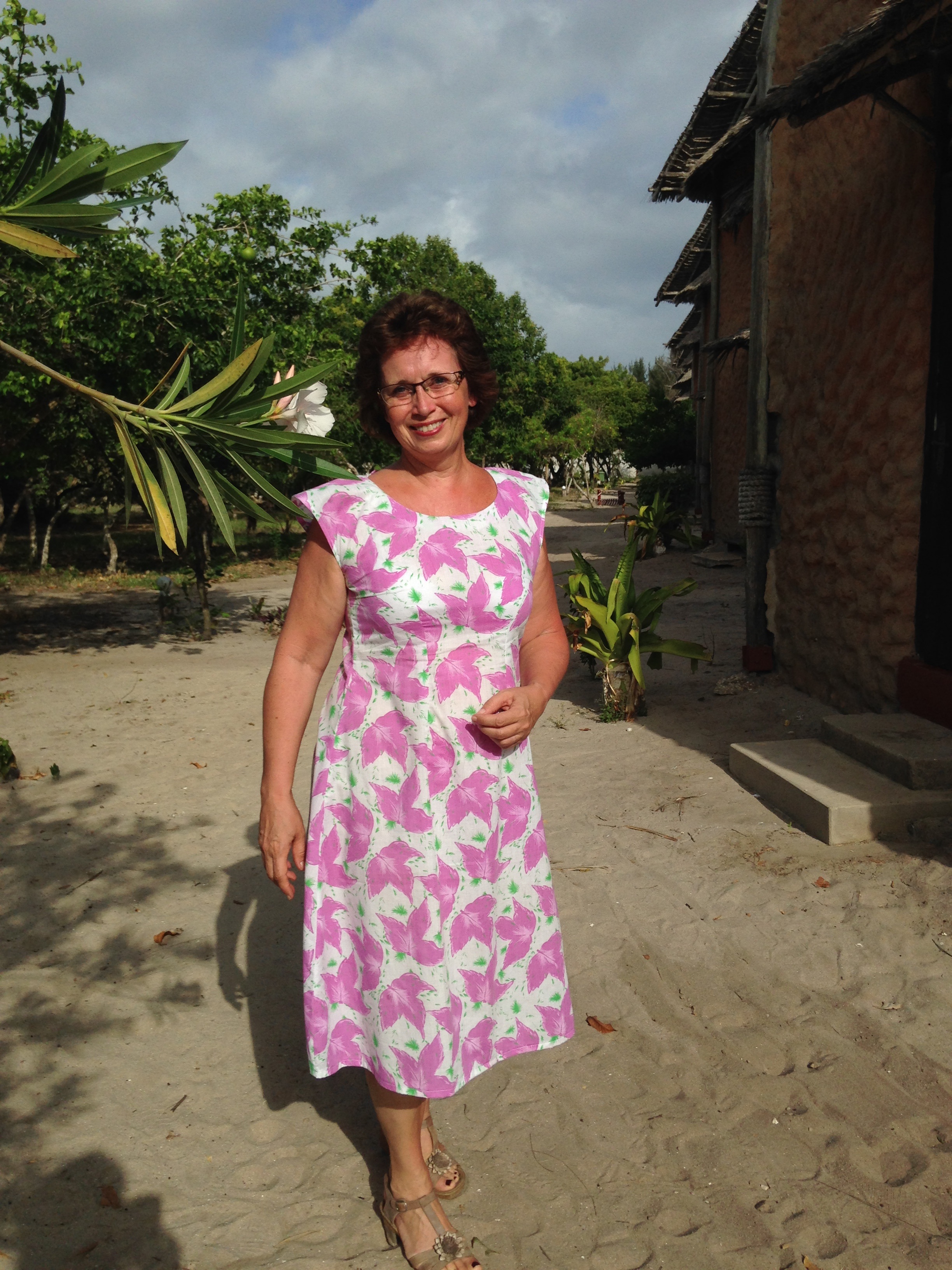 First, I lay one of her well fitted dresses out on the quite narrow fabric. Then I cut the fabric with one decimetre margin at every side, in order to make space for fitting and wrong cuts.
Next, I pinned the sides and shoulders (marked with red in the picture). Then she had to crawl inte the saggy dress and j was able to adjust the primary pinning to smooth the puckering parts out.
Then I pinned darts at the sides of the bust (blue in the picture) so the fabric below fell on the grain towards the floor.
The next step was to pin two darts starting by the bust and stopping about one decimetre below the waist, plus a pair of darts in the back too (green in the picture).
When the dress was both perfectly fitted and possible to get out of, I stitched together all the pinned seams (first the darts at the bust, then the side seams and shoulders, then the darts in the front and back).
Then I hemmed the skirt at a Islamic friendly length.
Last, I made a tape out of the same fabric and used it as interface (?) for the inside if the arms and neck line.
This is how great she looked in the dress!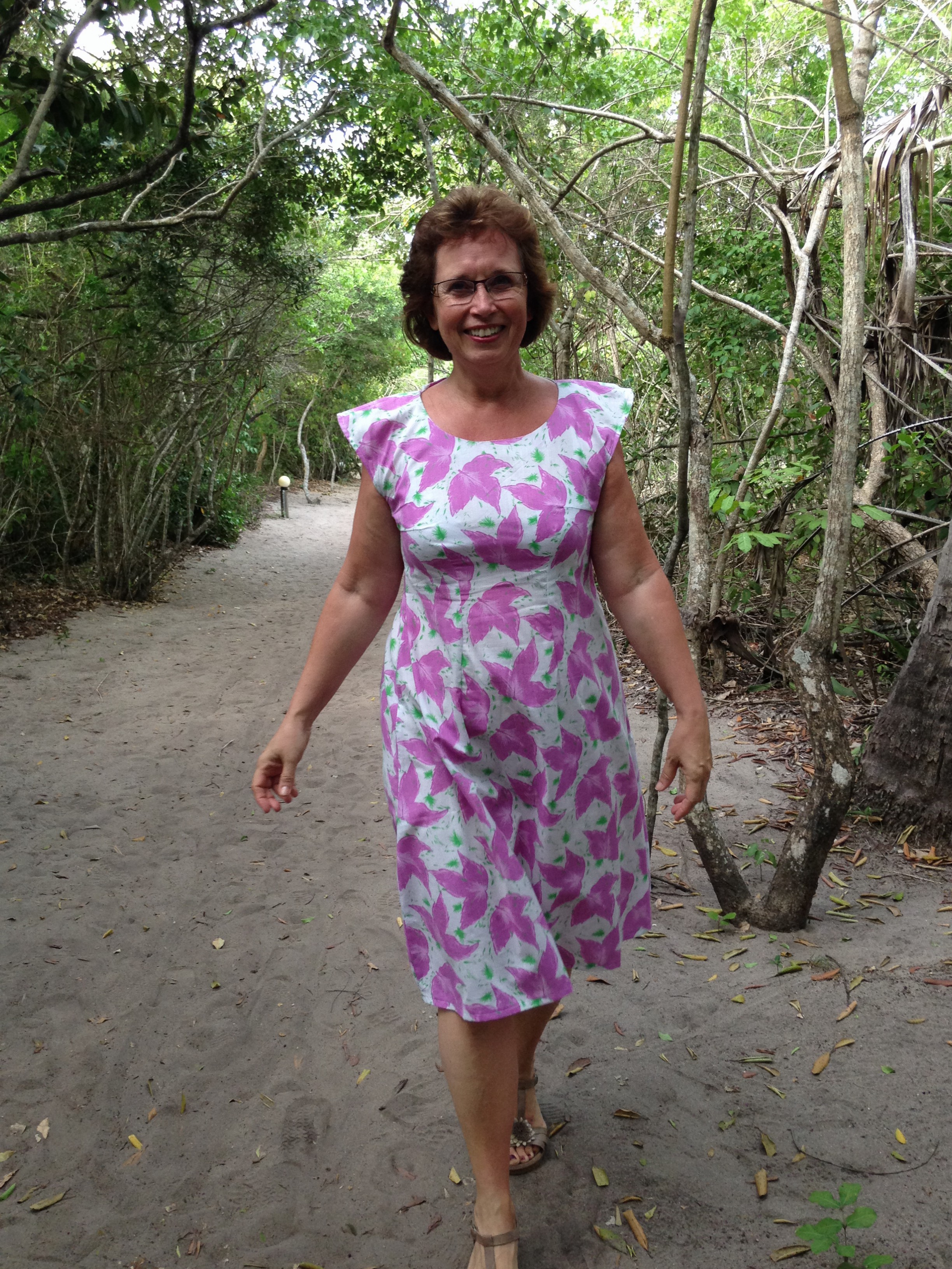 Tack, underbara mamma, för denna förträffliga förströelse och de fina bilderna, samt alla fantastiska sömnadsgåvor som jag fått genom åren!
Thank you, dear mother, for this wonderful distraction and the beautiful pictures and for all the fantastic seamstressy gifts that you have bestowed on me the last ten years!