I vintras sydde jag en omlottklänning med empirskärning, av två ketängen (tanzanska skynken). Jag använde en gammal gardin som toille. Redan då tänkte jag att jag måste sy en morgonrock av detta härliga tyg. Nu fick jag äntligen tid.
This winter I made a wrap-around-dress(?) out of two ketenge (Tanzanian cloth pieces). I used an old curtain as toille. Already by then I thought that this pattern would be perfect for a dressing gown, made from my parents very first curtains. Now I had finally time to do it.
Jag använde mig alltså av samma mönster som till den tanzanska klänningen. Skillnaden är att jag har fordrat morgonrocken med ett vitt bomullstyg, eftersom den annars skulle vara helt genomskinlig og alldeles för sval för denna frusna varelse.
I used the same pattern as I made for the Tanzanian Dress. The difference is that I have lined the dressing gown with a white cotton, because it would otherwise be completely transparent and far too cool for this frozen creature.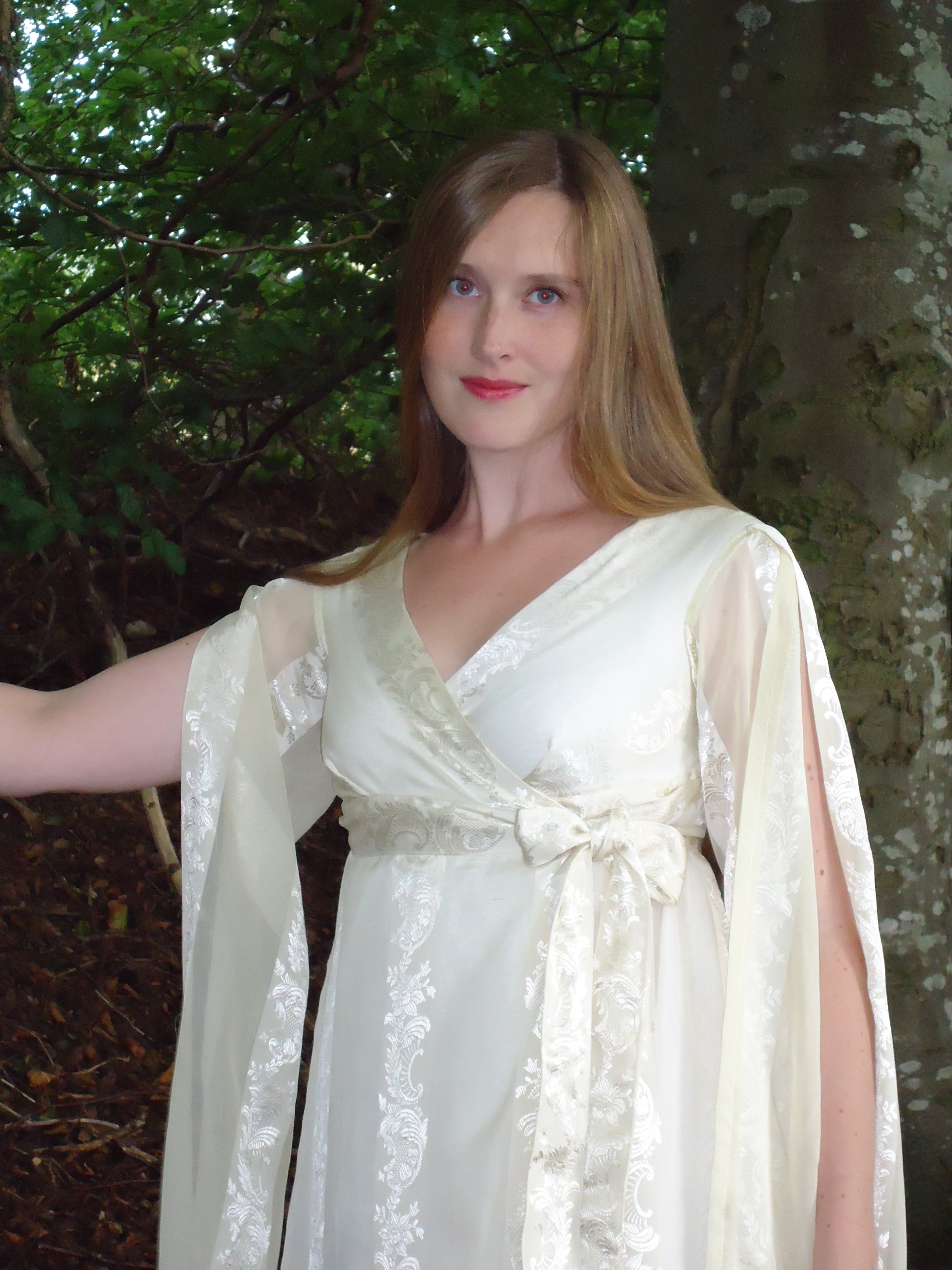 Jag hade egentligen tänkt fotografera morgonrocken ute på en åker, eftersom det var sådan dramatisk blåst och läckra ovädersmoln. Jag var dock inte helt bekväm med att promenera genom samhället i denna stass och den förkylda fotografen blev väldigt tacksam när jag föreslog att vi skulle återanvända bokarna vid fotbollsplanen (som vi fotade min spencer vid).
I had planned for a photo shoot out on the fields, as there is now a superbly dramatic wind and glorious storm clouds. Yet, I was not fully comfortable with strolling around in town in this outfit and the photographer had a bad cold and was only too happy when I suggested that we reuse the beeches around the football field (which we used for my spencer).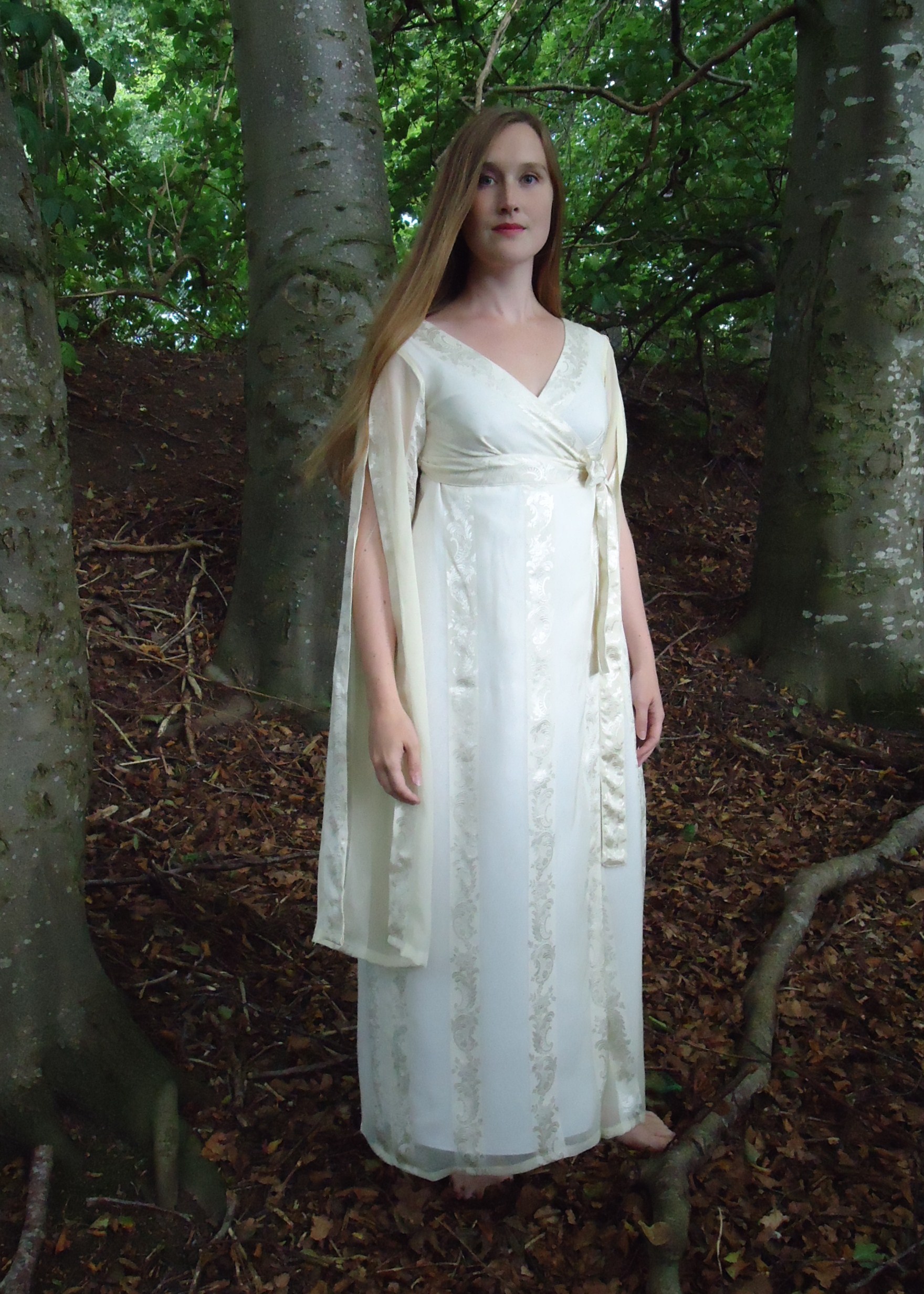 Morgonrockens ärmar är "omvända", och har den potentiella sömmen upptill. Jag överväger att sätta några stygn vid armvecket, så att de ger lite mer värme till överarmarna, nu när hösten blir kyligare.
The sleeves of the dressing gown are "converted" and has the potential seam on the shoulder. I consider placing some stitches at the elbow, so that the arms give a bit more warmth above the elbows as the autumn now grows colder.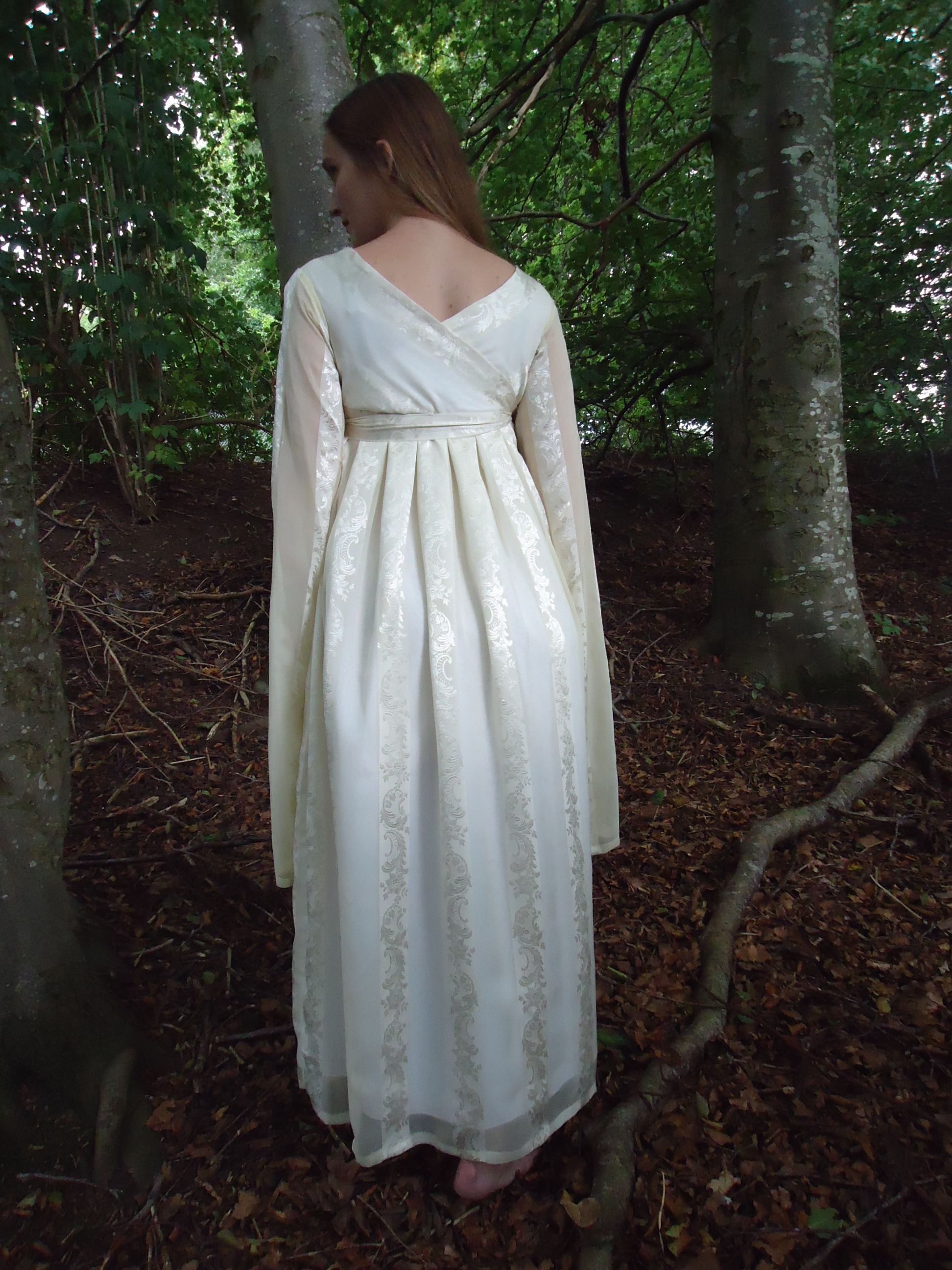 Jag veckade baktill och satte "brokad-linjerna" ytterst.
I pleated the back and placed the "brocade lines" on the outside.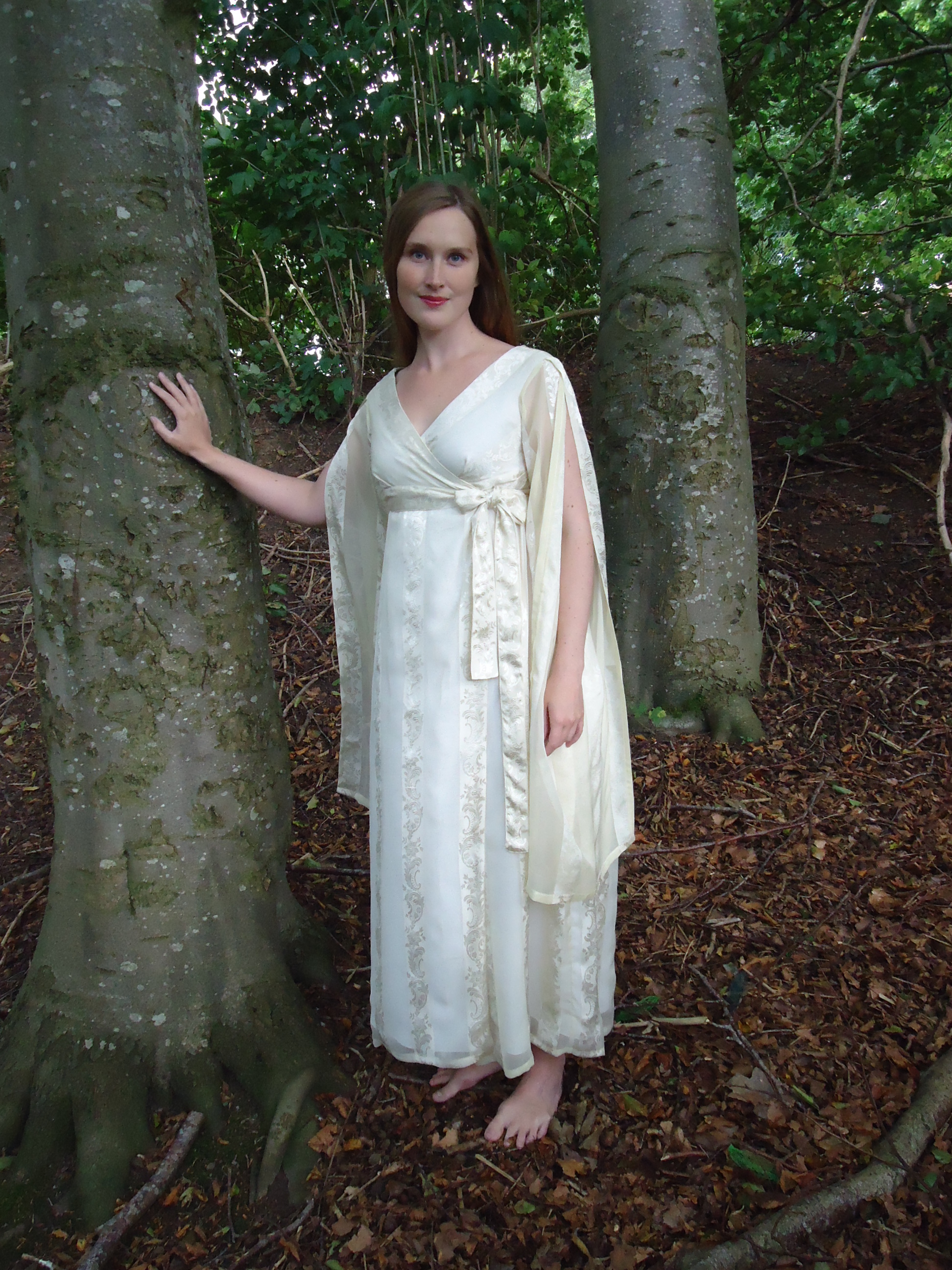 Ärmarna är långa, men behöver inte nödvändigtvis vara opraktiska, eftersom de bara hänger utefter sidorna. Om det skulle vara risk för att fastna i saker, kan ärmarna knytas bakom ryggen.
The sleeves are long, but not unpractical, because they just hang down along the sides. If there is any risk of getting stuck, the arms can actually be tied behind the back.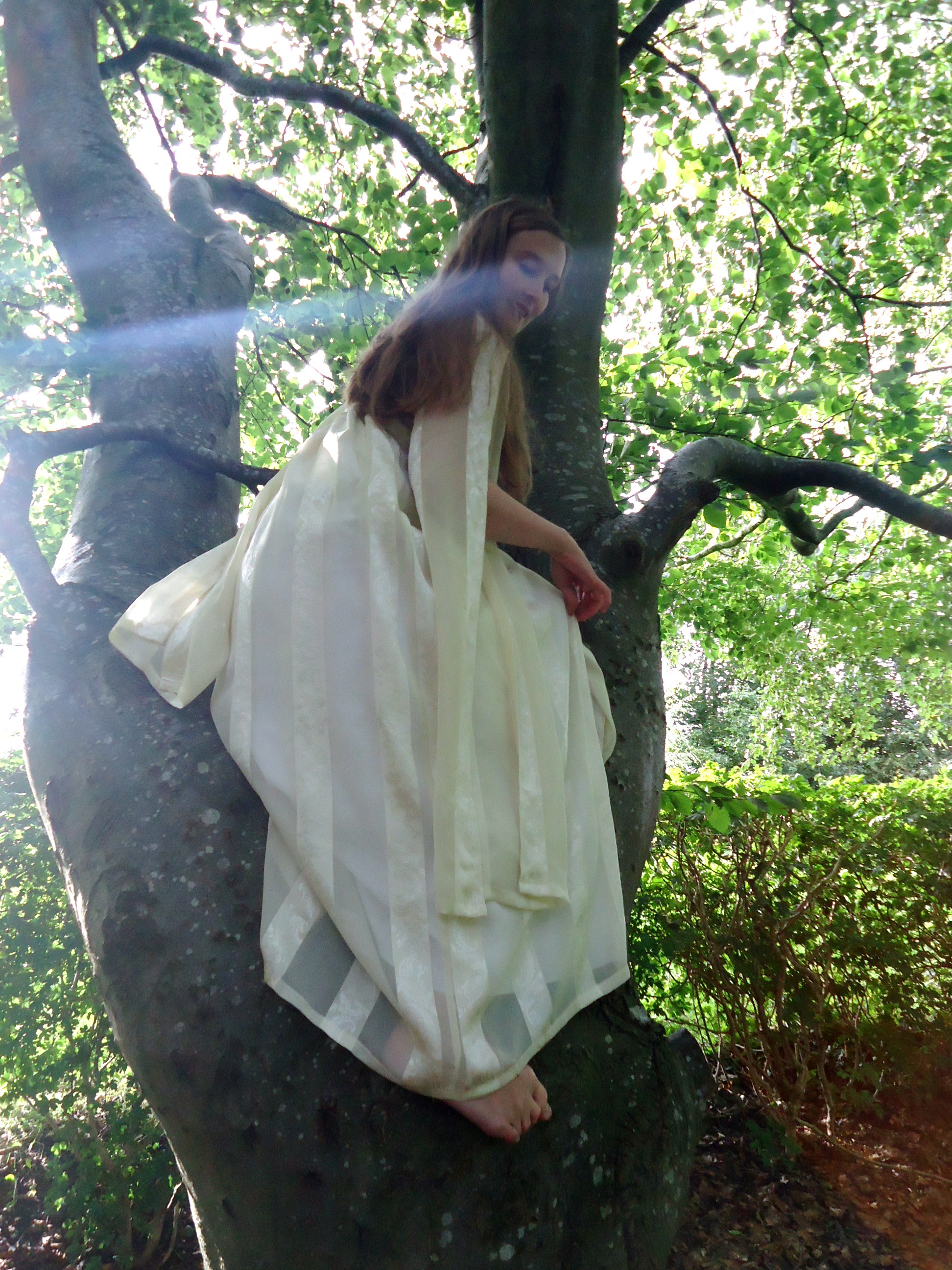 För att bevisa hur praktisk denna morgonrock är, klättrade jag för er skull upp i ett träd!
In order to prove for you how practical this dressing gown is, I climbed up this tree.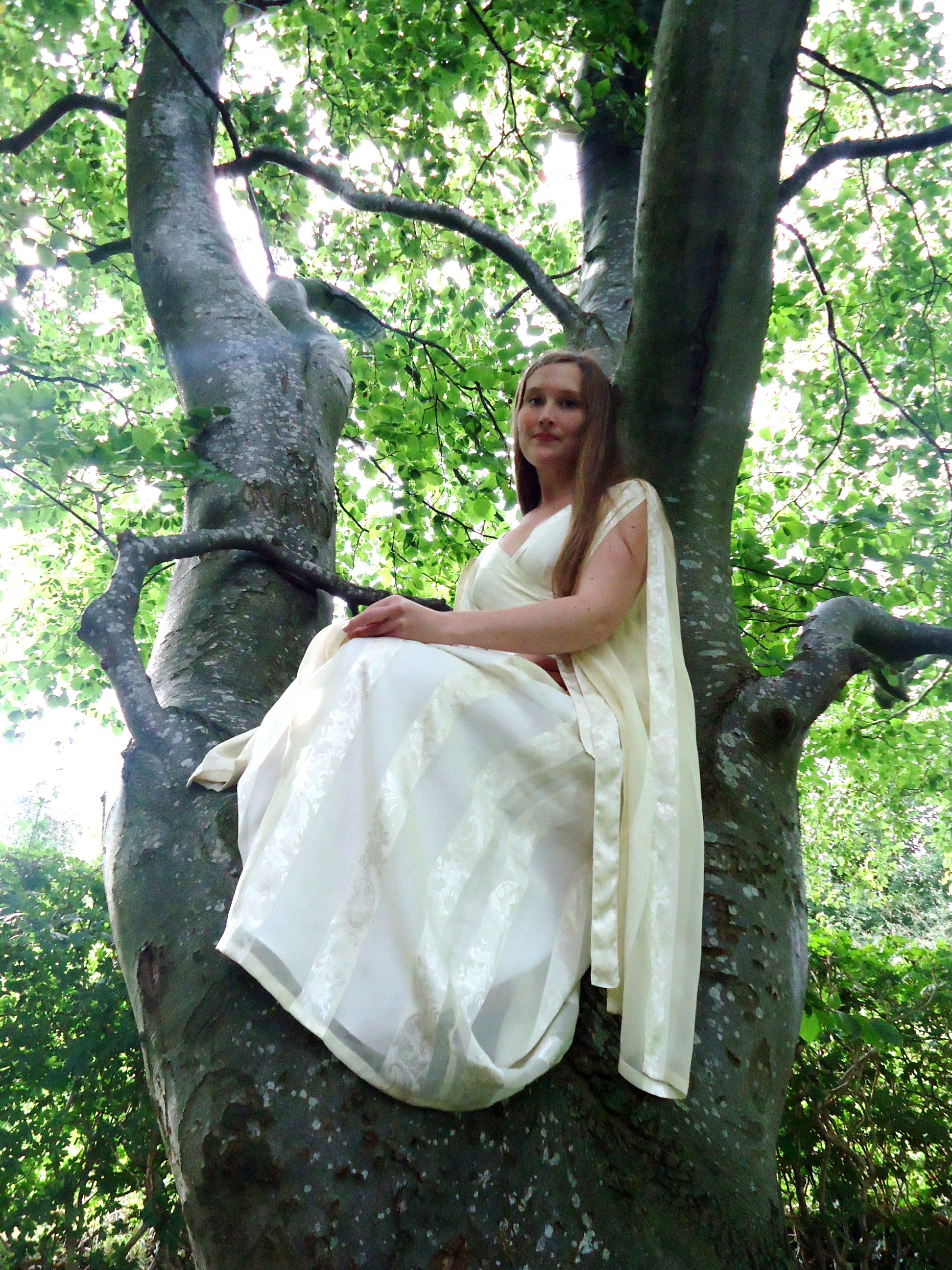 Nej, det var förstås för min egen skull som jag tog mig dit. Jag älskar att klättra i träd och skulle gärna ha levt som en trädalv, om jag hade levt i ett lite mindre krävande klimat och inte varit så besvärad av insekter.
No, off course it was for my own sake that I got up. I love climbing trees and would gladly have spent my life as a tree elf, if I had but lived in a more forgiving climate and had not been so afraid of insects.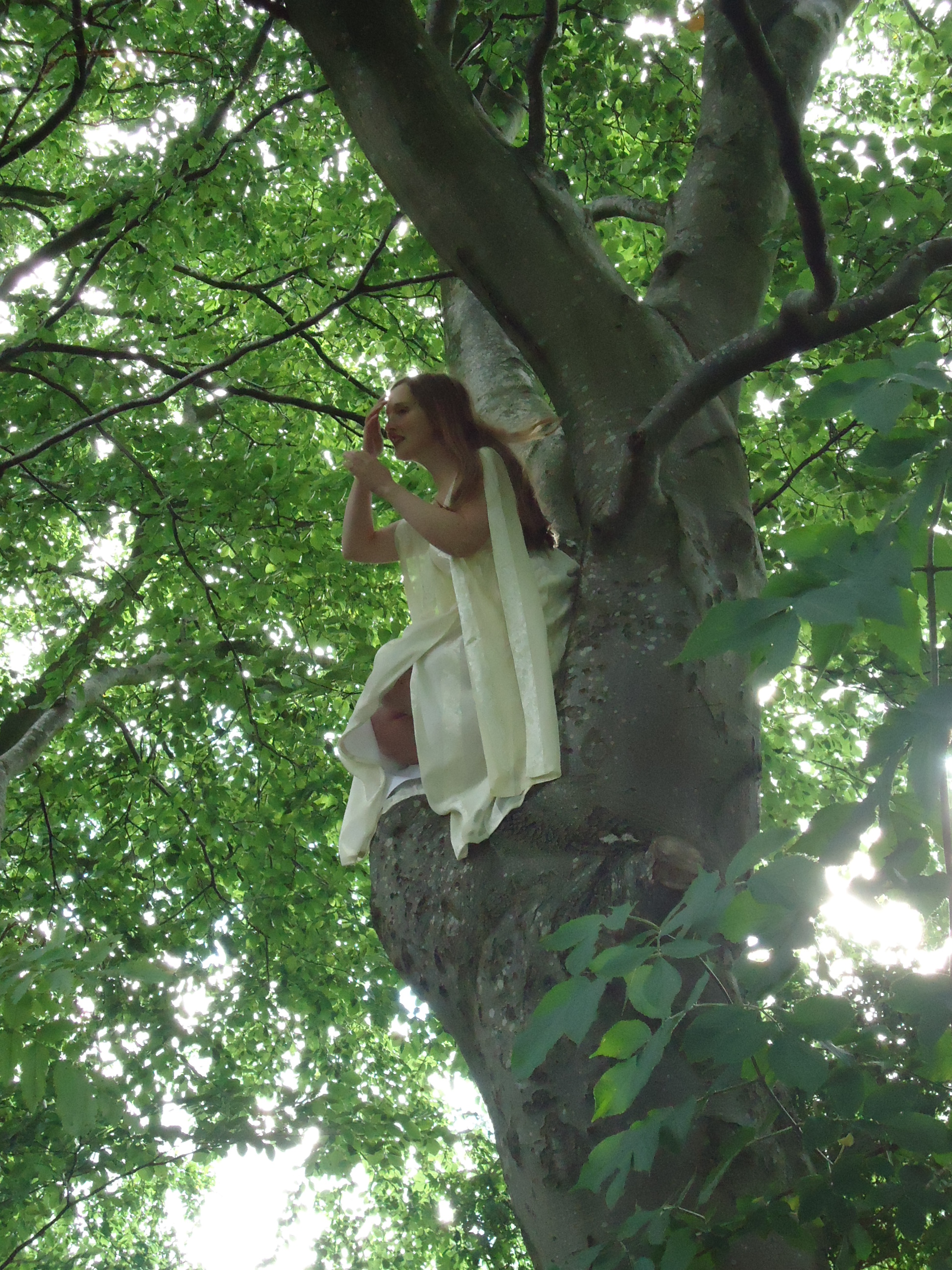 Kom ihåg att alltid hålla blicken riktad mot skyn, så kan du kanske få se skygga väsen visa sig.
Remember to always look to the sky, then you may see lucid creatures.