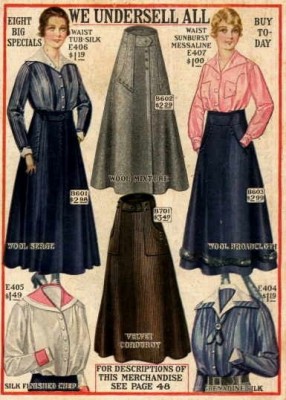 När jag bestämde mig för design på kjolen, försökte jag väga in både att kjolen skulle bäras av en modeintresserad kvinna, men även att hennes ekonomi skulle vara begränsad och att hon gärna skulle kunna cykla i den. Alltså fick den inte vara för uppseendeväckande och säsongsbunden, och helst ganska kort, men gärna med en "modern" siluett.
When I decided what design I would use for the skirt, I tried to consider that it would be worn by a fashion forward young woman, who had a strained economy and used her bicycle on her way to work. Thus it mustn't be too fancy, but more decent and timeless and with that shorter, more bicycle friendly length that had recently come into fashion.
Modetidningen intill är från 1916, men liknande modeller på kjolar finns redan 1914. Skissen, härunder, baserar jag på en kombination av flera kjolmodeller, som jag har sett på modebilder och i klädkataloger. Samma kjollängd, har jag dessutom sett på "street fashion"-bilder från 1906. Sent omsider beslutade jag mig för att även sätta fickor på kjolen, eftersom det ändå är en praktisk lärarinna som ska bära den.
This fashion plate is from 1916, but I have seen similar skirt models from as early as 1914. The sketch shows a combination of several skirts that I have seen on fashion plates and in catalogs. This length I have also seen in photos of street fashion from 1906. I also added pockets, as it would be very practical for the teacher who would wear it.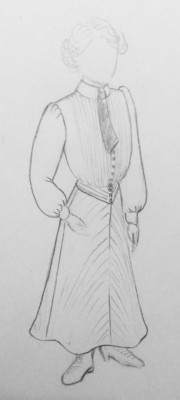 Toille
Som vanligt, när jag har en begränsad mängd tyg, börjar jag med att göra en toille.
As usual, when I have a limited amount of fabric and no pattern, I start with making a mockup.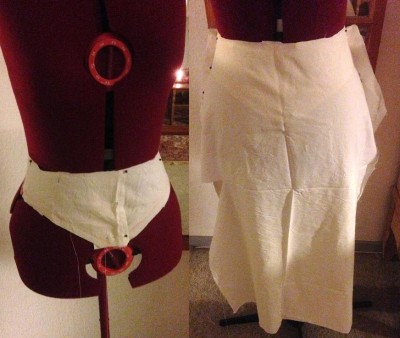 Till vänster ser du midjedelen, medan själva kjoldelen syns till höger. Den är inte på långa vägar klar, men man kan se vilket fall kjolen får, med den rundning kjolen har i midjan, på denna bild.
To the left you see the "waist part", while the skirt is at the right. It isn't even close to finished, but at least you get an idea of how the skirt falls (?) with the current shape of the waistline.
Kjolen
Jag tog en bild av när alla delar var urklippta ur tyglängden, men insåg sedan att jag behövde justera avsevärt, så att det inte var värt att förvirra er med den bilden. Så här ser i alla fall framsidans bitar ut, innan de har sytts samman. Ovanför ligger också baksidans midjedel.
I took a picture when all parts were cut out of the proper fabric, but then I realised that I had to adjust many things, so let's not confuse you with that picture. Anyhow, this is what the front parts look like, before put together. Above them, there lays also the back "waist part".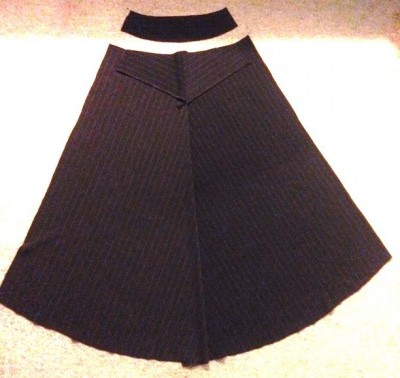 Jag började med att nåla de fyra våderna samman, testa och justera. Sedan sydde jag dem samman, men lämnade de översta decimeterna öppna framtill. Därefter nålade jag fast midjedelen fram och bak.
I started with pinning the four panels together, test and adjust. Then I sewed them together, but left the upper decimetres open. Then I pinned the waist parts to the front and back of the skirt.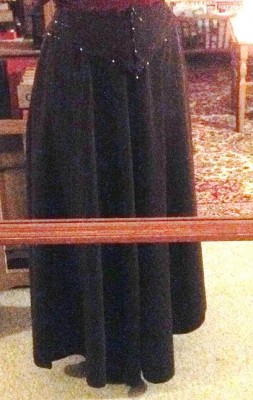 Så här såg midjedelen ut framtill. Sedan sydde jag knapphål för hand och klädde knappar (ärvda efter svärfarmor Saga), i en rasande fart, sista kvällen innan vi åkte till Svea rike över jul.
The waist part looked like this in the front. I hand stitched the buttonholes and made covered buttons (inherited) in a great hurry, at the last evening before going home to Sweden for Christmas.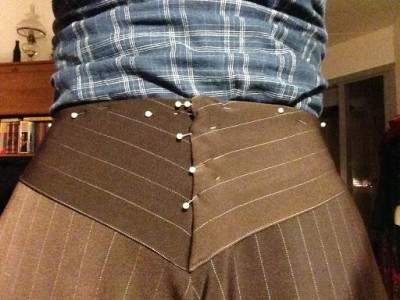 Kjolen saknade alltså endast fåll och fickor, när vi återvände till verkligheten.
The skirt only lacked hemming and the pockets, when we returned to the grave reality.

Fickor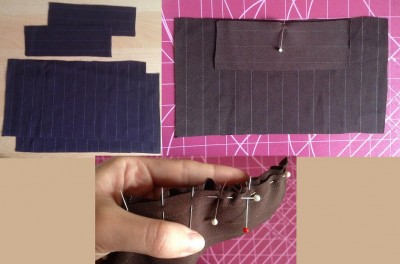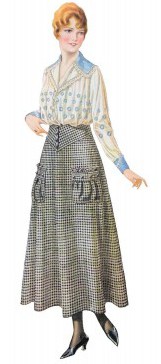 När jag började med fickorna, hade jag fortfarande inte helt bestämt mig för hur de skulle se ut. Jag klippte ut några tyglappar och började experimentera. Jag hade sett flera trevliga veckade fick-varianter, bland annat på denna modebild från 1915:
When I began making the pockets, I still hadn't figured out exactly how they would look. I cut some bits of fabric and experimented with these. I had seen many different types of pockets, for example in this nice fashion plate from 1915:
Jag testade några olika varianter på kjolen och bestämde mig för att göra något liknande bilden intill, men utan knappar och volanger upptill.
I tested some different variants on the skirt and decided to go for something similar to the one in the picture, but without buttons and flounce.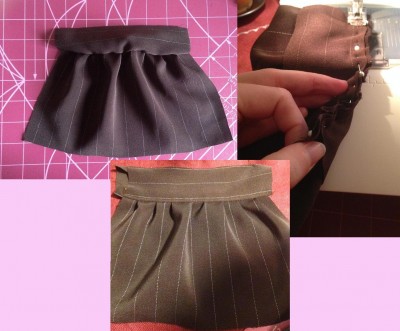 Jag insåg att det skulle krävas väldigt mycket arbete för att få till en rynkad, men ändå rät nedre kant på fickorna, så jag testade mig fram till denna variant.
I realised that it would take some work in order to get that ruffled but at the same time straight bottom edge, so I ended up with this alternative.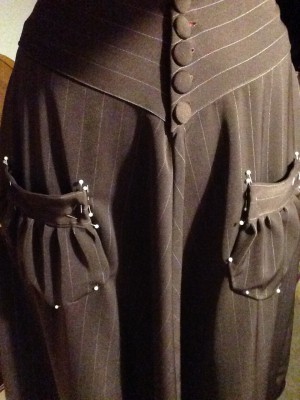 Man ser ganska rolig ut, när man försöker föreviga processen, från topp till tå.
One looks kind of funny when trying to document the process, from top to toe.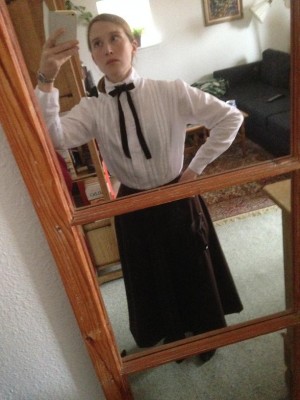 Sedan var det bara att sy fast fickorna med raksöm och fålla kjolen.
Then all that remained was to stitch down the pockets with a straight seam and hem the skirt.
Den färdiga kjolen
Dags att dra med min hängivne fotograf ut i naturen för en kylig fotosession!
Time to take my dedicated photographer out for a refreshing photo session.