Now the Snake Witch garment is finally finished!
So, for those of you who have not followed this project from the beginning, I want to introduce the Lady of the Green Kirtle, the Queen of the Underland or the Green Witch, from The Silver Chair, in the book series of Narnia by C.S. Lewis. She is perceived as a lovely, beautiful creature by those who meet her, but the story shows that she is a ruthless ruler and a witch who sometimes transforms herself into a serpent. She is described as tall, slender, with glimmering skin and wearing a flowy green gown.
My pretty silk is woven by green and red thred and looked very green laying flat. Along the way I understood that my Green Lady would have to accept the more purple tone, which became even more dominant with the pinkish arms. I am very pleased with how she turned out. Here she is!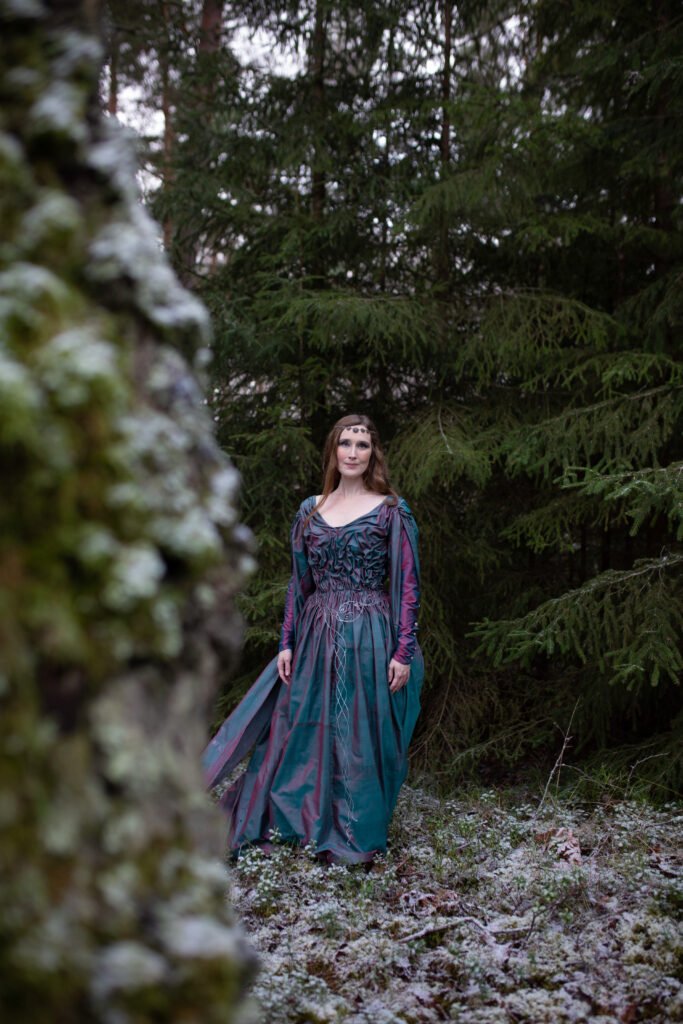 För er som inte har följt mitt projekt från start, vill jag presentera Gröna damen, Drottningen av Underjorden och Ormhäxan, från C.S. Lewis "Silvertronen", i Narnia-serien. De som möter henne uppfattar henne som en älskvärd, vacker kvinna, men genom berättelsen framgår det att hon är en hänsynslös härskare och en häxa som ibland förvandlas till orm. Hon beskrivs som lång och smal, med skimrande hy och med en grön böljande klänning.

Mitt vackra siden är vävt i grönt och rött och såg väldigt grönt ut när det låg ner. Under konstruktionens gång har jag insett att min Gröna Dam måste acceptera en mer lila ton, vilken blivet ännu mer framträdande med de rosaaktiga ärmarna. Jag är väldigt nöjd hur hon blev. Hoppas att ni ska gilla henne!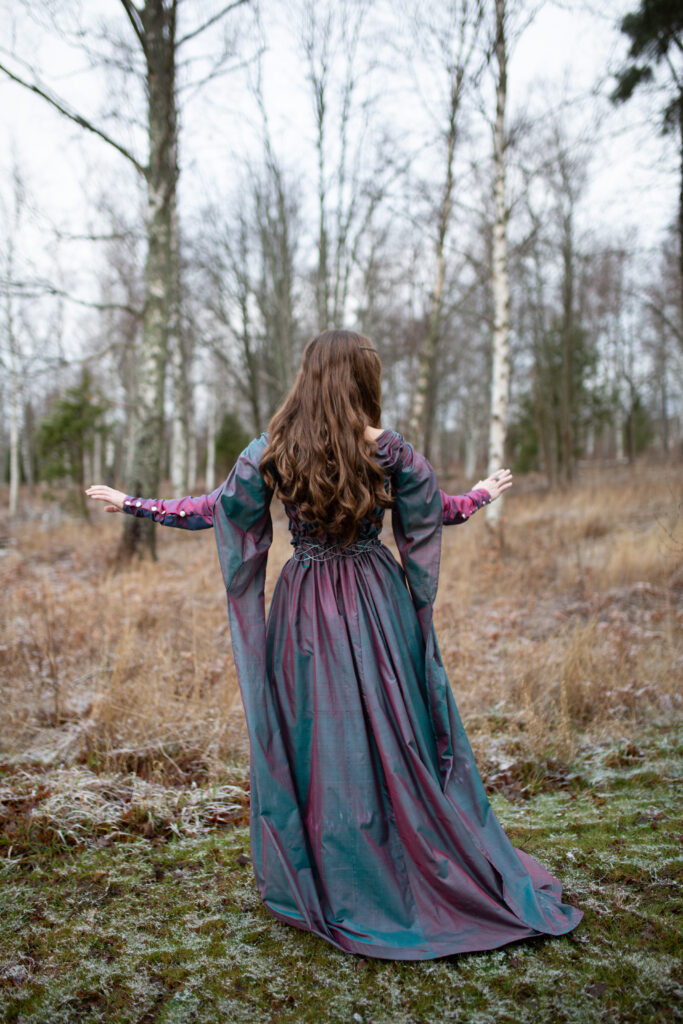 The corset is by no means perfect, but it is far better than any corset I have made before. I made 4,5 mockups and learnt new techiques, as rollpinning, stitching in the ditch, using fray check etc. This is thanks to the Stitchlings' community and the fantastic mentors of Foundations Revealed.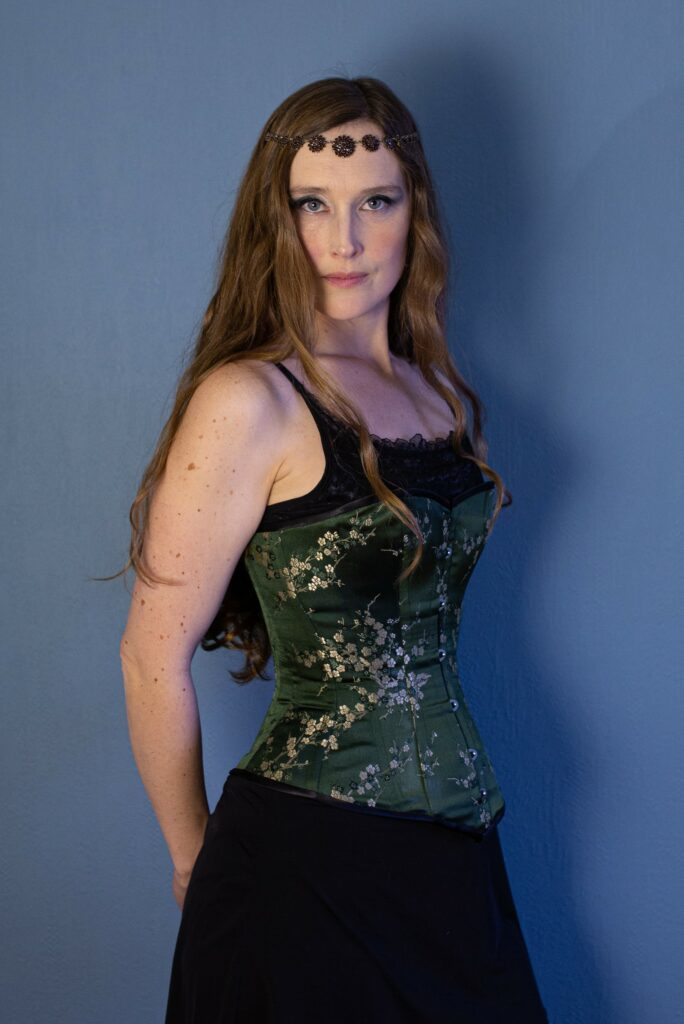 Korsetten är inte i närheten av perfekt, men den är så mycket bättre än de korsetter jag tidigare har sytt. Jag har använt nya tekniker, som roll pinning, stitching in the ditch, använt "fray check" mm.. Detta är tack vare Stitchlings' community och de fantastiska metorerna på Foundations Revealed. Allt korsettmaterial och en del klänningsdetaljer är köpt på Vena Cava Design.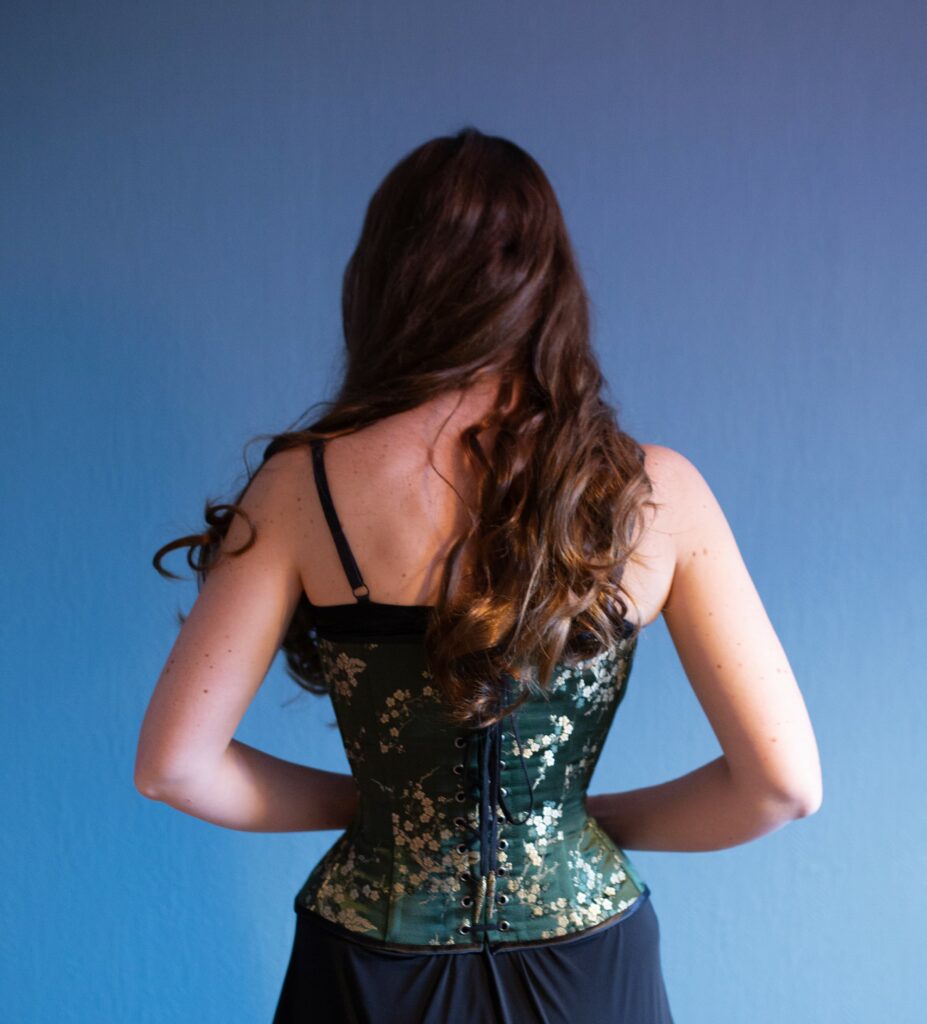 I am so pleased with how the dress turned out and so glad that I made the corset for it – it really gives the dress a more regal silhouette. For the dress I started with making the foundation piece in lightweight cotton and polyester for the skirt, with tulle attached for giving the skirt the right silhouette. I used 9,5 metres of silk for the dress. All hems are hand stitched. The hem of the skirt is lined with horsehair. The arms are detachable, so that I can use it as a modern ball gown, would such an opportunity ever appear. The belt is made from four twisted strands of steel wire.
My dear friend Josefine Antonsson shot these beautiful pictures yesterday, when we had finally been blessed with a thin snow powder on the naked ground. Thank you so much!
You can follow the whole journey from idea to sewing the different parts here: Part 1, Part 2, Part 3.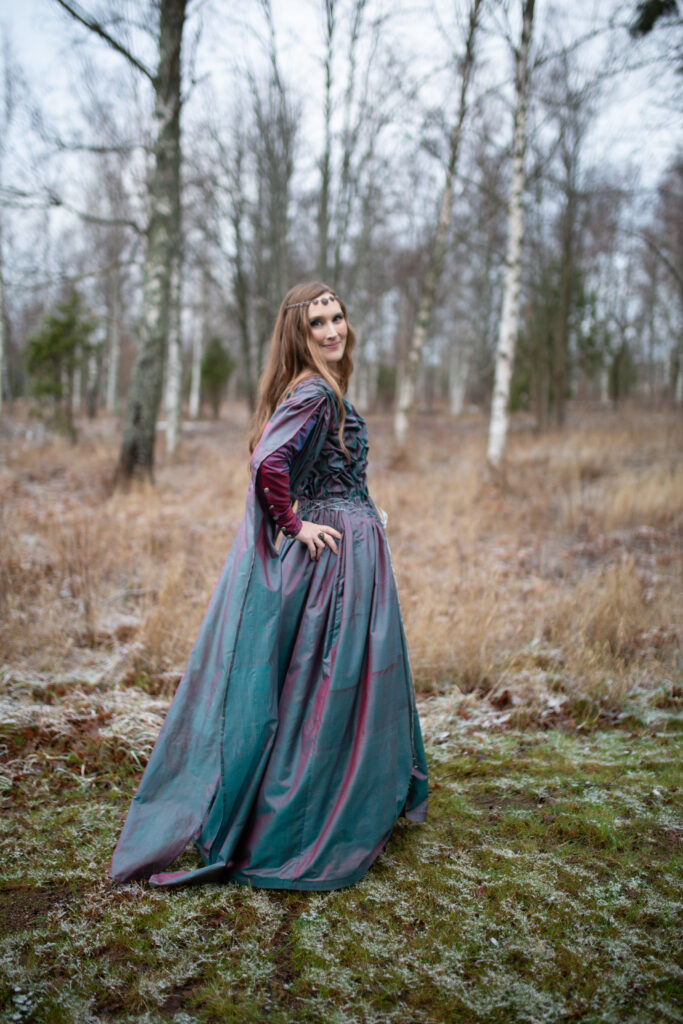 Jag är så nöjd med hur klänningen blev och så glad för att jag valde att göra korsetten till den – korsetten ger klänningen en mer kunglig silhuett. Jag började med ett undre lager med tunnt bomullstyg i livet och polyesterfoder för underkjolen. Längst ner fäste jag tyll för att få rätt silhuett. Jag använde 9,5 meter siden till själva klänningen. Alla fållar är handsydda. Kjolfållen är dessutom fållad med "hästhår". Ärmarna är avtagbara, så att jag kan använda klänningen som modern balklänning, om det någonsin skulle dyka upp ett sådant tillfälle. Bältet gjorde jag genom att fläta fyra stråltrådar.
Min vän Josefine Antonsson tog dessa magiska bilder igår, när vi äntligen välsignats med ett tunnt vitt snöpuder över den nakna marken. Tack så mycket!
Du kan följa hela processen från idé till sömnad av de olika delarna här: Del 1 och Del 2 och Del 3.